Military Educational Benefits
Military Scholarship
External Military Scholarship Options
Please visit the following websites for more information:
For Women Veterans:
For Children of Military Personnel who have been killed or permanently disabled:
Internal Franklin Scholarship:
Each trimester, Franklin offers a one-time, $1,000 scholarship to help a military student with his or her educational expenses. To be considered for this scholarship, you must:
Provide proof of Active Duty status or honorably discharged Veteran status (DD214)
Have and maintain a 3.0 GPA
Be a full- or part-time Franklin University military student
Complete the Undergraduate Scholars Application (USA) available on our Scholarship page.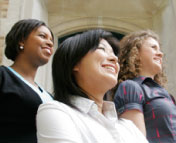 Ready to start an application?
Franklin's student-centered philosophy is one of the many reasons so many students choose us!
START YOUR APPLICATION