Military Educational Benefits
Reserve Education Assistance Program (REAP) - Chapter 1607
The first thing you should do is determine your eligibility for these benefits with the VA by calling 1-888-442-4551.
Application Process:
Complete the

Application for Benefits

(22-1990) form on the U.S. Department of Veteran Affairs. Or see step #2 if you have ever used VA educational benefits at another school.

Following the successful processing of your benefits application, the VA will issue a "Certificate of Eligibility" to you by mail. The VA will not send this to the school; it is your responsibility to send a copy of this to OMVA at Franklin upon receipt.
The U.S. Department of Veteran Affairs currently estimates that processing will require twenty-eight calendar days. Franklin University cannot be responsible for complications or delays in benefit awards due to VA delays in application processing.

Complete the

Change of Place or Training (22-1995) form

instead of the 22-1990 if you have used your benefits at previous school.
Submit a Plan of Attendance (POA) each academic year in which benefits are requested.
Certification of Benefits
Upon registration and receipt of all required documentation, OMVA at Franklin will forward an Enrollment Certification (22-1999) to the VA Regional Office.
Verify Attendance

Login to the

W.A.V.E

.

website on the last calendar day of every month to verify your enrollment.
Important Note:
Situations that may affect payment of VA benefits include the following:
Repeated or audited courses
Change or addition of major program
Add or drop in credit hours
Developmental education courses not applicable to degree
Any education course in which a grade of "Z", "NZ", or "W" is earned
Non-receipt of official transcripts from previous colleges and universities attended
VA training time
Regulations require that all such items be reported to the VA so that adjustments can be made accordingly. Failure to notify the Veterans Specialist may result in overpayments or withholding of benefits.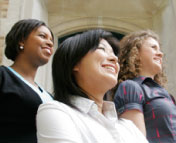 Ready to start an application?
Franklin's student-centered philosophy is one of the many reasons so many students choose us!
START YOUR APPLICATION