Military Educational Benefits
Yellow Ribbon
What is the Yellow Ribbon Program?
The Yellow Ribbon GI Education Program (Yellow Ribbon Program) is a provision of the Post 9/11 Veterans Educational Assistance Act of 2008. This program allows institutions of higher learning such as Franklin University to voluntarily enter into an agreement with the VA to fund tuition expenses that exceed the highest public in-state undergraduate tuition rate. Franklin University has entered into an agreement with the VA to match up to 50% of those expenses and the VA will match the same amount as Franklin University, making the Veteran's out of pocket expense $0.
Who is Eligible?
You served an aggregate period of active duty after September 10, 2001, of at least 36 months.
You were honorably discharged from active duty for a service connected disability and served 30 continuous days after September 10, 2001.
You are a dependent eligible for a Transfer of Entitlement under the Post 9/11 GI Bill based on a veteran's service under the eligibility criteria listed above.
For comprehensive Yellow Ribbon Program eligibility information review the U.S. Department of Veterans Affairs website.
Franklin University will accommodate all Yellow Ribbon students for the 2016-17 academic year. We have entered into this agreement with the VA to allow all eligible Yellow Ribbon Program students to receive this benefit. It is not a first come first serve basis; we will not deny any eligible student.
How do I Apply?
Yellow Ribbon Program benefits can only be applied to Franklin tuition charges that exceed the annual cap of $21,970.46. Therefore, you cannot be awarded payment of Yellow Ribbon Program benefits unless you are first accepted by the VA and certified by Franklin's Office of Military and Veteran Affairs for Post 9/11 GI Bill benefits.
Fill out Application for Benefits (VA Form 22-1990) located on VA website: 22-1990 - link
Fill out Franklin's current year Plan of Attendance (POA)
Submit a copy of your Certificate of Eligibility (COE) to omva@franklin.edu. (The COE is provided by the VA)
Where Can I Get More Information?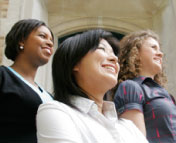 Ready to start an application?
Franklin's student-centered philosophy is one of the many reasons so many students choose us!
START YOUR APPLICATION