Committed to Serving CSCC Students Together
In 2009, Columbus State Community College and Franklin University signed a revitalized transfer agreement to extend and expand our successful partnership.
Franklin University encourages CSCC students to complete their associate degree at CSCC while working with a Franklin representative to outline the most direct transfer path to earn their bachelor's degree at Franklin.
When your goal is to finish your bachelor's degree quickly and affordably, the CSCC/Franklin partnership is the right fit for you. By working with your advisor or Franklin representative, Franklin enables you to maximize your previously earned credits, take applicable third-year courses at CSCC, and finish your Franklin classes at one of our central Ohio locations, or entirely online.
Visit cscc.franklin.edu to request more information or a free unofficial evaluation to help you to determine how your prior coursework will transfer into Franklin University and what you'll need to complete your bachelor's degree at Franklin.
Free Review of your Credit
Request a free review of your credit. Email CSCCTransferInfo@franklin.edu with the following information:
Unofficial transcript (Login to Cougarweb and access your unofficial transcript. Copy and paste that information into your email. That will provide us the information we need to complete your evaluation.)
Indicate your major of interest
Include your name, address, and phone number
Advising Hours at CSCC
You also can meet with a Franklin representative at Columbus State's Office of Counseling & Advising Services (Aquinas Hall Transfer Center, Room 126) from 9:00 am - 5:00 pm on Mondays and Tuesdays. Walk-ins are welcome!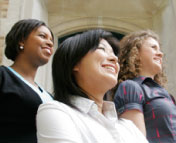 Ready to start an application?
Franklin's student-centered philosophy is one of the many reasons so many students choose us!
START YOUR APPLICATION