Translate chaotic data sets into competitive advantage
Gain the statistical skills necessary to conduct descriptive and predictive analytics; the programming skills to create and apply computer algorithms; the tools and platforms to visualize and mine big data, and the communication skills necessary to effectively convey findings and provide strategies and best practices within your organization.
Earn your M.S. in Data Analytics – and a SAS Tier 2 Academic Specialization in Data Analytics – 100% online in 19 months.
Use industry-leading tools to build your skills in statistics, programming, data management, data visualization, data mining, machine learning and advanced analytics. You'll complement your master's degree by earning a SAS Tier 2 Academic Specialization in Data Analytics that will underscore your analytics knowledge and abilities.
We're Sorry
There was an unexpected error with the form (your web browser was unable to retrieve some required data from our servers). This kind of error may occur if you have temporarily lost your internet connection. If you're able to verify that your internet connection is stable and the error persists, the Franklin University Help Desk is available to assist you at helpdesk@franklin.edu, 614.947.6682 (local), or 1.866.435.7006 (toll free).
Just a moment while we process your submission.
Embedded Credentials Recognize Achievement in Real-Time
Embedded credentials provide a quick ROI on the time and tuition you're investing in your master's degree. 
Embedded certificate marks midpoint to degree completion
Your time and tuition dollars pay off fast with a Graduate Certificate in Data Analytics awarded after the completion of your first four master's courses.
Complete the courses below and receive a certificate that formally documents your ability to identify and communicate insights gained through data analysis. 
MATH 601 - Introduction to Analytics
COMP 630 - Issues in Database Management
DATA 605 - Data Visualization and Reporting
DATA 610 - Big Data Analytics and Data Mining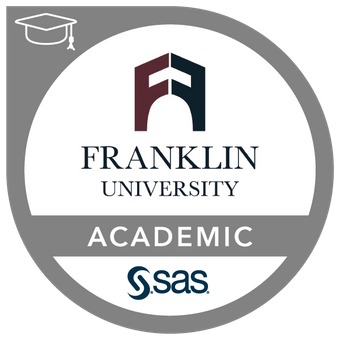 Earn a badge that differentiates you among analytics professionals
As part of your Franklin master's degree, you'll also earn a SAS Tier 2 Academic Specialization in Data Analytics.
The badge demonstrates your proficiency with industry-leading tools for data preparation, advanced analytics and visualization and is awarded after your completion of the following three master's-level courses listed below with a B or better.
MATH 601 - Introduction to Analytics
DATA 605 - Data Visualization and Reporting
DATA 610 - Big Data Analytics and Data Mining