Earn a degree built to fit your life.
Want to learn more about Franklin University? Complete the form — it just takes a minute.
Whether you're pursuing an undergraduate degree, or a master's or doctorate, rest assured that you can complete your education around your schedule with 100% online classes. Choose from career-focused programs in business, healthcare, IT, nursing and more.
The Franklin University Tuition Guarantee locks-in your first-term tuition rate for the duration of your associate, bachelor's or master's degree program, for as long as you remain actively enrolled. With undergraduate tuition at $398 per credit hour, you can earn a degree without spending a fortune.
We're Sorry
There was an unexpected error with the form (your web browser was unable to retrieve some required data from our servers). This kind of error may occur if you have temporarily lost your internet connection. If you're able to verify that your internet connection is stable and the error persists, the Franklin University Help Desk is available to assist you at helpdesk@franklin.edu, 614.947.6682 (local), or 1.866.435.7006 (toll free).
Just a moment while we process your submission.
Finish Faster
Transfer up to 94 previously earned college credits.
Accredited Online University
Nearly 80% of our students take online courses.
Real-World Practitioners
Learn from faculty with in-the-field experience.
Worry-Free Learning
Always know what's expected -- and when.
100% Online Classes
Earn your degree around your schedule.
Hands-On Learning
Turn theory into practice with real-world assignments.
Hear What Our Students & Graduates Are Saying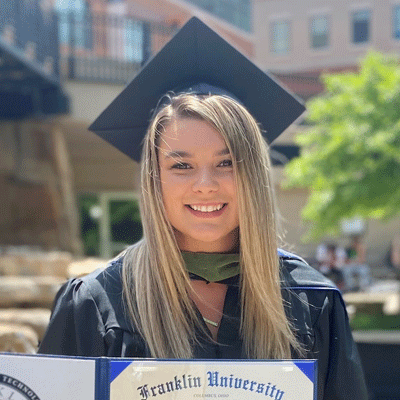 Alexandra D.
Master of Healthcare Administration '21
"This accomplishment gives me the ability to have a greater impact and give back to healthcare in our community."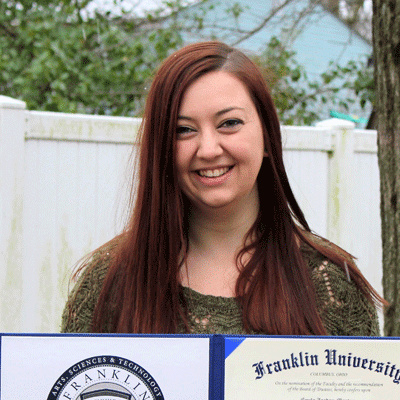 Emily M.
M.S. in Business Psychology '21
Completing my master's degree has provided me the opportunity to show my children that it is possible to accomplish your goals, no matter what.
Andrea M.
B.S. Human Resources Management '20
"Receiving my degree is one of the happiest moments of my life, as it solidifies the hard work and time dedicated to achieving this throughout these years. I now look forward to the future and opportunities ahead of me."
Mahlet B.
M.S. Computer Science '20
Receiving my degree from Franklin University means a lot to me. I was always taught that education is a path to reach ones' destiny, create a cultivated mind and enable growth personally and professionally.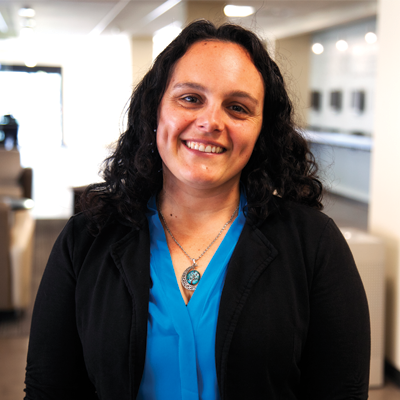 Rachel
Doctor of Professional Studies-Instructional Design Leadership Student + Instructional Design Professional
"I can't stop my life as a parent with a full-time job to pursue academics. Franklin bridges that gap for me. I still have all my responsibilities but I'm challenged in a good way. And I can see myself graduating in a couple of years with a doctorate."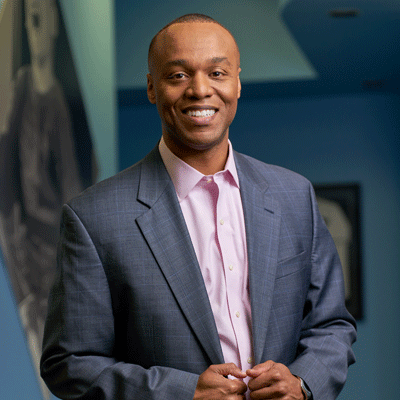 Oyauma G.
MBA
"I learned how to stand out and become the leader I knew I could be."
Taylor A.
B.S. Human Resources Management '20
"This accomplishment has brought a sense of pride as well as confidence that I can do anything I set my mind to."
Shelby S.
B.S. Middle Childhood Education '20
"I have grown so much as a person during my time with Franklin University."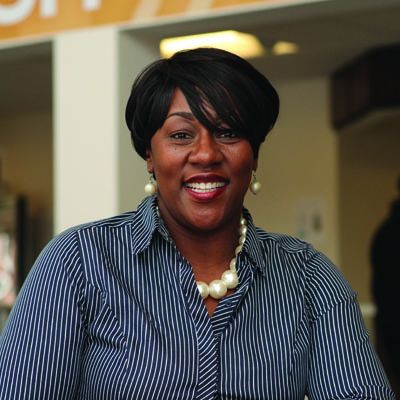 Angel
Doctor of Business Administration Student + Executive Director, Dress for Success Columbus
"Earning my doctorate will help me hone my leadership skills and build my knowledge within my discipline, which is nonprofit management. I want to learn how to ask tough questions of myself, my leadership team and my staff to really make my organization an even stronger one than it is today."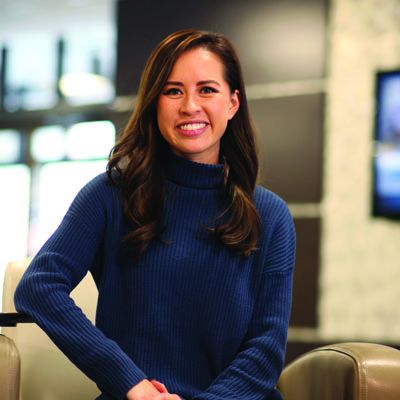 Anh Thu
Doctor of Healthcare Administration Student + Project Director, Ohio Asian American Health Coalition
"I didn't really have any hesitations. I knew right away that Franklin was the school for me. I knew that a doctorate in healthcare is what I wanted from the beginning to help make an impact on the community."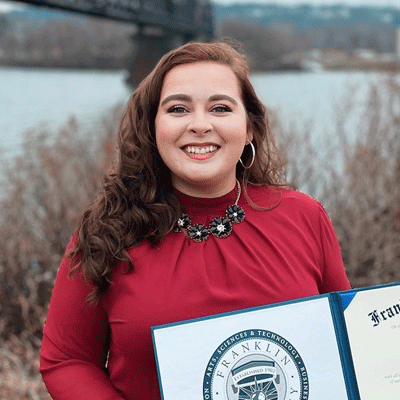 Alexandra R.
B.S. Business Administration '20
"I feel like I now have the tools to being successful in everything that I do."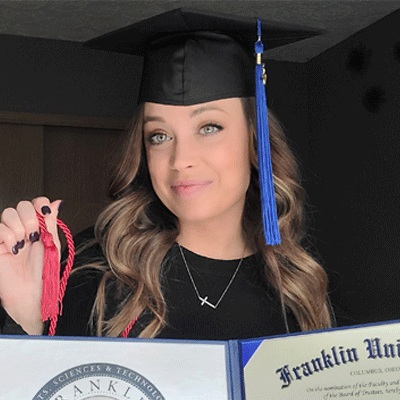 Sarah D.
B.S. Business Administration '20
"This accomplishment means everything to me. Being a single mom, working full time, and going to school definitely required a lot of faith, strength and dedication - but I did it!"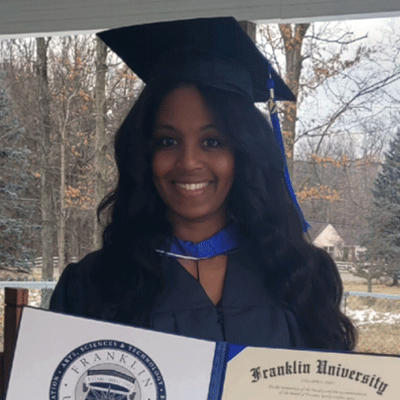 Angela B.
M.S. Human Resource Management '20
I'm overjoyed. In just a short time, I was able to transition from my previous job, to a career in HR. Make a plan and turn it into reality.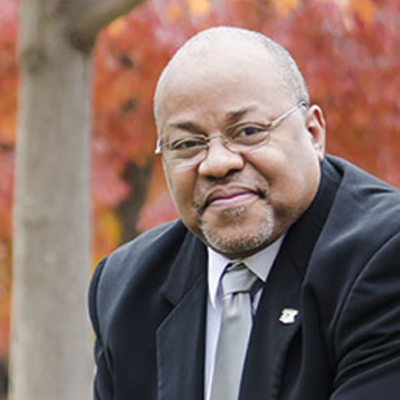 Juan B.
B.S. Business Administration '11
"Franklin taught me how to be a more effective leader. I learned I don't always have to be out in front and in charge to be a leader. Effective leaders identify the strengths of every person to advance the team."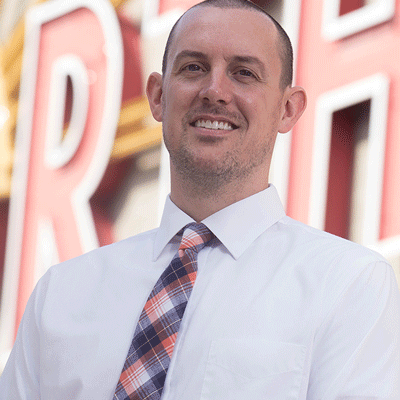 Chris R.
B.S. Human Resource Management
"Having this education from Franklin has really allowed me to be the successful, professional I am today and without it, I would not be where I am today for sure."
Matt, B.S. '16 + MBA '18
U.S. Army Veteran
"I started my degree online at Franklin while I was still enlisted. Franklin accepted my previously earned credit and made the transfer process easy."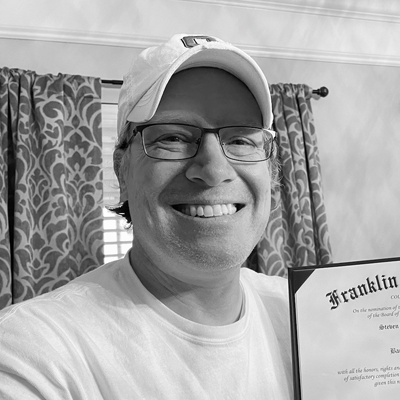 Steve N.
B.S. Business Administration '20
"I am so happy and proud of this accomplishment. I am a first-generation college graduate."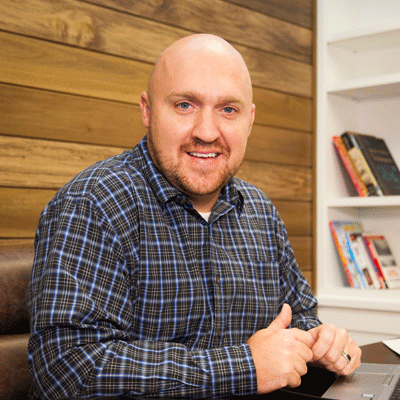 Kevin S.
B.S. Human Resources Management '16
"It was important for me to feel supported during my education. The 3+1 transfer program exceeded by expectations."
Nicole E.
MBA '20
"Earning this degree means having so much more confidence in myself! I am eternally grateful to my professors, classmates and my family for the support and guidance that has been given to me."
Tomika
Doctor of Healthcare Administration Student + Instructional Assistant with Columbus City Schools
"The positive part is the faculty. They're amazing teachers. I've been at other universities prior to this, but the faculty members at Franklin are what keep me coming."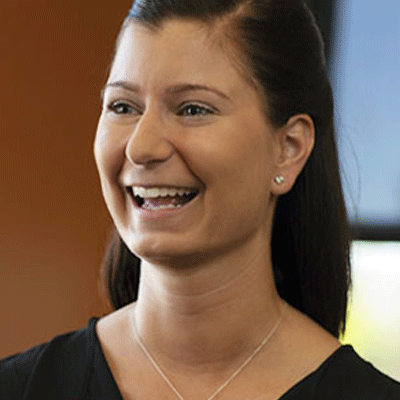 Michelle O.
B.S. Human Resources Management '15
"Franklin's course format helped me because the assignments were laid out for me and organized. I knew what I needed to complete and by when. It helped me with my time management and helped me to be successful."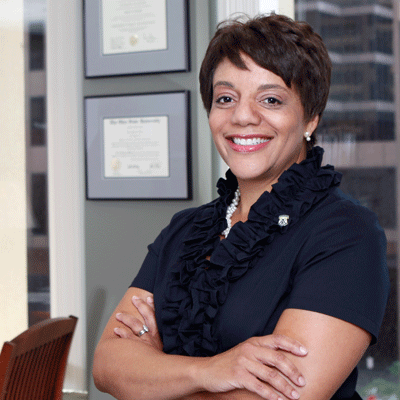 Christie A.
MBA
"Franklin really has prepared me for my career and my future. Franklin taught me how to interact in the business community. The networking side of it really helped prepare me for the working world and beyond. It made me a well rounded person. I really grew as an employee right before my employers eyes just because I was at Franklin."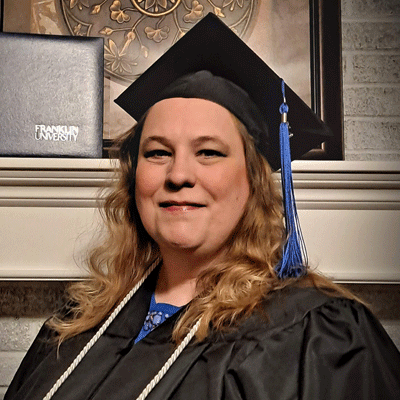 Tiphanie B.
B.S. Business Administration '20
"Achieving my degree is a goal I set many years ago. I am proud and excited to see the new opportunities this will lead me to on a new career journey."
Nathan, MBA '20
"A dream come true for me! Dreams can come true if you work hard and set your sails toward the goal."
Daniel
Doctor of Business Administration Student + Manager, Abbott Nutrition
"What drew me to Franklin's program was the online coursework that enabled me to continue to work full time while progressing through the program. The flexibility allowed me to learn how I could improve my organization and implement changes in real time."
Tonya P.
Master of Healthcare Administration '21
"Obtaining my master's degree in healthcare administration allows me to expand my horizons and my career."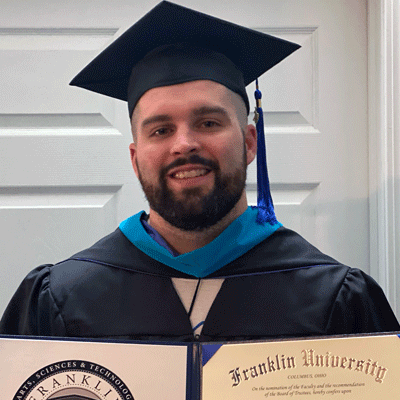 Derrick Y.
Master of Healthcare Administration '20
Franklin University's Master of Healthcare Administration program fundamentally taught me about myself. This program has helped prepare me to become the best healthcare professional possible and helped me become a continuous and lifelong learner.
#1 University for Adults in Ohio
Franklin is Ohio's largest adult-focused university based on percent of student population over 25 years old.1
#1 Nonprofit University for Online Degrees in Ohio
Franklin is Ohio's largest nonprofit university for online degrees conferred, including associate, bachelor's, master's and doctoral programs.2
Our 100% online degree programs are the no-hassle way to finish earning your college degree.
No matter how busy your work or home life is or gets, Franklin's 100% online programs are a convenient option for working adults like you who want to earn a college degree. As a leader in online learning, Franklin gives you the freedom to take classes on your terms  -- just like 80% of our students. Even when you're online, you're never alone. With faculty and peer support, interactive assignments, and much more, Franklin's online learning programs help you achieve your goals without disrupting your life.
Financial Aid & Scholarships
We're committed to helping you find funding for your college education while minimizing debt. Let us introduce you to our exclusive scholarships and other federal, state and local financial aid resources and assistance.
College Scholarships & Grants
Save on college tuition by reducing your out-of-pocket expenses. As a result of more than 50 available scholarships, our students are awarded more than $13 million in scholarships and grants annually. Let our friendly financial aid advisors help you find federal, state, and local scholarship and grant money.
About Franklin University
Dedicated to Helping Ambitious Adults Succeed Since 1902
Get the support you need to achieve your goals at Franklin. Our streamlined processes and easy access to free academic support resources, minimize the obstacles standing between you and your degree. Accredited, nonprofit and wholly focused on adult learners for nearly 120 years, Franklin makes it possible for you to earn an employer-respected degree 100% online.
1National Center for Education Statistics (NCES) Integrated Postsecondary Education Database (IPEDS). Retrieved November 2019; includes 2018 data for universities in Ohio with at least 50% of their student population aged 25 and older.
2National Center for Education Statistics (NCES) Integrated Postsecondary Education Database (IPEDS). Retrieved November 2019; includes 2014-2018 data for all classifications of instructional programs (CIP) codes offered in distance format in Ohio.