Franklin University in Indianapolis, Indiana
Franklin University in
Indianapolis, Indiana
9301 E. 59th St., Room 380, Indianapolis, IN 46216
Phone:
317.429.3100
Franklin University is located at
9301 E. 59th St., Room 380, Indianapolis, IN 46216
We take pride in the individualized attention we provide each student. Please let us help you! Stop by, call or email -- we will do all we can to help you succeed.
Programs:

We offer face-to-face courses for our undergraduate Accounting program. We also offer several general education courses that can get you started on any of the majors offered at Franklin.
Click here for a list of all Franklin's academic programs
Want to take classes at this location?

Community College Alliance:

We partner with Ivy Tech Community College to offer Ivy Tech graduates a transfer-friendly 3+1 program for several programs, such as:
Accounting
Business Administration
Operational Hours:



Hours may vary, please contact Community College Regional Manager for appointments.

Indianapolis Services & Staff: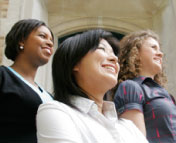 Ready to start an application?
Franklin's student-centered philosophy is one of the many reasons so many students choose us!
START YOUR APPLICATION