Community Relations
Community Relations
Community Relations
Franklin has been the leading educator of the central Ohio employee base since 1902. In this role, we have earned the respect and confidence of community leaders and employers through a history of successful collaboration with the region's businesses and organizations.
While Franklin's respected community reputation starts at the core of our value, as a resource of cutting-edge curriculum, it also extends as a knowledge center through the Franklin Speaker's Bureau, Coaching Programs, and Bunte Gallery.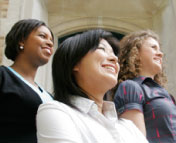 Ready to start an application?
Franklin's student-centered philosophy is one of the many reasons so many students choose us!
START YOUR APPLICATION