Bunte Gallery
Bunte Gallery
Bunte Gallery
The Bunte Gallery was named in honor of the University's second president, Dr. Frederick J. Bunte. Located in the lobby of Alumni Hall, the gallery is a unique showcase for local and regional artists, providing an aesthetic experience for Franklin's students and the community.
Among the pieces on display, the gallery features the Emerson Burkhart Collection, reflecting a 46-year legacy of work that projects a gritty realism by the Ohio native. Also on exhibited is the Elijah Pierce Piece, a sculpture by the internationally-renowned folk artist and son of a former slave.
The Bunte Gallery is open Monday through Thursday, 8 a.m. – 5 p.m.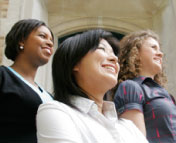 Ready to start an application?
Franklin's student-centered philosophy is one of the many reasons so many students choose us!
START YOUR APPLICATION