News & Community
Franklin University Alerts
Frequently Asked Questions
Q: What is Franklin University Alerts?
A: Franklin University Alerts is a text messaging and email notification system that will notify registered users when there is a major emergency, crisis situation or disaster, or a weather emergency closing or delay for the Franklin University locations.

Q: How do I sign up for Franklin University Alerts?
A: Franklin University faculty, staff and students automatically have their Franklin University email addresses enrolled in the Franklin University Alerts system. The Franklin University Alerts system will send an email to registered accounts notifying the users that the email is registered in the system and provides the user the opportunity to "opt-out" of the system and not receive future notifications.

Q: I am registered for Franklin University Alerts. What now?
A: Once registered, users may log in to their Franklin University Alerts account to input additional email addresses and mobile phone numbers.
Users may login to their account using the link at: http://www.franklin.edu/news-community/user-sign-up.
The account login Username is the first part of the user's email address, located before the @ symbol (e.g. user01@franklin.edu). To obtain the account password, select the link: "Forgot Password?" At the next screen enter the user's login Username (example: user01) into the login box and click on the "Send Password" button. The Franklin University Alerts system will send a temporary password to the user email account registered in the system.
Users may then access their account information by returning to the login page using the link at: http://www.franklin.edu/news-community/user-sign-up and entering the account Username and the temporary password provided via e-mail
Q: A message was sent out but I didn't receive mine until a few hours later?
A: Once Franklin sends an alert through Franklin University Alerts, the message is sent to a large number of telephone and email service providers. These providers control how quickly messages are delivered to phones and email mailboxes. Delayed message delivery is almost always due to the telephone/email provider and how the message has been processed through their network. Emergency information and weather delays or cancellations are also posted on the Franklin University Web site at http://www.franklin.edu/.
Q: The messages that I am receiving are 'cut-off'.
A: Certain cellular providers limit the length of a text message. Some carriers deliver over-length text messages as two or more. Some simply discard the portion of the message that is too long. In the event that you receive a Franklin University Alerts and it is 'cut off,' you can view the entire message by logging in to your account. Every effort will be made by Franklin to make the messages as brief as possible to avoid this problem.
Q: Can I change my contact preferences?
A: Yes. You can change your account settings to add different email addresses or phone numbers
Q: How do I stop receiving Franklin University Alerts?
A: Please log in to your account to opt-out. You may opt-out of email alerts only, SMS alerts only, or the entire service.
Q: Will I receive unsolicited messages (SPAM) on my mobile phone or email account?
A: No. Franklin University Alerts enforces a "Zero Spam" policy which clearly prohibits unsolicited messages.
Q: Does your service work on multiple cell phone networks?
A: Yes. Franklin University Alerts is a cross-carrier service. See a list of wireless carriers supported here .
Q: Do I need to install software on my phone?
A: No. Franklin University Alerts uses the industry standard SMS text messaging protocol to send messages to your phone. However, your mobile phone plan must include text messaging to use this service.
Q: Will this cost me anything?
A: Depending on your wireless carrier provider and the plan you have, they may charge you a nominal fee (perhaps ten cents per message) to receive SMS text messages. If you have an unlimited text messaging plan, there should be no additional charge. Check with your provider to be sure. Franklin University does not charge for this service.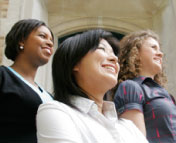 Ready to start an application?
Franklin's student-centered philosophy is one of the many reasons so many students choose us!
START YOUR APPLICATION