Leadership Center
Leadership Center
Franklin University Leadership Center
Leadership is built on a unique relationship between leader and follower. Leaders know themselves, their people, and their profession. Leadership is a challenging and rewarding experience, and the Franklin University Leadership Center promises to help you reach your leadership potential. The Leadership Center can be the foundation for developing your leaders. Unlike other leadership programs, the Leadership Center is both a catalyst and a major resource that will raise the level of central Ohio leadership in the four sectors of business, community, government, and education.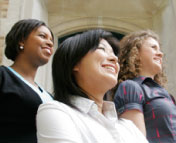 Ready to start an application?
Franklin's student-centered philosophy is one of the many reasons so many students choose us!
START YOUR APPLICATION