Myths of Online Education
Myths About Online Education
Learn the truth about online learning at Franklin University.
Top 5 Myths of Online Learning
As the utilization of online learning environments in higher education increases, skepticism regarding this changing landscape has led to several online education myths. Don't let these misconceptions prevent you from realizing the value of online education at Franklin University.
Myth #1. Online degrees are not respected by employers.
Employers value the flexibility that online learning offers for employees, especially through hectic travel schedules and variable shifts. Employers of Franklin University students know that our online learning format offers the same curriculum, as upheld by the very same accrediting bodies and regulatory standards as our on-campus classes. Earning your degree online still gives you the same degree – the online learning environment is just the delivery method.
Myth #2. Online learning is easier and takes less time.
If you're looking for an easy way to get a degree, online may not be your best bet. Online learning requires increased time-management in exchange for the flexibility of completing class work without setting foot in a physical classroom. While online courses are just as academically rigorous as on-campus classes, they are tailored to meet the needs of your busy life.
Myth #3. It's easy to cheat in an online class.
You might think that ethics take a backseat in an online classroom. But statistics show that cheating is no more prevalent in an online learning environment than in an on-campus environment. Plus, the tools utilized by Franklin University to monitor and encourage academic integrity hold our students to a higher standard, increasing the quality and reputation of your Franklin degree.
Myth #4. Online students are lonely.
If you think learning online will rob you of valuable classroom interaction with other students, think again. With the learning resources used in Franklin's online learning environment, such as discussion boards, online chat, video conferencing and more, you may find even more opportunities to share perspective and engage in healthy debate than you would in an on-campus environment.
Myth #5. There are no real teachers in an online class.
In Franklin's online learning environment, you'll learn from the same industry-expert instructors that teach our on-campus classes. While you won't see them in person real time, you will interact with them online through discussion postings, emails, online chat, and online lecture sessions using FranklinLive!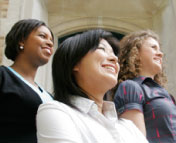 Ready to start an application?
Franklin's student-centered philosophy is one of the many reasons so many students choose us!
START YOUR APPLICATION