Franklin University Business Office
Franklin University
Business Office
201 S. Grant Ave.
Columbus, OH 43215

Contact Us
Phone: 614.947.6355
Fax: 614.255.9648
E-mail: BusinessOffice@Franklin.edu
Hours of Operation
Monday-Friday: 1:00pm - 5:00pm
The goal of the Franklin University Business Office is to provide the University community with information and services related to student accounts. We are committed to serving students and ensuring that all information about accounts is transparent and accessible.
For information specific to Financial Aid, please visit the Financial Aid portion of the Franklin University website.
Important Dates & Deadlines
All business-related forms should be submitted to the Business Office prior to the first day of class. All documents and forms may be submitted by email, fax, or USPS mail.
Forms & Applications
Below are links to forms and applications that are commonly processed by the Business Office. Don't see the form you need? Please contact the Business Office for assistance.
Additional Information
Tuition is due the first day of class. An account is considered delinquent after the first day of class and could be placed on administrative restriction due to nonpayment.
There is a 30 day grace period for all balances; thereafter past due balances are subject to an 18% APR finance charge.
Students participating in the University's Deferment Program must have their balances paid in full according to the date in the deferment agreement. Account balances not satisfied by that deadline are subject to a $100 late fee.
Students may pay their tuition balance with a MasterCard®, Visa®, Discover®, AmericanExpress®, Personal Check, Cashier's Check or Money Order. Payments can be made online through their MyFranklin/WebAdvisor account with a checking account, debit or credit card information.
If you are paying with a credit/debit card, then a convenience fee will be assessed. To avoid the convenience fee, please pay using the electronic check option which will ask for your checking/savings account & routing number.
Checks and money orders are able to be dropped off in person at the University's Welcome Center or mailed to the University's Business Office at:
Franklin University
201 S. Grant Ave.
Columbus, OH 43215
If an employer or agency is paying Franklin directly, the student can submit a letter of credit or voucher directly to the Business Office.
In the event a student is unable to pay their full balance by the deadline of the first day of class, a student is able to enroll in a monthly installment plan administered by the University. This installment plan allows students to break up their balance for the term into monthly payments to avoid administrative restrictions on their accounts and potential finance charges.
Students can also pay their accounts online with CASHNet. The University has provided a secure server so students can safely make financial transactions on the site. This service offers the following flexible online payment options:
Credit card payments
Payments from your checking or savings accounts
Monthly payments from your credit card, checking, or savings accounts using the "My Payment Plan" option
Students can access this site by logging into myFranklin. Click on the Shortcuts Tab and select WebAdvisor. Then, under Financial Information, click "View My Account Balance and Payment Options".
Franklin University issues credits in the manner in which the funds were received. For overages from financial aid that are above payments made through their myFranklin account, students must elect a preference using their BankMobile account.
With BankMobile, students have the opportunity to have the funds directly deposited to an existing checking or savings account, open up a vibe account with BankMobile, or have a check mailed. If no selection is made, then the refund will default to a check being mailed after 21 days of BankMobile receiving the refund.
If you are a current student and need to check on the status of your refund selection kit, please visit Where's My Refund Selection Kit? If you didn't receive the kit, please contact our office, bizoffc@franklin.edu and we will issue a personal code that will be valid for 24 hours.
Click here to view Franklin's contract with BankMobile, a Division of Customer Bank.
It is the student's responsibility to apply for and submit all forms required by the Financial Aid Office and to be aware of deadlines for submission.
Application for financial aid is not a guarantee of funding. In the event a student is approved for financial aid and is under-funded or the student becomes ineligible for financial aid funds, the student is responsible for the financial obligation on his or her account. Regardless of the status of the financial aid file, it is the student's responsibility to ensure that tuition and fees are paid by the appropriate deadline.
Payment of tuition or fees with a check that is subsequently returned from the bank unpaid will result in a returned check fee of $25. A student may not satisfy a returned check obligation with a personal check or ACH payment online. After two returned check payments, Franklin University will no longer accept a personal check for payment on the student account. All future payments must be made via credit card or money order.
Failure to clear a returned check taken in payment for tuition or fees will result in administrative withdrawal from registration after notification of the returned check.
In the event of any unresolved balance of any nature on the student's account, the following records will not be released:
Diplomas
Transfer credit information
Transcripts
These records will not be released until the balance is paid in full or the past-due balance is resolved. When all financial obligations are resolved, the student is again eligible to receive transcripts and all university services.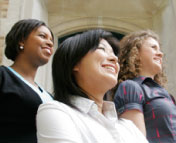 Ready to start an application?
Franklin's student-centered philosophy is one of the many reasons so many students choose us!
START YOUR APPLICATION