University Policies
Office of Community Standards - Franklin University's Community Standards/Student Code of Conduct are designed to promote the educational mission of the University and to encourage honesty and integrity, respect for others, and respect for the campus community. Students are to become familiar with student conduct regulations and the Student Code of Conduct.
Title IX - Franklin University is committed to maintaining a diverse and equitable community, free from discrimination. To this end, Title IX is a statute included in the Education Amendments of 1972 which prohibits all forms of sexual discrimination and sexual harassment in education.

Procedures to Address Discrimination, Harassment & Sexual Misconduct - Franklin University's commitment to providing a safe and positive environment for its community resulted in this policy, which supersedes all current University policies pertaining to discrimination, harassment, and sexual misconduct.
Safety and Security Services - Franklin University's Annual Security Report is available to all students, employees and applicants for enrollment or employment. Learn about the University's Annual Security Report.
Franklin Intervention & Awareness Team - The mission of the Franklin Intervention and Awareness Team (FIAT) is to serve as the centralized resource and advisory body to address problem behaviors of members of the university community.
Drug-Free Schools And Communities Act - Unlawful use, manufacture, distribution, dispensing, or possession of any controlled substance (drug) is absolutely prohibited on any University property or at any University sponsored event.
Student Parking Policy - Franklin University provides free parking on University lots for students when engaging in University business. Learn about the parking options available to you.
Information Technology Acceptable Use Policy - Franklin University offers students a multitude of technology resources for electronic communication, telecommunication and computing.
Updated: August 1, 2017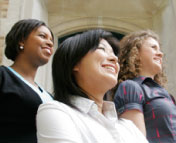 Ready to start an application?
Franklin's student-centered philosophy is one of the many reasons so many students choose us!
START YOUR APPLICATION