Center for Career Development
Center for Career Development
Franklin's Center for Career Development offers a wide array of services to meet the diverse needs of our students and alumni in today's changing workforce. Our goal is to help develop lifelong career management skills and integrate academic and career interests, as well as to connect students and alumni with employers and businesses interested in discovering great talent.
The Center for Career Development is focused on providing you with:
Career Development Services
The Center for Career Development offers a variety of services, including résumé reviews, career development workshops, and company information sessions. If you're interested in being involved with the Center for Career development, choose a service pathway below:
CareerBeam
Current Franklin University students and alumni have access to CareerBeam, a virtual career success center that offers numerous career development resources. Click here for more information.
Center for Career Development Mission
The Center for Career Development supports the mission and goals of Franklin University by assisting students and alumni in exploring and pursuing meaningful careers over a lifetime. This is accomplished by fostering positive relationships with students, alumni, faculty, staff, administrators, employers, and the greater community.
Career Development Center Contact Information
For more information about what the Center for Career Development has to offer, email us today or contact Holly McFarland, Director of the Center for Career Development, at 614.947.6799.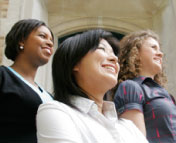 Ready to start an application?
Franklin's student-centered philosophy is one of the many reasons so many students choose us!
START YOUR APPLICATION