Center for Career Development
Career Coaching Services
Questions?
Email us
Coaching is a collaborative relationship that establishes professional development as an ongoing practice. As a current Franklin University student or alumni, you can take advantage of our Group Career Coaching program and receive guidance and feedback to help you clarify your career path and reach your goals.
Our group coaching program is designed for action-oriented individuals who are ready to make productive, real-time progress toward achieving their job search and career goals.
Group Career Coaching
In our Group Coaching program, you'll:
Identify your values, motivators, interests, and strengths
Examine your knowledge, skills, and abilities
Discover and explore career opportunities
Learn effective job search strategies
Research career fields, professions, and organizations
Establish contacts and refine networking abilities
Collaborate with like-minded individuals who have a common goal
Create a Career Development Plan
Enjoy a team spirit and a supportive environment
Read the Group Career Coaching Guidelines for more details.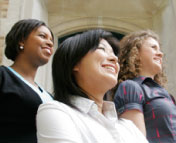 Ready to start an application?
Franklin's student-centered philosophy is one of the many reasons so many students choose us!
START YOUR APPLICATION