Company Information Sessions
Company Information Sessions
Getting your foot in the door with employers can be a challenge. Especially in today's highly competitive job market.
The best way to find your perfect job fit is to get to know the company. By attending the Company Information Sessions hosted by our Center for Career Development, you'll get a chance to network with company representatives and scope out company benefits and current opportunities.
What is a Company Information Session?
Focused on providing you with detailed knowledge about today's top organizations, Company Information Sessions are made up of an in-depth 45-minute presentation followed by a Q & A session hosted either on campus or online through FranklinLive!. You'll have excellent opportunities to network and create relationships with a specific organization.
These types of sessions are perfect for career-focused and aspiring professionals wanting to learn about new career paths. And different from a group interview or job fair, they are exclusive to current Franklin students and alumni.
What should you expect to learn at a session?
During each session, company representatives will:
Present an overview of the organization, culture, and hiring process
Share career opportunities and career paths
Discuss company benefits
Give a profile of potential new employees
Interested in attending our next Company Information Session? See the lineup of companies in our Upcoming Events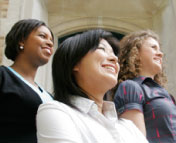 Ready to start an application?
Franklin's student-centered philosophy is one of the many reasons so many students choose us!
START YOUR APPLICATION