Career Assistance for Alumni
Franklin University is committed to serving as a lifelong career resource to alumni. As a Franklin graduate, you know firsthand Franklin's commitment to student success. We're extending this commitment to meet the continuing career development needs of our alums.
Your career success is very important to us. It increases the value of your degree and is an indication of our effectiveness as an institution of higher learning. That's why our Center for Career Development offers a series of workshops, information sessions, and other upcoming events to help you navigate your career path.
Career Guidance for Alumni
Career development is a lifelong process. The Center for Career Development can help you explore and land the perfect job for today and identify the skills you'll need for future career opportunities. No matter your place in life or in your career, Franklin is here to help you in the pursuit of career advancement and success.
Our Services: Career Support for Alumni
CareerBeam
Current Franklin University students and alumni have access to CareerBeam, a virtual career success center that offers numerous career development resources. Click here for more information.
Broaden Your Professional Experience by Becoming a Coach
As a Franklin alum, you know how to balance your educational pursuits with many other responsibilities. If you're looking for a meaningful way to give back to the University, you can put your experience and knowledge to good use. Consider volunteering to become a career coach. You'll work with motivated Franklin students to help them navigate their educational experience and achieve career success.
Or, if you're an HR professional, consider serving on our expert Résumé Review Team.
For more information about what the Center for Career Development has to offer, email us today.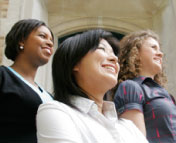 Ready to start an application?
Franklin's student-centered philosophy is one of the many reasons so many students choose us!
START YOUR APPLICATION