Career Assistance for Students
At Franklin University, we're committed to helping you achieve your academic and career goals. Our Center for Career Development is designed to help you develop lifelong career management skills and integrate your academic and career interests.
Now more than ever, you must find creative ways to stand out in an increasingly competitive job market. We can help you explore career interests, define your competitive advantage, open doors to new opportunities, and succeed in your professional career.
Our Center for Career Development goes beyond helping you find a job. We can also help you balance work, school, and life to succeed as a student, and we can equip you with the tools you need to define a meaningful, rewarding career path.
Whatever your needs, we're ready to help you along the way – now and after graduation.
Our Services: Career Support for Students
Exclusive Career Guidance for Students
Career development is a lifelong process. The Center for Career Development can help you:
Understand yourself
Identify the skills you need for the opportunities of today and tomorrow
Explore career fields and industries of interest
Learn how to research companies
Create a Career Development Plan
CareerBeam
Current Franklin University students and alumni have access to CareerBeam, a virtual career success center that offers numerous career development resources. Click here for more information.
What else can the center do for you as a Franklin student? We'll give you feedback on your resume to help you get the results you're looking for. We'll help you build a professional network in which to seek advice, information, and opportunities. We'll even connect you with other students, alumni, and organizations sharing similar interests to yours at one of our upcoming events.
For more information about what the Center for Career Development has to offer, email us today.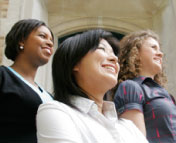 Ready to start an application?
Franklin's student-centered philosophy is one of the many reasons so many students choose us!
START YOUR APPLICATION