Center for Career Development
Résumé Services for Students and Alumni
Need assistance creating or redesigning your résumé? CareerBeam provides the best résumé creation tools to assist you in a step-by-step process, which produces a résumé that markets your greatest strengths and accomplishments to potential employers.
Résumé Review Tips and Tools
Looking to update your current résumé? It is your most valuable job-search tool. Using our Expert Résumé Review Checklist you can ensure each section of your résumé is appropriate for and relevant to the positions for which you are applying.
And if you need help coming up with powerful action words that get your résumé noticed, see our list of action verbs.
Having an Objective Statement at the beginning of your résumé is so passé.
Samantha Nolan, Certified Professional RésuméWriter, syndicated résumé advice columnist, and owner of Ladybug Design, shares how replacing the Objective Statement with a Qualifications Summary can help potential employers see what you have to offer – not just what you want from them. Download Samantha's helpful guide for crafting a stellar Qualifications Summary.
It is our goal that a member of our Expert Résumé Review team be able to provide you with the insight you need – from someone in the hiring community – to craft an engaging, appealing, and powerful job search document.
Through an individualized and in-depth résumé critique, we will provide you with the answers to your résumé development questions in order for you to create a document that commands results.
A résumé review is a comprehensive critique of your résumé by a professional in the industry. A member of Franklin's résumé review team will identify the opportunities you have to create a more effective job search tool. This individual will review each section of your résumé and provide expert guidance on potential disqualifying factors, opportunities for improvement, and actionable strategies to better position your candidacy.
Our expert Résumé Review team is comprised exclusively of volunteer human resources and résumé writing professionals with hands-on experience managing hiring processes and creating impactful personal branding tools.
Our team members possess valuable insight into key qualifiers and disqualifiers that candidates need to be aware of in today's incredibly competitive and employer-friendly job market.
In addition, all members of Franklin University's Expert Résumé Review Team have completed an extensive professional development workshop facilitated by Samantha Nolan – Certified Professional Résumé Writer and Syndicated 'DearSam' job search and résumé advice columnist – to ensure all reviewers are aware of leading-edge résumé development and strategic positioning techniques.
Once you have submitted your résumé for review, your project will be assigned to one of the members of our Expert Résumé Review team.
Your reviewer will then thoroughly read and critique your résumé, presenting you with an in-depth written critique not only offering general tips and suggestions, but personalized recommendations to improve the effectiveness of your search.
Please note that résumé reviewers will not write your résumé, however they will provide you with the written feedback so you will be better equipped to craft your job search masterpiece.
Résumé reviews are limited to Franklin University students and alumni

Review participants can request only one (1) review per 30-day period

Participants are asked to complete a brief survey providing the Center for Career Development team with critical feedback into the success of the program
Interested in sample résumé books? Check out The Expert Résumé Series by Louise M. Kursmark and Wendy S. Enelow including expert résumés for:
Baby Boomers
Career Changes
Computer and Web Jobs (2nd edition)
Engineers
HealthCare Careers (2nd edition)
Managers and Executives (2nd edition)
Military-to-Civilian Transitions (2nd edition)
People Returning to Work (2nd edition)
Teachers and Educators (2nd edition)
These materials are available through the Franklin University Library or can be ordered online.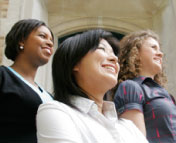 Ready to start an application?
Franklin's student-centered philosophy is one of the many reasons so many students choose us!
START YOUR APPLICATION