Registrar
The Office of the Registrar provides administrative services for the students and faculty to support the instructional mission of the University.
Key services include course registration (add/drop), academic transcript requests, grade reporting and distribution, completion of loan deferment verifications, schedule confirmations, graduation certification, degree and enrollment verifications, classroom management, degree audit development, and storage of all academic records.
Additional responsibilities include the production of the Academic Bulletin and trimester Course Schedule, all graduation activities, academic records maintenance, course inventory maintenance, and FERPA monitoring and awareness.
Office Hours: Monday - Friday: 8:00am - 5:00pm
614.341.6242; fax 614.947.6729
registrar@franklin.edu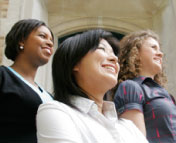 Ready to start an application?
Franklin's student-centered philosophy is one of the many reasons so many students choose us!
START YOUR APPLICATION