Career Coaching Application Confirmation
Your application to request a Career Coach has been submitted successfully. A member of the Career Coaching Program will be emailing you within the next 5-7 business days.
If you have any questions, please email us at careerdev@franklin.edu or call us toll free at 1.877.341.6300 and ask to speak with Holly McFarland.
Thank you for your interest in the Career Coaching Program—we look forward to helping you design the career you want.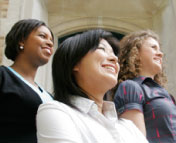 Ready to start an application?
Franklin's student-centered philosophy is one of the many reasons so many students choose us!
START YOUR APPLICATION