Thank you
Next Steps
Thank you for submitting your Graduate Program Admission Confirmation Form. We are pleased that you have chosen Franklin for your graduate degree.
You will soon receive your Registration Statement that includes your first term class schedule and your invoice. Once you receive your Registration Statement you should:
Log in to myFranklin and change your password. You will gain access to the course website via myFranklin, the Franklin University student portal, 10 days prior to the start of class. The second page of your Registration Statement will include your username and password. Once you log in, you will be prompted to change your password.


Review your course syllabus and complete assignments that are due the first week of class. If you have questions, email your instructor. You will find the email address under "Class Communication."


Begin reviewing the modules and complete assignments in your Graduate Orientation. The graduate orientation is a self-paced orientation with videos, interactive media and important information about your degree program. Your program chair recommends that you work through the orientation modules, complete the assessments and your attendance will be tracked. It is strongly encouraged that you begin this orientation prior to the start of your courses.
If you have any questions, please email graduate.admissions@franklin.edu or call 1.877.341.6300.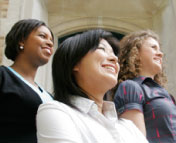 Ready to start an application?
Franklin's student-centered philosophy is one of the many reasons so many students choose us!
START YOUR APPLICATION