Emergency Procedures
Find out what to do in case of an on-campus emergency at Franklin.
Franklin University is committed to developing and utilizing comprehensive emergency management plans.

Emergency procedures are in place to assist in Franklin's efforts at creating a safe and secure learning environment for the Franklin community.

Download our Emergency Management Guide now, or pick up your copy at any of our locations.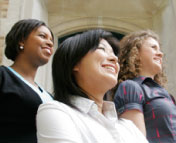 Ready to start an application?
Franklin's student-centered philosophy is one of the many reasons so many students choose us!
START YOUR APPLICATION