Safety Tips
Learn what you can do to stay safe at Franklin.
To maintain a safe and secure campus, we need your help. Security personnel are on duty whenever classes are in session or during routine business. However, they cannot be everywhere at once. We rely on you to report crimes or suspicious activity, and to employ precautions to enhance your personal safety while on campus.
To help with your personal safety and the security of personal property, please review the following Safety Tips.
Intervention and Awareness
Franklin has established the Franklin Intervention & Awareness Team (FIAT) as a centralized resource for creating awareness of inappropriate behavior on campus. If you view or experience any situation that you believe may be of concern, please report it via Lighthouse (anonymous reporting system) and the information will be routed to the appropriate area.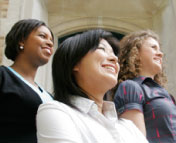 Ready to start an application?
Franklin's student-centered philosophy is one of the many reasons so many students choose us!
START YOUR APPLICATION