The Society for Human Resources Management (SHRM)
The goal of the Student SHRM Chapter of Franklin University is to provide students with the opportunity to gain knowledge and insight into the effective management of human capital in the field of Human Resource Management through the sponsoring chapter of SHRM (Human Resource Association of Central Ohio) and the National SHRM organization.
The Student SHRM chapter at Franklin meets quarterly, both in person and online via FranklinLive!
To be a part of this network and obtain further information, please contact Garry McDaniel.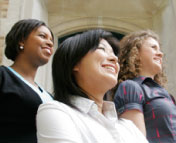 Ready to start an application?
Franklin's student-centered philosophy is one of the many reasons so many students choose us!
START YOUR APPLICATION