Sigma Beta Delta International Honor Society
Sigma Beta Delta International Honor Society encourages and recognizes scholarship and achievement among students in business, management, and administration programs.
The Franklin University chapter's first induction ceremony took place in November 2011, the largest first time induction ceremony in Sigma Beta Delta history.
An annual induction ceremony is held every fall on the third Wednesday and Thursday of November.
Faculty Officers
President: Dr. Debra Petrizzo
Vice President: Dr. Beverly Smith
Secretary/Treasurer: Dr. Charles Saunders
For more information, please email sigmabetadelta@franklin.edu.
Students who rank in the upper 20% of their junior, senior, or master's class are invited by faculty officers to join the society.
Transfer students must also meet the following requirements:
Complete at least 50% of required residency at Franklin University.
Be registered for the next term, or graduating.
Sigma Beta Delta does not discriminate on the basis of age, color, disability, national origin, political affiliation, race, religion, or gender in the administration of membership or other programs.
Sigma Beta Delta membership offers recognition for a lifetime.
Membership includes eligibility to compete for the society's fellowship awards, networking opportunities, and lifetime contact through Aspirations, an online newsletter.
Thank you for your interest and inquiry about Sigma Beta Delta at Franklin University!
The following are answers to frequently asked questions. If you do not see the answer to your question, or if you require additional information, please contact Dr. Charles Saunders, Secretary/Treasurer, Franklin University Chapter – Sigma Beta Delta, at charles saunders@franklin.edu
Please read and carefully consider the following information:
Sigma Beta Delta is an academic honorary. To be considered for membership in Sigma Beta Delta, a student must be at least junior status (undergraduate) or ½ complete (masters) in a program in Franklin University's College of Business or in the Master of Science in Business Psychology. This honor society is not available to associate degree students. Students who have incurred Academic Dishonesty or Academic Misconduct violations will not be considered for membership in Sigma Beta Delta.


Membership is by selection only, and is based on program completion and grade point average. The selection process begins at the end of each academic year (each August 31), and honorees are notified and invited to attend the annual induction ceremony held each November.


The cost of a lifetime membership in Sigma Beta Delta is $75.00 (includes both Franklin Chapter and Sigma Beta Delta International membership fees), payable upon invitation to and acceptance of membership.


Sigma Beta Delta is not a social fraternity or sorority that one may "pledge" to or voluntarily join. Similarly, students may not join by referrals or recommendations, whether from faculty or other sources.


There is one selection process each calendar year, and one annual induction ceremony, usually held in November each calendar year.


Because selection and membership in Sigma Beta Delta is limited by Grade Point Average in the top 20% of each class (i.e., graduate and undergraduate), opportunities for membership are usually very limited.


As an example of the selection process for Sigma Beta Delta, invitations for 2014 (the most recent induction year) were mailed approximately October 1, 2014. The GPA selection criteria for Sigma Beta Delta were 3.925 (graduate) and 3.8462 (undergraduate) for the 2014 induction class. The 2014 Induction Ceremony was held November 19, 2014.


A student may qualify for membership prior to graduation, based on the criteria stated above. Students generally qualify in their year of graduation.


Members of Sigma Beta Delta are entitled to wear Sigma Beta Delta regalia at their Commencement ceremony. Franklin University does not provide SBD regalia to our members. Once you officially become a member of Sigma Beta Delta, you may order regalia items directly from SBD's website. At the website, you will see several options. Many students choose the stole or the honor cords, a few choose both, and a few choose the medallion. The choice is yours. Keep in mind that if you are graduating with honors from the University, Franklin will provide the appropriate honor cords for you at Commencement. You may wear Sigma Beta Delta regalia in addition to the University's honor cords.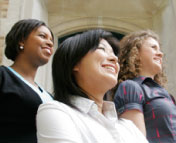 Ready to start an application?
Franklin's student-centered philosophy is one of the many reasons so many students choose us!
START YOUR APPLICATION