Technology Resources
Technology Resources
In keeping with Franklin's relevant and cutting-edge approach to education, the University encourages and supports the use of electronic communication, technology and computing. Franklin's students have a wealth of technology resources available, including a campus-wide network, wireless Internet access, student Web portal, computerized library access, mobile computer labs, computerized classrooms and several computer labs.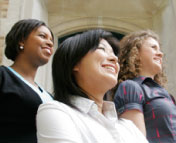 Ready to start an application?
Franklin's student-centered philosophy is one of the many reasons so many students choose us!
START YOUR APPLICATION