D.P.S - Instructional Design
Deferred Tuition Reimbursement Plan
The Deferred Tuition Reimbursement Plan (DTRP) allows students receiving employer tuition reimbursement to defer payment on tuition and fees until after grades for each term are posted.
To participate, please submit the deferment application and letter from your employer.
To get to the application, please follow the steps below.
Click on the "myTools: Schedules, Registration, Refunds, Financial Aid and Academic Records"
Choose the "View My Account Balance and Payment Options" link under the "Financial Information" heading
A new webpage or tab will attempt to open in your web browser. If you have a pop up blocker, then it may keep it from opening.
Once on the commerce.cashnet site choose the link for the Deferment Application option are under the "Declare Payment Method" in your myFranklin account
Please send us your employer authorization letter in one of the following ways:

In person at the Welcome Center
By mail to the Business Office at Franklin University, 201 S. Grant Ave., Columbus, Ohio 43215-5399
By email, BusinessOffice@Franklin.edu, or fax to 614.255.9648
Students who do not pay their term balance in full by the following deadline are subject to a $100 late fee, monthly finance charges, and collections charges until the outstanding balance is paid in full.
Payment of Account Balance for DTRP for Fall 2017

Graduating Student - Paying by check

11/3/2017

Graduating Student - Paying by charge or certified funds

11/17/2016

Non-Graduating Student

1/19/2018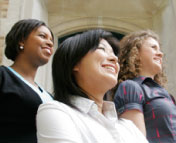 Ready to start an application?
Franklin's student-centered philosophy is one of the many reasons so many students choose us!
START YOUR APPLICATION