News & Events
Sign Up: Franklin University Alerts
User Registration
Franklin University Alerts is a text messaging and email notification system that will notify registered users when there is a major emergency, crisis situation or disaster; or other emergency closing or delay information for Franklin University locations.
Franklin University faculty, staff and students are automatically enrolled in the Franklin University Alerts system via their Franklin University email address. Once enrolled in the Franklin University Alerts system, users have the opportunity to choose to "opt-out" of the system and not receive future notifications. The "opt-out" process is communicated to users via their Franklin University e-mail.
Registration information will not be shared with outside sources and will only be used to send emergency messages. For more information, please see the Franklin University Alerts FAQs.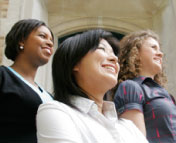 Ready to start an application?
Franklin's student-centered philosophy is one of the many reasons so many students choose us!
START YOUR APPLICATION