Computer Labs at Franklin
Need computer access? Come to our SLC Computer Labs
The Franklin University Computer Labs are located on our Main Campus in Fisher Hall (SLC), and at our other Ohio and Indianapolis locations. The labs are available for classroom use by Franklin University faculty and staff, or as open labs for all students currently enrolled at Franklin. Each computer in each lab is loaded with Microsoft Office XP and various other software applications.
Franklin University encourages the use of electronic communication, technology, and computing for the purpose of instruction, administration, advancement, research, and study. For policies regarding the use of technology, see our Information Technology Acceptable Use Policy.
Note: All labs will be closed on the following holidays: New Year's Day, Martin Luther King, Jr. Day, Good Friday, Memorial Day, Independence Day, Labor Day, Thanksgiving, Presidents' Day (Observed the Friday after Thanksgiving) and Christmas.
While teaching laboratories are located throughout the campus, the open computer laboratories are located as follows:
The Phillips Hall Computing Center labs are located in the lower level of Phillips Hall. They consist of four labs: three PC computerized classrooms which are open for general use when no classes are in session and the Student Learning Center Computer Lab which is available to all currently enrolled students.
SLC Computer Lab
Main Campus, downtown
(Rooms 009, Phillips Hall)
Day
Lab Hours
Monday -Thursday
11 am- 9 pm
Saturday
9 am - 5 pm
Delaware Location
Room 103
Day
Lab Hours
Monday
Closed
Tuesday
12 pm - 7 pm
Wednesday
12 pm - 7 pm
Thursday
Closed
Friday
Closed
Saturday
Closed
Sunday
Closed
Dublin Location Room 106
Day
Lab Hours
Monday - Thursday
12 pm - 7 pm
Friday
Closed
Saturday
Closed
Sunday
Closed
Castleton Location Room 400
Day
Lab Hours
Monday, Tuesday, Wednesday
9 am - 6 pm
Thursday
9 am-8 pm
Friday
9 am - 5 pm
Saturday
Closed
Sunday
Closed
We are here to help students with computer applications. We have a knowledgeable staff and convenient hours.
All students must sign in before using a computer in any of the labs.
Only currently enrolled students may use the labs.
Food and drinks are welcomed in the labs.
Children under the age of 18 are not permitted in the labs.
Computers are for academic purposes only.
Limit your printed documents to 25 pages. If you must print more than this, ask for assistance or print during the morning or late evening hours during the labs' slower periods.
For printing course manuals, ask for assistance in using our dedicated manual printer.
Be considerate of other students – try to keep conversations and noise to a minimum.
Cell phones and pagers must be set on vibrate or silence mode. Conduct phone conversations outside the lab so other students are not disturbed.
Adhere to Franklin University's Information Technology Acceptable Use Policy.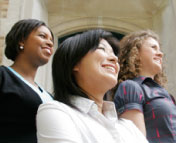 Ready to start an application?
Franklin's student-centered philosophy is one of the many reasons so many students choose us!
START YOUR APPLICATION