Technology Help Desk
While pursuing an education at Franklin University, students will be using some of the latest technology available. To help maximize the benefits of this technology, we offer the support of the Technology Help Desk.
The following Help Desk resources are available:
Create your own incident or service request (login required): servicedesk.franklin.edu
View current and historical outage and IT status information: click here
Browse Technical Support Solutions (login required)
Online Learning Technical Requirements
myFranklin Knowledge Base (Students)
myFranklin Knowledge Base (Teaching Faculty)
Contact by Instant Message: click here to start a chat support session
Contact by Email: helpdesk@franklin.edu
Contact by Phone (Local): 614.947.6222
Contact by Phone (Toll Free): 1.866.435.7006
The hours of operation for the Help Desk are as follows:
Monday-Thursday: 8:00 a.m. - 8:00 p.m. EST
Friday: 8:00 a.m. - 5:00 p.m. EST
Saturday: 9:00 a.m. - 1:00 p.m. EST
Sunday: 1:00 p.m. - 5:00 p.m. EST
The Help Desk is able to assist with the following:
Retrieving usernames and passwords (identity verification required)
Accessing and utilizing e-mail
Accessing and utilizing myFranklin online resources
Connecting to Computer Science servers
Utilizing basic software applications required by the University
Questions about basic computer literacy
The Help Desk also offers remote desktop connection sessions for additional assistance
The Help Desk requires a few identifying pieces of information when a student calls, sends an email, requests a chat session, or submits an incident request through the self-support portal, including:
First and last name
Description of problem(s)
Course problems: course name and section number
Application errors (in a web browser or in the operating system): exact error message, the task being performed when the error occurred, the number of times the problem has occurred, and whether the computer has been rebooted
This information will provide the technician an effective starting point within the troubleshooting process. Reminder: Students who do not meet the minimum application, OS, browser or hardware specifications as listed in the Online Learning Technical Requirements risk not receiving assistance from the Help Desk.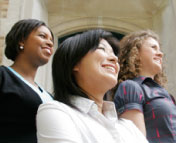 Ready to start an application?
Franklin's student-centered philosophy is one of the many reasons so many students choose us!
START YOUR APPLICATION