Certified Internal Auditor: A Deep Dive Into This In-Demand Career
The world of accounting offers many different career opportunities. While general accountants and CPAs often get the most attention, another promising career path is internal auditing. Many aspiring accounting professionals may not know about the Certified Internal Auditor (CIA) designation and the career opportunities it affords.
According to Robert Half International, the world's first and largest accounting and finance staffing firm, internal audit is one of the most in-demand finance and accounting positions in today's market. As organizations push to improve internal controls and transparency, internal auditors play a vital role in accomplishing these goals.
This article will break down the role of a Certified Internal Auditor (CIA), the career outlook for CIAs, and how to become a CIA in order to help you make an informed decision about your career.
What Do Certified Internal Auditors Do? 
The role of the internal auditor is to be an independent and objective party who oversees the financial operations of a business. Internal auditors work on behalf of the organization they're auditing, although they're not always full-time employees. Many internal auditors work for publicly traded companies, in highly regulated industries or consulting firms that provide internal audit services.
Certified Internal Auditors (CIAs) are a subset of internal auditors who have been certified for their expertise, experience and ethical standing within the field of internal auditing. The responsibilities of these professionals typically fall into three categories:
Assessing risks and the procedures implemented by a company to ensure the integrity of financial and accounting information.
Understanding and applying regulations to ensure a company and its employees are complying with all applicable federal and state laws.
Making recommendations to help a company remedy a failed audit or correct problematic issues that arose during the audit.
But what does being an internal auditor actually entail? Let's get inside the mind and mission of the internal auditor. 
They're investigators searching through mountains of information—financial statements, expense reports, inventory data, budgets—as well as interviewing employees to find inconsistencies, errors or issues. 
They're observant, paying close attention to work schedules, cataloging of physical inventory and employee responsibilities. 
They're diligent, rooting to the bottom of issues to stop potentially harmful errors or falsehoods. 
They're decisive, taking in massive amounts of information to make clear recommendations that will help boost productivity.
What's the Expected Salary for a Certified Internal Auditor? 
Internal auditors have strong earning potential, especially as they rise through the ranks of the accounting industry. Let's break down earnings potential for internal auditors based on role and experience.
​​According to The Institute of Internal Auditors (IIA), Certified Internal Auditors in the U.S. earn an average of $38,000 more annually than those without the certification. That means certified internal auditors are likely to earn on the higher end of the wage spectrum for internal auditing roles.
Other ways to increase your earning potential include:
Earn an advanced degree. According to EMSI, in 2021, 19% of internal auditing job postings required a candidate with a master's degree. Master's-level positions typically come with increased earning potential.
Get a job in an industry where demand is high. According to Robert Half, risk and compliance concerns are driving hiring at many companies, particularly in highly regulated industries like banking, insurance, healthcare and financial services.
Master sought-after skills. Make sure you know the internal auditing skills employers are looking for. According to EMSI, some of the top skills for internal auditors are internal controls, Sarbanes-Oxley Act (SOX) Compliance and risk analysis. 
Know your worth. Make sure you understand the typical salary range for the role you're seeking, and where your specific skills, experience and credentials should put you within that range.
How Do You Become a Certified Internal Auditor?
The Certified Internal Auditor designation is governed by The Institute of Internal Auditors (IIA). This international professional organization is recognized as the internal audit profession's global voice, recognized authority, acknowledged leader, chief advocate and principal educator. The IIA has more than 210,000 members across the globe. 
The Certified Internal Auditor is the premiere certification in the field. The CIA designation is the only globally recognized internal audit certification. Becoming a Certified Internal Auditor is the ideal way to showcase the expertise required to effectively perform the professional responsibilities for an internal audit, anywhere in the world.
To become a Certified Internal Auditor, you must meet the Four E's of Eligibility, which include:
Education: The IIA used to require all prospective CIAs hold a bachelor's degree or higher. Now, more educational backgrounds are accepted, including high school diplomas and associate degrees, if a minimum of five years internal auditing experience or equivalent is met.
Ethics: The IIA holds its auditors to the highest standards of ethics and integrity. A candidate must agree to abide by the IIA's code of ethics, as well as submit a character reference that testifies to their high moral and professional character.
Examination: The most demanding part of becoming a Certified Internal Auditor is passing the CIA exam. The three-part exam is difficult—the pass rate in 2020 was only 41%. It's recommended candidates study anywhere from 40 to 60+ hours for each section of the exam depending on their content familiarity. 
Experience: The amount of experience a candidate needs varies based on education level. If a candidate has a master's degree, only one year of internal auditing experience or its equivalent is required. With a bachelor's degree, two years of experience is required. For an associate degree or equivalent, five years of professional experience is necessary.
​​The Certified Internal Auditor eligibility period is three years from the date you received approval of your CIA program application. You have three years to complete all of the CIA certification requirements, including passing the CIA exam. For even more detail on eligibility, visit the IIA's website. 
How Long Does It Take to Become a Certified Internal Auditor?
The length of time it takes to become a Certified Internal Auditor varies from person to person. The maximum time to complete the CIA certification program is three years, however this does not account for the years of preparation it takes to become a Certified Internal Auditor.
On average, it takes six to seven years to meet the combination of education and experience requirements to become a Certified Internal Auditor. It's possible to overlap your three-year eligibility period and pass the CIA exam before completing your experience requirement. However, you must complete your professional experience requirement within the three year period. 
 
If you choose to take the exam after meeting the education and experience requirements, it can take up to 10 consecutive years.
Is Becoming a Certified Internal Auditor Worth It?
If you're at the beginning of your career, you may wonder if the time and energy you need to devote to becoming a Certified Internal Auditor is worth it. Based on quantitative factors outlined in this article—such as job demand and salary expectations—Certified Internal Auditor can be a prosperous career path. But is it a job that people find professionally satisfying?
Here are five aspects of internal auditing that makes this career rewarding:
The significance of the work auditors do, which not only protects the companies they work for, but also the larger capital markets and investors.
The combination of working with people and data provides a good balance between introverted and extroverted tasks.
The ability to constantly learn new things, such as new technologies that influence how financial information is collected and maintained, and apply those learnings to solve new challenges.
The satisfaction of solving puzzles for a living, using logical and deductive reasoning in everyday tasks.
The growth and possibility for new auditors, especially in an increasingly digital world, that can help accelerate their career growth.
Get The Degree You Need For A Career As An Internal Auditor
A bachelor's degree in accounting is typically the first step to a career as an internal auditor. A bachelor's degree program will teach you Generally Accepted Accounting Principles, as well as foundational skills such as evidence gathering, internal control review and standard audit procedures.
Franklin University offers a 100% online B.S. in Accounting program that is accredited by the International Accreditation Council for Business Education for adhering to industry best-practice standards. Franklin's flexible degrees allow you to focus on auditing through electives in fraud examination, interviewing techniques for fraud investigations, corporate internal control assessment, accounting ethics and more.
Franklin's bachelor's degree in accounting can help you take the first step toward becoming a Certified Internal Auditor. If you already have a bachelor's degree, a master's degree in accounting can help you meet the education requirement to become a Certified Internal Auditor, while reducing the experience requirement. Franklin University's master's in accounting program can help you take your auditing, data analytics and risk management skills to the next level, preparing you for the CIA exam.
Learn more about Franklin's M.S. in Accounting to see how it can help you reach your goals.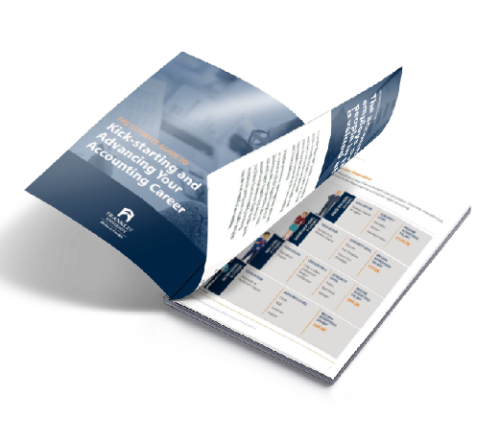 Download Now
Kick-starting and Advancing Your Accounting Career
Get tips for success from 10 in-field experts to help you climb the career ladder and increase your earning potential.