We're Sorry
There was an unexpected error with the form (your web browser was unable to retrieve some required data from our servers). This kind of error may occur if you have temporarily lost your internet connection. If you're able to verify that your internet connection is stable and the error persists, the Franklin University Help Desk is available to assist you at helpdesk@franklin.edu, 614.947.6682 (local), or 1.866.435.7006 (toll free).
Just a moment while we process your submission.
What Skills Does an Accountant Need to Have?
Accounting is more than number crunching. While math remains the foundation of an accountant's career, it's important to have a rounded skill set.
Lucia Smeal, an adjunct faculty member at Franklin University, says she's seen the role of an accountant substantially expand: "Accountants are expected to think strategically, to drive business value, and to be more proactive in business decisions."
Whether you're thinking about accounting as a career, or you've been in the field for several years and are looking to take the next step in your career, it's important to consider the question: What skills and qualities do accountants need?
7 Hard Skills All Accountants Need
What are hard skills in accounting? Hard skills are learned formally and honed with practical application. For accountants, there are 7 hard skills that can be keys to success.
Data analysis: Data analysis is about taking the numbers apart and then deriving insights from all of the disparate data points. Or, to put it another way, it's about knowing how to take the information you see and turn it into actionable segments of data. (And remember: While understanding historical information is important, monitoring predictive data is imperative.)
Technical proficiency: Slide rule and a calculator? That was yesterday. Today an accountant has to be able to work in Alteryx, Tableau, Hyperion, Oracle, Excel, even Quickbooks. 
And just over the horizon, there's the big unknown: AI. "AI is the next thing," Smeal says. "It's interesting to see where it will become a part of accounting. I would say that AI will never eliminate jobs in accounting though. There's just too many judgment calls."
Sawyer Smith, senior associate, Assurance (KPMG), CPA, says AI presents an additional need for "people who can filter up and manage those new technologies."
Statistical analysis: Accountants need to do more than calculate. They have to take numbers and pull concise insights from them. That can be done by finding the mathematical relationships between data points.
Writing: Once an accountant has developed results, how that information is presented is just as important as finding it. The ability to write in a clear, business-friendly way can help to turn information into needed actions. After all, if you're only speaking "accounting" it may be hard for others to see the business value in your work. 
Project management: Because accountants touch every part of the business, their skills, opinions and insights are in constant demand. It can be easy to disappoint one department because you're focused on helping another. Having the ability to manage multiple projects, timelines, business needs, reporting deadlines, filing deadlines and personalities - that's a hard skill to master.
Business management: As part of the core business team helping make critical decisions, accountants have to have an understanding of general business principles and practices.
Regulatory management: Taxes, personal finance, business, forensics, nonprofit - there are any number of areas an accountant can specialize in. The commonality they all share? Rules, regulations and laws. It's your responsibility to know, understand and follow them all.
 
8 Soft Skills All Accountants Should Have
Soft skills are more intangible, but no less important. These professional skills can help accountants navigate the workplace with success.
Decision making: Companies want people who can drive business value by making suggestions that will increase its success. 
Problem solving: Accountants need to move from only answering why something happened to proposing an answer for how companies can avoid the thing from happening in the future.
Communicate clearly: Accountant or storyteller? It's not enough to hand over a ledger sheet. Businesses want a story too—the story the numbers tell. The ability to translate what the numbers are into what they mean, and what should be done about it in a direct manner is a particularly valuable skill.
Operational understanding: Accountants are expected to bring concerns (or opportunities) forward but they can only do this with a holistic understanding of the company.
Strategic thinking: Can you look at the information laid out before you and see not what's there, but what's coming? There's a premium on accountants who can look forward strategically. "It is very important for people to take the time to figure things out," says Smith. "People need to understand that it's not just the problem in front of you but how it fits into the overall business."
Active learning: Advances in technology, changes in business practices, regulatory updates, the effect of external factors - accountants need to be able to adjust to the seemingly consistently changing face of business.
Creativity: Old gangster movies used to have "creative accountants" who worked for the bad guys. Companies today want accountants who are creative in a different way, ones who can bring new ways to work, ideas that stand outside of "Well, we've always done it that way…" 
Critical thinking: Average accountants do their job. Great accountants do their job with a critical eye. Looking for inaccuracies and then focusing on the "how and why" enables accountants to find areas of improvement in the business.
The Missing Piece
It is important to have a certain level of proficiency in these skills but to be successful there's a personal element as well. "Companies are looking for accountants who are outgoing, good leaders, people who have good people skills," Smeal says. "Companies want forward thinkers with strong decision-making abilities."
"We have computers that can do a lot of different things at this point. What we need are problem solvers. We need project managers who can lead," Smith said.
Smeal adds that one of the most common complaints that she's heard from hiring managers is that applicants have great skills, solid experience, but no personality. And it's important for companies to know they're getting more than just someone to work the numbers."
"Everything is not black and white," Smith mused. "That's why it's so important that people ask questions and be willing to learn."
Skill Up for Success
This is an exciting time to take on this dynamic career, a career that can start with a degree from Franklin University's accredited Accounting bachelor's degree program. Franklin's program is focused on teaching not just the basics of accounting but all of the hard and soft skills you'll need to speak the language of business.   
Smeal adds, "The great strength of the accounting program at Franklin is that it has real-world practitioners teaching. It's not just theory, they are bringing practical knowledge into the classroom."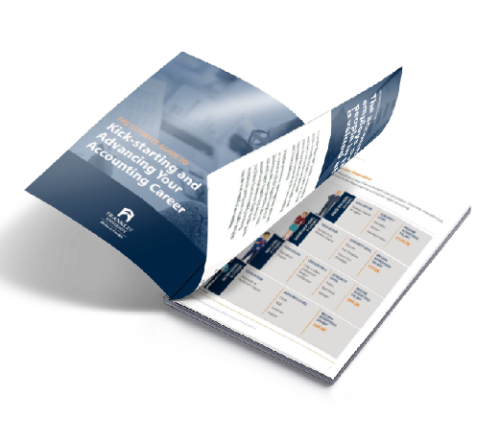 Download Now
Kick-starting and Advancing Your Accounting Career
Get tips for success from 10 in-field experts to help you climb the career ladder and increase your earning potential.