Intuit Bookkeeping Certificate Online
Take control of your professional life with Intuit bookkeeping certificate courses that train you help businesses record, track and analyze essential financial records.
Certificate | Beginner | 3-4 months
ⓘ
| Coursera
Price: Included in $49 monthly subscription
Franklin University has partnered with Coursera Campus to provide cutting-edge certificates to learners seeking to advance. Courses are open to all learners. No application required.
Included in your subscription
Get Unlimited access to over 7,000 Courera offerings found on the Coursera website – including guided projects, specializations and professional certificates offered by hundreds of leading universities and companies. You also get access to all 39 professional certificates found in the Franklin Marketplace.
LEARN MORE
What You Will Learn
Learn essential bookkeeping concepts and examine measuring and valuation in accounting
Examine assets, liabilities and equity accounts and their effect on the balance sheet
Understand and work through the accounting cycle to produce accurate and consistent financial statements
Analyze financial statements, troubleshoot errors and explain how financial statements support decision making
About the Intuit Bookkeeping Professional Certificate
Bookkeeping is more than a numbers game. It's a professional career that's both challenging and rewarding. If you're looking to launch a bookkeeping career or consultancy, here's how to gain the skills you need without prior experience or a degree: the Intuit Bookkeeping Professional Certificate.
Offered by financial global technology company, Intuit, this Professional Certificate is designed to prepare you for a variety of bookkeeping jobs across a wide variety or organizations, including public accounting, private industry, government and nonprofits.
The four courses that comprise this Professional Certificate program will give you a foundational understanding of accounting principles and bookkeeping best practices. You'll work through the many phases of the accounting cycle, generate essential financial documents, and practice synthesizing and presenting financial findings to key stakeholders.
You'll use Excel, Google Sheets, Numbers or an equivalent spreadsheet program for some of your assignments. Even better, you'll gain relevant QuickBooks Online experience through hands-on practice labs that let you apply what you learn to real-world accounting scenarios.
Once you've earned your certificate, you'll also be prepared to sit for the Intuit Certified Bookkeeping Professional Exam – a certification that qualifies you to apply for a bookkeeper position at Intuit QuickBooks Live or anywhere in the field.
If you're a detail-oriented, problem solver who wants to help organizations make more informed financial decisions, then the Intuit Bookkeeping Professional Certificate is for you.
Required Intuit Bookkeeping Certificate Courses
Bookkeeping Basics
BEGINNER | Business | Self-paced | 16 hours
This is the first course in a series of four that will give you the skills needed to start your career in bookkeeping. If you have a passion for helping clients solve problems, this course is for you. In this course, you will be introduced to the role of a bookkeeper and learn what bookkeeping professionals do every day. You will dive into the accounting concepts and terms that will provide the foundation for the next three courses. You will learn how to work your way through the accounting cycle and be able to read and produce key financial statements. By the end of this course, you will be able to: -Define accounting and the concepts of accounting measurement -Explain the role of a bookkeeper and common bookkeeping tasks and responsibilities -Summarize the double entry accounting method -Explain the ethical and social responsibilities of bookkeepers in ensuring the integrity of financial information. No previous bookkeeping or accounting experience required.
Assets in Accounting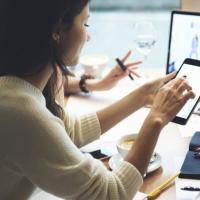 BEGINNER | Business | Self-paced | 19 hours
In this second course, you will dive deeper into the world of bookkeeping and focus on accounting for assets. If you are familiar with bookkeeping basics, such as double entry accounting, you are ready for this course. You will gain an understanding of common asset types, learn how to account for inventory, calculate cost of goods sold, and work with Property, Plant, and Equipment (PP&E). Upon completing this course, you will use your new knowledge of assets to record transactions and produce financial statements for increasingly complex business situations. By the end of this course, you will be able to: -Summarize the common types of assets a business may have -Describe the importance of control over inventory -Outline how depreciation expense is reported on an income statement -Illustrate how transactions can be recorded in terms of the resulting change in the elements of the accounting equation. Course 1 Bookkeeper Basics, or the equivalent, is a recommended prerequisite for this course.
Liabilities and Equity in Accounting
BEGINNER | Business | Self-paced | 14 hours
In this third course, you will learn about liability and equity accounts and its effect on the balance sheet. If you have mastered bookkeeping basics and understand accounting assets, you are ready to jump into Liabilities and Equity in Accounting. You will explore the various types of liability, including: current and long term, payroll, and sales tax. Additionally, you will learn about the equity portion of the accounting equation and how to account for changes in owner's equity. By the end of this course, you will be able to: -Describe the three main characteristics of liabilities. -Demonstrate an understanding of the basic payroll accounting functions and tasks. -Compare and contrast the different types of equity -Use the accounting equation to describe the financial position of an organization. Courses 1 and 2 in the Intuit Bookkeeping Professional Certificate, or the equivalent, are recommended prerequisites for this course.
Financial Statement Analysis
BEGINNER | Business | Self-paced | 18 hours
In the final course of this certificate, you will apply your skills towards financial statement analysis. If you have the foundational concepts of accounting under your belt, you are ready to put them into action in this course. Here, you will learn how to reconcile different types of accounts, check for accuracy, and troubleshoot errors. Additionally, you will practice how to apply different analytical methods to key financial statements and understand how these methods inform a variety of business decisions. By the end of this course, you will be able to: -Describe and illustrate the use of a bank reconciliation in controlling cash -Outline the purpose of financial statements in relationship to decision making -Describe basic financial statement analytical methods -Apply quantitative skills to analyze business health Courses 1-3 in the Intuit Bookkeeping Professional Certificate, or the equivalent, are recommended prerequisites for this course.
Complete This Certificate. Get College Credit.
You know that skill-specific courses will open the door to specialized jobs, but did you know that they will also move you closer to a degree at Franklin University?
The University has evaluated hundreds of certifications for industry-recognized proficiencies and awards credit that equates to specific Franklin courses, as well as technical- or elective-credit requirements. See how much time and money you'll save toward your degree by building on prior learning credit.
Bolster Your Professional Skills
Take back control or rethink your career by strengthening your skills with a Professional Certificate through Franklin. Learn, hone or master job-related skills with professional development classes that won't break the bank or gobble up your free time. These online courses let you feed your curiosity and develop new skills that have real value in the workplace. Learn at your own pace. Cancel your subscription anytime.
Showcase Your Capabilities
Through Franklin's partnership with Coursera, Certificate courses let you apply your learnings and build a career portfolio that helps demonstrate your professional capabilities to employers. Whether you're moving into a new field or progressing in your current one, the hands-on projects offer real-world examples that help illustrate your skills and abilities. Project completion is required to earn your Certificate.
Gain a Competitive Advantage
Get noticed by hiring managers and by your network of professional connections when you add a Professional Certificate to your credentials. Many Certificates are step toward full certification while others are the start of a new career journey. At Franklin, your Certificate also may be evaluated for course credit if you decide to enroll in one of our many degree programs.
Frequently Asked Questions
How much does the Intuit Bookkeeping Professional Certificate cost?
When you enroll in this self-paced certificate program, you decide how quickly you want to complete each of the courses in the specialization. To access the courses, you pay a small monthly cost of $35, so the total cost of your Professional Certificate depends on you. Plus, you can take a break or cancel your subscription anytime.
How long does it take to finish the Intuit Bookkeeping Professional Certificate?
It takes an average of 3-4 months to complete the courses and hands-on projects to earn your certificate.
What prior experience do I need to enroll?
This intermediate-level series is for technology-minded individuals with related experience, such as software development.
What will I be able to do with my Intuit Bookkeeping Professional Certificate?
Share your certificate with your professional network to demonstrate your newly acquired knowledge and skills. Completing this certificate also means you're ready to sit for the Intuit Certified Bookkeeping Professional exam.
Do I need to apply and be accepted as a Franklin University student to take courses offered through the FranklinWORKS Marketplace?
No. Courses offered through the Marketplace are for all learners. There is no application or admission process.
If I complete a certificate and decide to enroll at Franklin, how do I get course credit toward a degree?
Please submit your certificate to plc@franklin.edu for review and processing. After your official evaluation has been completed, please review it to ensure that all eligible credits have been applied.
You can submit documentation before or after you apply to Franklin.