Course Schedule
Please click the link below to view Franklin University's course schedule information:
Prerequisite Information
Balanced Learning Format (BLF) courses require a prerequisite of either PF 121 or PF 321.
All students are required to pass College Writing (WRIT 120 or COMM 120) and either Speech Communication (SPCH 100) or Interpersonal Communication (COMM 150) prior to enrolling in any course at the 200 level or above (except PF 321).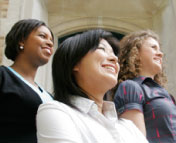 Ready to start an application?
Franklin's student-centered philosophy is one of the many reasons so many students choose us!
START YOUR APPLICATION