We're Sorry
There was an unexpected error with the form (your web browser was unable to retrieve some required data from our servers). This kind of error may occur if you have temporarily lost your internet connection. If you're able to verify that your internet connection is stable and the error persists, the Franklin University Help Desk is available to assist you at helpdesk@franklin.edu, 614.947.6682 (local), or 1.866.435.7006 (toll free).
Just a moment while we process your submission.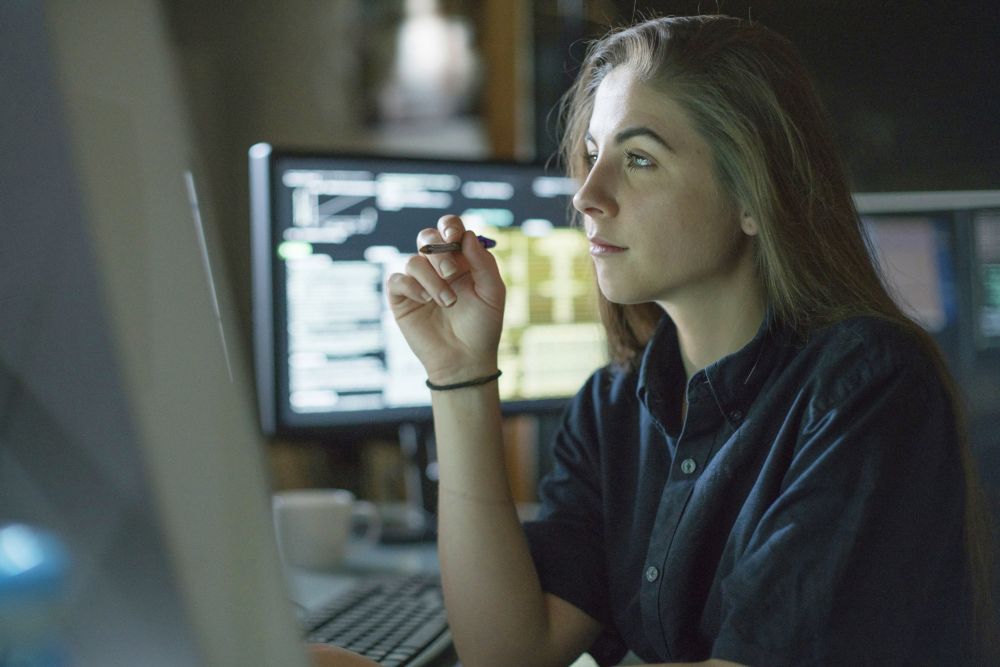 Should I Get a Master's Degree in Data Analytics? Your Top Questions Answered.
Data analytics is one of the most exciting and fastest-moving professions in today's workforce. There has never been a greater emphasis placed on data-driven decision-making. At the same time, there is also access to extensive amounts of data and data processing technology. What brings these two things together is the data analytics professional.
Today's market conditions make data analytics professionals some of the most sought-after across many industries. With so many opportunities, you may wonder if a master's degree is essential to getting ahead. Let's dive in to answer some of the most pressing questions for professionals considering a master's degree in data analytics.
Do You Really Need a Master's in Data Analytics? 

First and foremost, a master's degree (or higher) is becoming a competitive advantage for professionals in this field. According to Lightcast™, 35.4% of data scientists and related occupations have a master's degree and 13.5% have a doctoral or professional degree. This means nearly half of the professionals in this field have advanced degrees. 
To stay competitive in this field, a master's degree is becoming more essential. There are other ways a master's degree can help you advance your career, including:
Accelerating upward mobility. It's hard to move past entry or mid-level jobs without a master's degree. If you want to move into management, a master's degree is likely the first step to take—over 300,000 data analytics jobs were posted in 2021 that require a master's degree. 
Reducing the learning curve if you lack technical skills. For professionals who come from a traditional business or non-technical background, learning the foundational statistical and analysis skills on the job can be time consuming. A master's degree can help you jump-start your knowledge of the fundamentals through hands-on learning using industry-standard tools.
Connecting everything you've learned—on the job and in the classroom. There is no substitute for experience. However, experience can also be limited by your past and current job functions. A master's degree in data analytics can help you make connections between the work you've done, and the work you want to do, while teaching important interpersonal skills such as presentation, communication and leadership.
Opening the door to new employment opportunities. Data is becoming the main driver for decision-making in nearly every industry, company and sector. Professionals with a master's degree in data analytics have their choice of career paths.
Let's explore some of the specific job opportunities that await professionals with a master's degree in data analytics.
 
What Can I Do With a Master's in Data Analytics? 
The career possibilities for data analytics professionals are seemingly endless. Whatever your passion, the knowledge and skills you gain in a data analytics master's degree program will be applicable and sought-after.
Let's review 10 popular career paths in data analytics and the median salaries of these positions according to Lightcast™. 
Logistician | $76.3K: Logisticians oversee activities that include purchasing, transportation, inventory and warehousing. These professionals direct the movement of a variety of goods and people—from household deliveries to military supplies and personnel.
Marketing Analyst | $81.7K: Marketing analysts study market conditions to determine the potential success of different products and services. These professionals help companies decide what's in demand, who the target purchaser is and the price they would pay for a good or service.
Financial and Investment Analyst | $83.7K: Investment analysts possess expertise in evaluating financial performance and investment information. Their primary role is guiding investment firms on whether to buy, sell or hold securities. 
Operations Research Analyst | $86.2K: At a high level, operations research analysts use mathematical expertise and analytical methods to help businesses and organizations solve problems. In practice, this can impact how organizations allocate resources, manage the supply chain, price products and more.
Management Analyst | $87.7K: Management analysts, also known as management consultants, conduct organizational studies and evaluations. They use data to design systems and procedures that streamline cost and increase efficiency.
Business Systems Analyst | $95.1K: These professionals are highly analytical specialists with both business and technical expertise. Business systems analysts are responsible for optimizing business operations by analyzing requirements, estimating costs and establishing new protocols.
Data Scientist | $98.2K: Data scientists know how to extract meaning from and interpret data. They combine computer science, data modeling, statistics, analytics and math skills to solve pressing business challenges using objective data. 
Data Analytics Manager | $111.4K: Data analytics managers are responsible for developing comprehensive analytics solutions and generating reports to support business objectives. These professionals work closely with cross-functional leadership teams to gather and analyze data that will generate valuable insights. 
Data Analytics Engineer | $129.5K: Data analytics engineers model data to create clean and accurate datasets. These data sets provide easy access for other employees within a company to derive insights specific to their functions and objectives.
Big Data Architect | $146.2K: Big Data architects are responsible for developing and overseeing the framework that allows organizations to utilize Big Data—from hardware and software to cloud services, developers and other IT infrastructure—to reach organizational goals.
Is a Master's Degree in Data Analytics Worth It?

Every company—from startups to Fortune 500—in every industry needs people who understand data science and analytics. It's one of the few jobs today that is industry agnostic, offering opportunities in wide-ranging fields such as finance, healthcare, logistics, entertainment, consulting and more.
These opportunities are especially prevalent for professionals with a master's degree. 
In addition to job growth, there are other professional benefits to earning a master's degree in data analytics. A master's degree also affords you the opportunities to:
Build a strong professional network that can open the door to new jobs, thought leadership and professional development opportunities.
Stay up-to-date on the latest trends in data analytics technologies, tools and methodologies.
Balance the art and science of the field, which involves gaining a greater perspective on how to approach solving problems and thinking through challenges holistically, not just through an analytical lens.
Spur a love of lifelong learning and inspire you to continue your education long after you graduate from your master's degree program.
Invest in Your Future—Get a Master's Degree in Data Analytics
Getting a master's degree in data analytics is more accessible than ever, with universities offering online degrees that work around the schedules of working professionals.
Top programs teach students a diverse skill set that is directly applicable to industry. Franklin University's online M.S. in Data Analytics equips you with:
Statistical skills necessary to conduct descriptive and predictive analytics.
Programming skills to create and apply computer algorithms.
Technology skills to use the latest platforms to visualize and mine Big Data.
Communication skills necessary to effectively convey findings and provide strategies and best practices within your organization.
See how Franklin's hands-on, practitioner-led master's degree in data analytics can help you reach your career goals.
Get Your Roadmap
Accelerating Your Data & Business Analytics Career
9 data professionals share insider secrets on building a thriving (and high-paying) data-centric career.