IBM Full Stack Cloud Developer Certificate Online
Build your cloud developer portfolio with this hands-on IBM full stack cloud developer certificate course that uses the latest tools and technologies to manage full stack cloud native apps.
Certificate | Intermediate | 4-5 months
ⓘ
| Coursera
Price: Included in $35 monthly subscription
Franklin University has partnered with Coursera Campus to provide cutting-edge certificates to learners seeking to advance. Courses are open to all learners. No application required.
What You Will Learn
Learn about cloud computing and front-end development languages and tools, including HTML, CSS and JavaScript
Use back-end web development languages and frameworks, such as Express, Node.js, Python and Django
Build several apps using a variety of technologies and languages and deploy these applications on a cloud platform using Cloud native methodologies like Kubernetes
Showcase your portfolio of projects by publishing them on a GitHub repository you can share with current or future employers
About the IBM Full Stack Cloud Developer Professional Certificate
The IBM Full Stack Cloud Developer Professional Certificate can help you launch a career in app development. If you love a challenge and are an innovative thinker, then this Cloud technologies specialization is for you.
Through the 10 courses in this program, you'll acquire both the know-how and experience needed to become a Full Stack Cloud developer, without having any previous programming experience. 
In this Professional Certificate program you'll learn how to build both Cloud-based and Cloud native applications using the same tools and technologies that in-demand software developers use.
As you work through each course at your own pace, you'll be adding a wide variety of technologies to your skill set, too, including: application security, Bootstrap, CI/CD, Cloud foundations, Cloud native practices, containers, CSS, databases, DevOps, Django ORM, Docker, GitHub, HTML, Istio, JavaScript, Kubernetes, microservices, Node.js, NoSQL, OpenShift, Python programming, React, serverless computing, SQL and more.
You'll also apply what you learn through lab assignments and hands-on projects, giving you relevant experience building, deploying, testing, running and managing Full Stack Cloud native applications.
And when you successfully complete all of your certificate program courses and capstone project, you'll have a career portfolio that showcases your work using front-end and back-end technologies to develop and deploy applications on a Cloud platform using Cloud native methodologies.
Required IBM Full Stack Cloud Developer Certificate Courses
Introduction to Cloud Computing
BEGINNER | Information Technology | Self-paced | 13 hours
This course introduces you to the core concepts of cloud computing. You gain the foundational knowledge required for understanding cloud computing from a business perspective as also for becoming a cloud practitioner. You understand the definition and essential characteristics of cloud computing, its history, the business case for cloud computing, and emerging technology usecases enabled by cloud. We introduce you to some of the prominent service providers of our times (e.g. AWS, Google, IBM, Microsoft, etc.) the services they offer, and look at some case studies of cloud computing across industry verticals. You learn about the various cloud service models (IaaS, PaaS, SaaS) and deployment models (Public, Private, Hybrid) and the key components of a cloud infrastructure (VMs, Networking, Storage - File, Block, Object, CDN). We also cover emergent cloud trends and practices including - Hybrid Multicloud, Microservices, Serverless, DevOps, Cloud Native and Application Modernization. And we go over the basics of cloud security, monitoring, and different job roles in the cloud industry. Even though this course does not require any prior cloud computing or programming experience, by the end of the course, you will have created your own account on IBM Cloud and gained some hands-on experience by provisioning a cloud service and working with it. This course is suitable for a large variety of audiences - whether you are an executive / manager / student who wants to become familiar with cloud computing terminology and concepts, or someone who wants foundational grounding in cloud computing to start a career in this field or become a cloud practitioner - such as a cloud engineer, developer, analyst, etc. The completion of this course also makes you eligible to earn the Cloud Computing Core IBM digital badge. More information about the badge can be found here: https://www.youracclaim.com/org/ibm/badge/introduction-to-cloud-computing
Introduction to Web Development with HTML, CSS, JavaScript
BEGINNER | Computer Science | Self-paced | 12 hours
Want to take the first steps to become a Web Developer? This course will help you discover the languages, frameworks, and tools that you will need to create interactive and engaging websites right from the beginning. You will begin by learning about the roles of front-end, back-end, and full-stack developers and how they work together on development projects. Through this, you will also become familiar with the terminology and skills needed in your career as a web developer. Next, you will explore the languages needed for developing websites or applications. You will gain a thorough understanding of HTML and CSS and learn how a combination of both technologies can help developers create the structure and style of their websites. Finally, you will learn how JavaScript can make your webpages dynamic with features that include interactive forms, dynamic content modification, and sophisticated menu systems.
Getting Started with Git and GitHub
BEGINNER | Computer Science | Self-paced | 8 hours
Collaboration and social coding are crucial parts of contemporary Software Engineering practices and the DevOps culture. In this course, you'll be introduced to collaborative version control and popular Git platforms. You will explore key Git concepts such as branching and repositories, as well as the use of Git commands. You will also learn and practice various Git concepts such as forking, cloning and merging workflows. You will learn to use GitHub to work effectively as a team, and perform common Git operations, such as Pull Requests, from both the Web UI and command line. Developed and taught by experienced IBM practitioners, in this course you'll gain vital skills and hands-on experience using Git and GitHub. Each module contains hands-on labs for you to apply and practice what you learn. The course wraps up with a final project where you will start building your portfolio by creating and sharing a public/open-source GitHub project. All hands-on activities in this course can be performed using web-browser based tools and interfaces. Installation of any specialized software is NOT required on your own computer in order to complete the course.
Developing Front-End Apps with React
INTERMEDIATE | Computer Science | Self-paced | 14 hours
React is one of the most popular frameworks in the Web and Front-end application Development category. In this course, you will - build rich Front-End applications with React and ES6 - connect React components using data and state - write rich React components with advanced features like Hooks and Redux In addition, you will explore how to access the React web framework user interface (UI) library and run rich React applications. You will find ways to use React components and change their properties and states in a dynamic user interface. You will learn to connect to an external server from a React page. The course introduces different testing tools that you can use to test the component without manual verification. Throughout the course, you will complete numerous hands-on labs to gain practical experience. At the end of the course, you will demonstrate your React skills with a final project to add to your portfolio. This course will help you succeed as a front-end or full-stack developer. It suits those in IT looking to step up in their careers or new graduates seeking to establish their client-side skills. Note: This course requires knowledge of HTML, CSS, JavaScript and Git/GitHub
Developing Back-End Apps with Node.js and Express
INTERMEDIATE | Computer Science | Self-paced | 12 hours
In a recent Stack Overflow survey, Node.js was used by about 50% of the developers who answered the survey, making it the most used server-side technology. Express ranked as the fourth most popular web technology overall, making it the most popular server-side web framework. In this course, you will focus on Node.js and Express. Specifically, you will - develop applications using asynchronous callbacks and promises - create REST APIs and perform CRUD operations - implement authentication and session management Throughout the course, you will complete numerous hands-on labs to gain practical experience. At the end of the course, you will demonstrate your Node skills with a final project to build your portfolio. This course will help you succeed as a back-end or full-stack developer. It suits those in IT looking to step up in their careers or new graduates seeking to establish their server-side skills. This course suits those who need to manage cloud-centric projects. Note: This course requires knowledge of JavaScript and Git.
Python for Data Science, AI & Development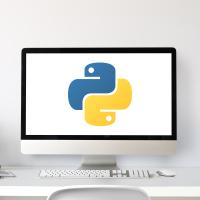 BEGINNER | Data Science | Self-paced | 20 hours
Kickstart your learning of Python with this beginner-friendly self-paced course taught by an expert. Python is one of the most popular languages in the programming and data science world and demand for individuals who have the ability to apply Python has never been higher. This introduction to Python course will take you from zero to programming in Python in a matter of hours—no prior programming experience necessary! You will learn about Python basics and the different data types. You will familiarize yourself with Python Data structures like List and Tuples, as well as logic concepts like conditions and branching. You will use Python libraries such as Pandas, Numpy & Beautiful Soup. You'll also use Python to perform tasks such as data collection and web scraping with APIs. You will practice and apply what you learn through hands-on labs using Jupyter Notebooks. By the end of this course, you'll feel comfortable creating basic programs, working with data, and automating real-world tasks using Python. This course is suitable for anyone who wants to learn Data Science, Data Analytics, Software Development, Data Engineering, AI, and DevOps as well as a number of other job roles.
Python Project for AI & Application Development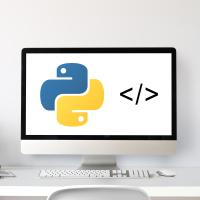 INTERMEDIATE | Computer Science | Self-paced | 8 hours
This mini course is intended to apply basic Python skills for developing Artificial Intelligence (AI) enabled applications. In this hands-on project you will assume the role of a developer and perform tasks including: - Develop functions and application logic - Exchange data using Watson APIs - Write unit tests, and - Package the application for distribution. You will demonstrate your foundational Python skills by employing different techniques to develop web applications and AI powered solutions. Upon completing this course, you will have added another project to your portfolio and gained the confidence to begin developing AI enabled applications using Python and Flask, Watson APIs, build and run unit tests, and package the application for distribution out in the real world. PRE-REQUISITE: **Python for Data Science, AI and Development** course from IBM is a pre-requisite for this project course. Please ensure that before taking this course you have either completed the Python for Data Science, AI and Development course from IBM or have equivalent proficiency in working with Python and data. NOTE: This course is not intended to teach you Python and does not have too much instructional content. It is intended for you to apply prior Python knowledge.
Developing Applications with SQL, Databases, and Django
INTERMEDIATE | Information Technology | Self-paced | 14 hours
The essentials of application development are accessing, processing, and presenting data. Data is stored in various databases, either on-premise or on the cloud, and developers will need to learn how to talk to them via programming languages. In this course, you will be introduced to some fundamental database concepts. You will learn the basics of SQL, a simple and powerful programming language for querying and managing data. And you will learn about cloud database fundamentals and get hands-on cloud database experiences. In addition to SQL, you will discover how Object-Relational Mapping (ORM) allows you to use Object-Oriented Programming (OOP) languages to work with databases. You will gain full-stack Django skills by creating a Django web app to persist, process, and present data. And you will learn about cloud app platform fundamentals and get hands-on experience deploying your Django web app on the cloud. Course Learning Objectives: - Describe what is a database and how to model data - Compose SQL queries to insert, select, update, delete data in a database - Understand Object Relational Model (ORM) - Employ Django to develop database-powered applications - Deploy your Django app on the cloud Prerequisites: - GitHub - HTML & CSS - Python
Introduction to Containers w/ Docker, Kubernetes & OpenShift
BEGINNER | Information Technology | Self-paced | 13 hours
With a median salary of $137,000, developers with container skills are in demand. More than 70 percent of Fortune 100 companies are running containerized applications. But why? Using containerization, organizations can move applications quickly and seamlessly among desktop, on-premises, and cloud platforms. In this course designed for beginners, learn how to build cloud native applications using current containerization tools and technologies such as containers, Docker, container registries, Kubernetes, OpenShift, and Istio. Also learn how to deploy and scale your applications in any public, private, or hybrid cloud. Each week, you will apply what you learn in hands-on, browser-based labs. By the end of the course, you'll be able to build a container image, then deploy and scale your container on the cloud using OpenShift. If you understand basic cloud and programming concepts, and your career path includes roles such as cloud developer, cloud architect, cloud system engineer, DevOps engineer, and cloud networking specialist, this course is for you! Take the next step in your cloud career by learning more about containers!
Application Development using Microservices and Serverless
INTERMEDIATE | Computer Science | Self-paced | 14 hours
Welcome to this introductory course on microservices and serverless. Rather than building large applications, known as monoliths, that perform all the functionality, microservices break down larger applications into smaller pieces that are independently maintainable and scalable, providing a host of benefits. This architecture is used in the largest software organizations in the world, because it provides cost benefits, team autonomy, and other advantages. Likewise, serverless has emerged as an increasingly popular compute option in the cloud era. Giving developers and operators the ability to run applications without managing underlying infrastructure. In this course, you will create microservices using various methodologies. You will create REST API using Python and Flask. Next, you will learn the basics of Serverless applications, and how to run your applications on the IBM Cloud Code Engine. The course contains several hands-on labs which allow you to apply the content you learn in the course. In the final project, you will create microservices and use them in a frontend application.
Full Stack Cloud Development Capstone Project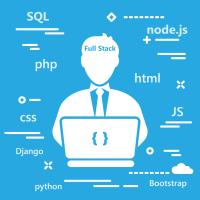 INTERMEDIATE | Computer Science | Self-paced | 16 hours
In this project you will demonstrate the skills that you have mastered in cloud native application development. You will apply your new knowledge to a real-life challenge and use your expertise to develop a successful solution. The project provides you with an opportunity to solidify your full stack proficiency. As you design a dynamic user experience, you will work with GitHub actions to build, test, and deploy your application. You will develop frontend pages, add user administration, build actions for database operations, create backend services, make connections with cloud native APIs, and launch CI/CD pipelines. You will boost your capabilities with cloud native services, JavaScript, Django, JSON, IBM Cloud Foundry, Python, and Kubernetes. Then you will devise a solution for managing the containerized deployment of your application. When you complete this project, you will have a working cloud native application showpiece that will impress potential employers.
Full Stack Software Developer Assessment
INTERMEDIATE | Computer Science | Self-paced | 4 hours
This is the final course in the Full Stack Professional Certificate. It will test your knowledge and the skills you've acquired so far. This course contains the graded final examination covering content from nine of the eleven courses in the certificate. You will be assessed on topics such as core cloud computing concepts; languages such as HTML, CSS, JavaScript, and Python; frameworks such as Node.js and React; and backend technologies such as Docker, Kubernetes, OpenShift, SQL, Django, and Serverless.
Bolster Your Professional Skills
Take back control or rethink your career by strengthening your skills with a Professional Certificate through Franklin. Learn, hone or master job-related skills with professional development classes that won't break the bank or gobble up your free time. These online courses let you feed your curiosity and develop new skills that have real value in the workplace. Learn at your own pace. Cancel your subscription anytime.
Showcase Your Capabilities
Through Franklin's partnership with Coursera, Certificate courses let you apply your learnings and build a career portfolio that helps demonstrate your professional capabilities to employers. Whether you're moving into a new field or progressing in your current one, the hands-on projects offer real-world examples that help illustrate your skills and abilities. Project completion is required to earn your Certificate.
Gain a Competitive Advantage
Get noticed by hiring managers and by your network of professional connections when you add a Professional Certificate to your credentials. Many Certificates are step toward full certification while others are the start of a new career journey. At Franklin, your Certificate also may be evaluated for course credit if you decide to enroll in one of our many degree programs.
Frequently Asked Questions
How much does the IBM Full Stack Cloud Developer Professional Certificate cost?
When you enroll in this self-paced certificate program, you decide how quickly you want to complete each of the courses in the specialization. To access the courses, you pay a small monthly cost of $35, so the total cost of your Professional Certificate depends on you. Plus, you can take a break or cancel your subscription anytime.
How long does it take to finish the IBM Full Stack Cloud Developer Professional Certificate?
It takes an average of 3-4 months to complete the courses and hands-on projects to earn your certificate.
What prior experience do I need to enroll?
This intermediate-level series is for aspiring app developers with or without a degree who have a basic understanding of running commands, taking screenshots and working with files and folders in an OS.
What will I be able to do with my IBM Full Stack Cloud Developer Professional Certificate?
Completing this certificate course means you've added essential skills to your career credentials, demonstrating excellence with Cloud technologies that can qualify you for an entry-level role as an app developer.
Do I need to apply and be accepted as a Franklin University student to take courses offered through the FranklinWORKS Marketplace?
No. Courses offered through the Marketplace are for all learners. There is no application or admission process.