Library
Franklin University's Nationwide Library
Visit the Franklin University Nationwide Library Web site now! Whether you're online or on-campus, the Franklin University Nationwide Library is rich with services and resources for Franklin students, faculty and staff. From real-time chats with librarians to significant links with libraries across Ohio, Franklin's library provides cutting edge technology to help you get the most out of your research and study time.
Franklin's library joined the OhioLINK consortium of Ohio Colleges and Universities in 2002, enabling access to the wealth of locally provided and OhioLINK services and resources via the Franklin Library Web page.
The Library is available online 24/7. You can also call 1-877-341-6300 or 614-947-6550 or email library@franklin.edu. To utilize the newly-renovated library in person, the library is located in Phillips Hall, at the southwest corner of Main Street and Grant Avenue in downtown Columbus.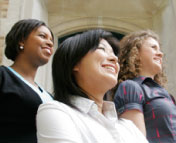 Ready to start an application?
Franklin's student-centered philosophy is one of the many reasons so many students choose us!
START YOUR APPLICATION