We're Sorry
There was an unexpected error with the form (your web browser was unable to retrieve some required data from our servers). This kind of error may occur if you have temporarily lost your internet connection. If you're able to verify that your internet connection is stable and the error persists, the Franklin University Help Desk is available to assist you at helpdesk@franklin.edu, 614.947.6682 (local), or 1.866.435.7006 (toll free).
Just a moment while we process your submission.
A Harvard MBA is Great - But Do Employers Really Care?
Just in case you have fallen for the common misconception that a Harvard master of business administration or MBA is the be-all and end-all of MBAs, let us stop you right there and set the record straight: In a lot of ways it is not.
Oh, that's not to say that Harvard doesn't deserve its due. It does.
Harvard Business School boasts one of the highest reputations on the planet, and by some accounts, it ranks #1 in the world---and rightly so.
And sure, Harvard's rank as #2 on U.S. News & World Report's highly revered business school "Bests" is highly impressive no matter who you are.
And yes, Harvard University counts an extensive list of top business professionals among its prestigious alumni, including former CEOs and current C-level executives who hold such coveted job titles as president, director and chief executive.
Yet, in spite of those well-respected things, it really is unfair, untrue and wholly inaccurate to claim that only an Ivy League MBA like a Harvard MBA is always-and-forever superior to all others, including an MBA from a college or university accredited by the International Assembly for Collegiate Business Education (IACBE).
First, there's the word "better." Better is a relative term. After all, is it really "better" to drop out of life for two years to go to Harvard or is it "better" to enroll in a convenient online MBA program and maintain a sense of normalcy through work-life-school balance? You decide. Maybe. Maybe not.
Second, there are plenty of other reasons why your current---or future---employer probably does not give a rip whether or not you have a Harvard MBA.
From an alumni perspective …
A recent Forbes salary study shows that pay increases after earning an MBA from a non-elite school (aka, not Harvard) still went up significantly. In fact, the number ranged from 56% to 80%.
And let's face it, career progression and accompanying salary bump of 10K, 50K, 100K or even more $ $ $ is a very good and compelling incentive for earning your MBA. After all, that kind of return in the investment world or the ROI in real estate would be unheard of!
Yet, dollar for dollar, a quality MBA degree from an accreditednon-profit school will likely net you the same outcome. Better title. Better salary.
From a student perspective …
Most grads believe that earning an MBA is what can help them make the difference in their career goals and long-term pay aspirations---not whether the Harvard name and logo appears on the diploma.
Most of those grads and working professionals who are 5-10 years post-graduation (and even those 10-20 years out from their MBA) say that an MBA degree from a quality business school provides a good and equitable return on their time and money investment.
From developing leadership foresight, to gaining a management perspective of each functional area, including Finance, HR and Marketing, MBA grads say earning their MBA is worth it. And, in fact, most attach even more value to their MBA the longer they're out from program degree completion.
And another thing ...
One of the most valuable, but not talked about, returns on an MBA is the peer network MBA grads develop from course-related discussions among fellow MBA students of all ages and backgrounds. A collaborative, real-world classroom environment, whether on campus or online, in Cambridge or not, can add depth of understanding to important business concepts. Plus, it organically helps you grow both a lifetime personal and professional network of trusted advisors from around the world.
Then there's this: Most adult students say that standing out in the post-MBA crowd comes not from the hallowed halls of an Ivy League university, but from doing the hard work to earn and learn their masters of business administration degree.
The general consensus is, Harvard or not, an MBA is worth it.
From an employer perspective …
There are no definitive studies that correlated earning a Harvard MBA and having an elite program pedigree guarantees abundant wealth and wild success.
But, anecdotally and even statistically speaking, there are far more opportunities for MBAs than there are Harvard MBA graduates.
Do the math. The global business world needs more MBAs than even Harvard can deliver.
More importantly, when it comes to hiring or promoting professionals with MBAs, what employers want, says a recent Bloomberg Recruiter Report, are leadership skills, strategic-thinking capabilities, and creative problem-solving abilities.
Those are the kind of skills an MBA provides. Those are the kind of skills that can secure you a highly regarded career position in:
Business Strategy
Executive Leadership
Financial & Managerial Accounting
Human Capital Management
Marketing
Operations
With all that in mind, consider this: Available career positions in business administration are growing by leaps and bounds. In 2012, for example, there were 4.8 million job openings related to to the field. By 2022, that number is projected to grow upwards of around 5.5 million.
Which means, that as long as you earn your MBA from a quality, accredited, non-profit college or university, and you leverage your MBA-earned skills to bring organizational value, the only name on the degree that matters is yours.
"If you can get into Harvard's MBA program," says Dr. Bruce Campbell, Franklin University's Online Accredited MBA Degree Program Chair, "and you have the luxury of leaving your job and family to go at it full-time, and you want the status of it, by all means, you should go.
But for most of us? Getting a top-tier MBA while supporting a family, a career track, and whole host of other obligations all at the same time simply isn't possible---or necessary."
Want to learn more about earning your MBA? Talk to us today.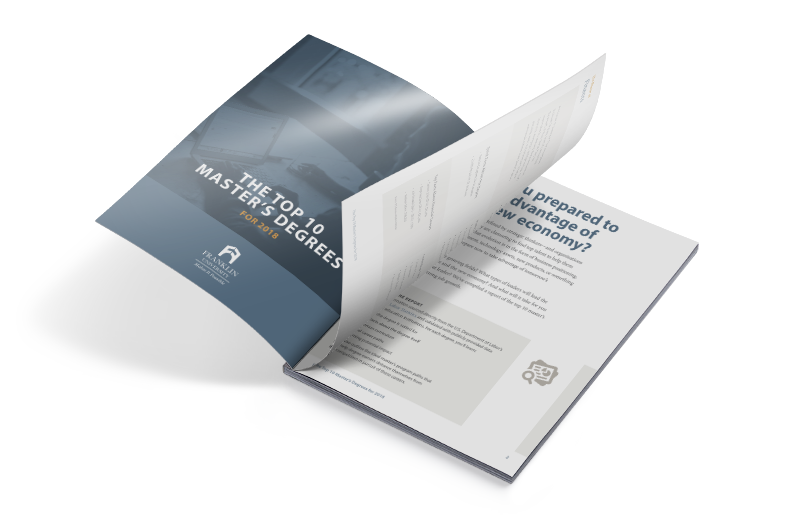 Download Now
Discover 10 of the most in-demand master's degrees based on salary and job growth.