We're Sorry
There was an unexpected error with the form (your web browser was unable to retrieve some required data from our servers). This kind of error may occur if you have temporarily lost your internet connection. If you're able to verify that your internet connection is stable and the error persists, the Franklin University Help Desk is available to assist you at helpdesk@franklin.edu, 614.947.6682 (local), or 1.866.435.7006 (toll free).
Just a moment while we process your submission.
Graduate Programs for Criminal Justice Majors: What Options Exist?
Criminal justice professionals play an essential role in keeping people and communities safe. However, harsh sentencing laws and the problem of mass incarceration have made it increasingly clear that significant reform is necessary. These issues of equity and fairness, as well as challenges like cybercrime and the opioid epidemic, demand new solutions—and educated professionals who are ready to develop and implement them.
While criminal justice undergraduate programs provide a solid foundation in the field, many professionals find that they need the additional expertise a graduate provides to advance in their careers. For professionals with a background in a different discipline, earning a graduate qualification in criminal justice can offer a pathway into the field.
So what graduate programs exist in criminal justice, and how do you decide which is right for you?
What Criminal Justice Graduate Programs Are Available?
Whether or not you majored in criminal justice for your undergraduate degree, you can choose from multiple types of graduate programs in criminal justice.
Master's Degree in Criminal Justice
A master's degree in criminal justice typically explores criminal justice theory and research and teaches students the specific skills and legal considerations they need to succeed and advance in the field. 
Who the Degree is For
This degree is typically geared toward students who aspire to a law enforcement or justice career, though it also qualifies graduates to teach at the community college level. For many criminal justice professionals, a master's in criminal justice offers a straightforward path toward advancement in the federal and state systems.
Time to Complete
Typically, a master's in criminal justice takes one to two years to complete. According to Lightcast, a leading labor analytics firm, 85% of 2021 graduates of criminal justice master's programs earned their degrees online. Flexible online criminal justice master's programs, like the one Franklin University offers, allow students to work while gaining their graduate qualification.
Ph.D. in Criminal Justice
Compared to a master's degree, doctoral degrees in criminal justice focus more on theory and research. These programs teach students to collect and analyze data, use statistics to understand causes and trends in crime, and examine and develop methods to reduce criminal behavior.
Who the Degree is For
Generally speaking, Ph.D. programs in criminal justice are well-suited for students who hope to work in research, policy or academia.
Time to Complete
The time it takes to complete a Ph.D. in criminal justice varies depending on the length of a student's research project, but it most often takes four to six years of study. Some Ph.D. programs offer online options.
Specialized Master's Degrees
In addition to criminal justice master's degrees, students may choose from a number of related master's degree programs that focus more narrowly on specific areas within the field. Examples include master's degrees in forensic psychology, digital forensics, forensic science, emergency management and public administration. 
Who the Degree is For
These programs are generally best suited for students who are either already working in a specific role or who have a strong sense of which roles they hope to pursue in the future. For example, a forensics professional may wish to pursue a degree in forensic science or digital forensics. 
Time to Complete
Like other master's degree programs, specialized master's options vary in length and cost, typically taking one to two years to complete. 
Certificate Programs
Certificate programs related to criminal justice are often more narrowly focused on the skills needed to fulfill a specific function within the criminal justice system, such as policing or forensics. 
Who the Program is For
Certificate programs are a good fit for students who are seeking an opportunity to gain skills and bolster their resume quickly before committing to a full master's program. 
Time to Complete
These programs are typically quicker to complete than a master's degree, ranging in length from several months to a year. Franklin University's Graduate Certificate in Criminal Justice Leadership comprises four courses from the master's curriculum and takes six months to complete.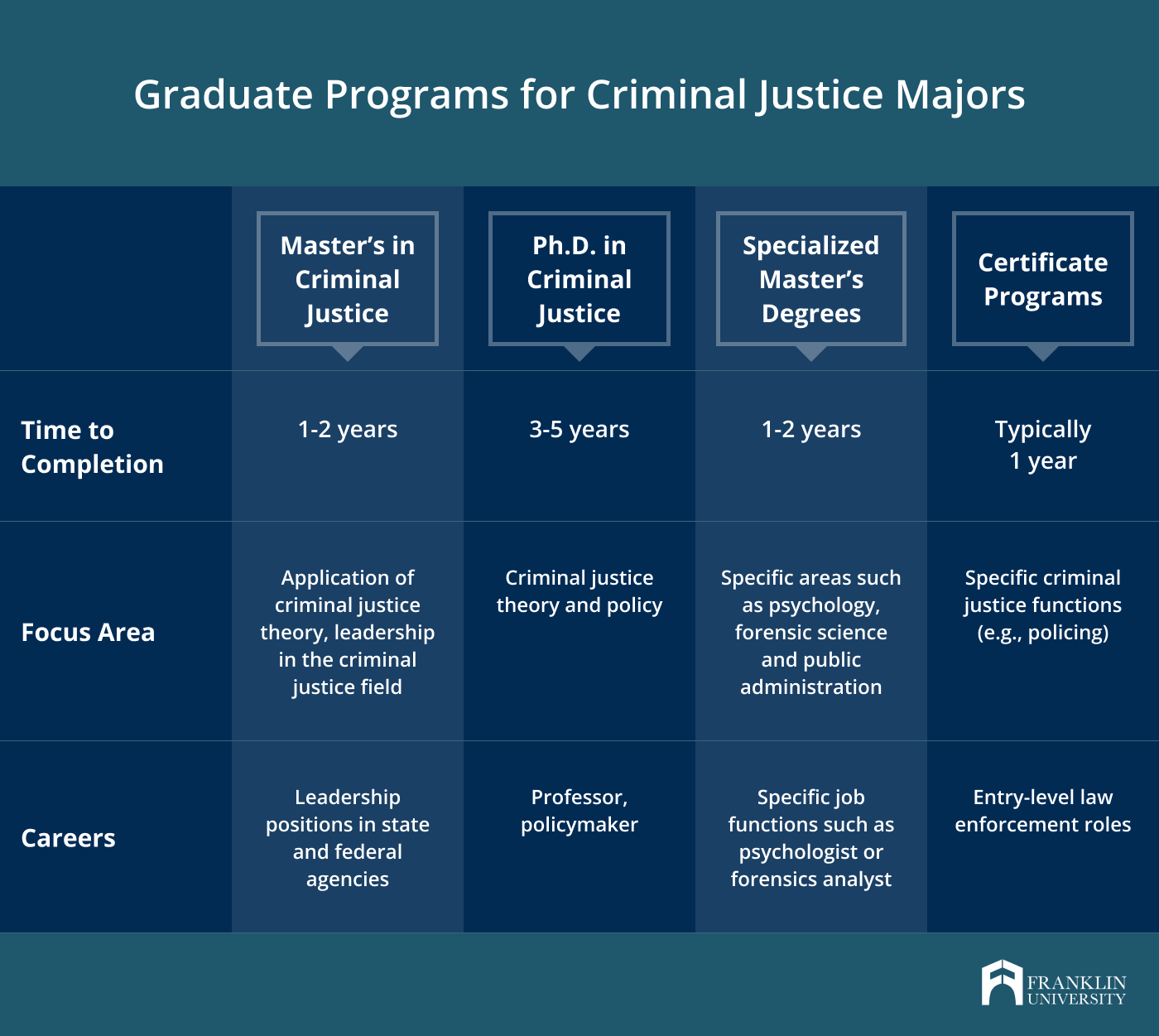 Is a Master's in Criminal Justice Right for You?
Before you embark on a master's degree program, it's important to think carefully about your strengths, preferences and career goals. Asking yourself the following questions can help clarify your decisions. 
Are you already working in the field?
For early and mid-career professionals, a master's degree in criminal justice can provide a solid path toward promotion. For later-career professionals, it offers a pivot toward a retirement career teaching criminal justice. 
Are you aiming to advance into a leadership position? 
A master's degree offers a unique opportunity to develop leadership skills and can help position you for promotion opportunities. 
Are you interested in exploring emerging challenges in the field of criminal justice?
Criminal justice master's programs ask students to engage with the most complex and challenging ethical and logistical quandaries the system faces. You should be comfortable challenging the status quo and looking for more effective and equitable solutions. 
Are you comfortable using your critical thinking and analytical skills to manage nuanced situations?
Criminal justice leadership requires the ability to consider a complex series of legal and ethical issues, often in high-pressure situations.
Explore Franklin's Criminal Justice Master's
If you're seeking to build your career in criminal justice, Franklin University's master's degree program may be right for you.
In just 14 months, you can earn your master's degree in criminal justice online, meaning that you're closer than ever to your next role or promotion. Our curriculum emphasizes both theory and practice and is delivered by faculty who are themselves criminal justice professionals. 
According to Dr. Chenelle Jones, chair of public safety programs at Franklin, "The benefits of earning a master's degree in criminal justice administration include gaining specific expertise in the field that could lead to a promotion or increased salary. Additionally, a master's degree from Franklin University teaches skills that will prepare students for leadership positions in law enforcement, the court system, or corrections."
Learn more about how a Franklin University master's degree in criminal justice can help you build your future.
Download Now
How to Win The Admission Essay for Grad School
Get effective tips and examples to move your essay to the top of the pile.