We're Sorry
There was an unexpected error with the form (your web browser was unable to retrieve some required data from our servers). This kind of error may occur if you have temporarily lost your internet connection. If you're able to verify that your internet connection is stable and the error persists, the Franklin University Help Desk is available to assist you at helpdesk@franklin.edu, 614.947.6682 (local), or 1.866.435.7006 (toll free).
Just a moment while we process your submission.
What Can You Do With a Master's in Criminal Justice? (A Lot, Actually)
We now face a previously unimaginable diversity of threats and crime, both in our backyards and globally. To keep pace and protect our communities the criminal justice system is evolving rapidly.
Today, we understand victimization, analysis, detection, and prevention at a higher level than ever before. This current landscape is creating an ever-changing need for more sophisticated and more educated job applicants. If you're in a criminal justice career--working in security, policing, law, or the court system--now may be an ideal time to advance your career to a leadership level by seeking a master's degree in criminal justice (MCJ).
A Master's in Criminal Justice Supports a Variety of Careers
People who have an interest in processing current justice policies have many jobs available to them, such as police, security, or correctional officers. Those positions might require applicants to have an associate or bachelor's degree, which provides them with knowledge, information, procedure, and standards to achieve.
Others may have an interest in professional-level justice positions that require extreme levels of education and experience. These are positions that require an advanced doctorate-level degree, like an attorney or judge. There may be very little repetition in their work, as every case is unique and requires serious consideration and challenging interactions with other professionals.
In between "processing" jobs and "professional" jobs in criminal justice, is a deep category of jobs that require a master's degree. Increasing interest in these high-level positions drives a wide variety of people to enter MCJ degree programs.
The MCJ degree holds great appeal for certain people in the criminal justice field, according to Chenelle Jones, Ph.D., Lead Faculty for the Criminal Justice Administration, Public Safety and Emergency Management, and Homeland Security programs at Franklin University.
"When a person shows an interest in a master's degree, they are most often trying to find a powerful way to advance their career. Generally speaking, an master's in criminal justice will provide them with an advanced understanding of leadership, management, policy-making, and investigation."
Earning their master's gives them an edge so they can rise into positions of higher influence and income. Let's look at a few of those positions and how their complexity requires a master's level of education and professional commitment.
MCJ's Learn Skills for a Variety of Justice Arenas
The coursework required for the MCJ degree includes challenging and changing subjects that must keep up with an evolving world of justice, law, corrections, rehabilitation, policing, and unique new areas affected by crime.
Students will analyze complex systems of justice and social control mechanisms. Best-practices from across the nation must be evaluated, along with the history and future directions for justice systems. It's important to study constitutional protections and constraints on arrest, prosecution, conviction, and incarceration. Nothing in criminal justice exists in a vacuum, so its elements must often be explored within a complex discussion of interacting parties, goals, and outcomes.  
 Here are several common areas of study in a modern MCJ coursework:
Criminology. The study of crimes and criminals on both a societal level (for policy creation) and an individual level (for understanding a case at hand)
White-collar crime. A subsection of crime; financially motivated, nonviolent crime committed by business and government professionals
Cybercrime. A subsection of crime; non-violent criminal activity carried out via computer or internet; examining ways to prevent, protect, and respond to such crimes
Research methods. Enabling students to evaluate research, analyze it, and accurately summarize it in ways it might inform policy change or action
Administration of justice. Managing resources and personnel to ensure the law is upheld; how policy is created and applied; studying it means focusing not on the causes of crime or criminals, but on the justice system itself and how it responds to crime
Digital Forensics. Managing crime-related content that is found in digital devices; it involves not just discovering the content, but also preserving it, recovering it intact, analyzing it for use in prosecution, and presenting facts about it in a case report which may help an investigator reach a conclusion
Above all, a MCJ program should prepare you for leadership. "Part of the criminal justice master's degree at Franklin University," according to Dr. Jones, "is the Criminal Justice Leadership Certificate. It's a credential that our students earn for an edge in the market, indicating their qualifications to lead not just with knowledge, but also with integrity, ethics, and morality. We feel it's important for those being promoted into the top careers to have these skills and standards--because the decisions they make and the policies they advance will deeply affect the lives of other people."
Bonus: 8 Top Jobs for Masters in Criminal Justice
If you're like most people considering an MCJ, you've probably spent some time working in a criminal justice job, after earning your associate degree or bachelor's. But something maybe doesn't feel right. You're wanting more. More challenge. More opportunity to change policy. More leadership and responsibility. Let's take a look at some of the jobs you might be able to pursue successfully if you have your MCJ:
Police Supervisor & Detective Supervisor
Officers and detectives require managers to lead department efforts. Police and detective supervisors create work schedules, evaluate performance, decide on department training efforts, while also providing support and guidance to their direct reports. The job requires a detailed understanding of the daily tasks conducted by their direct reports.
Expected job growth, 7%.
Correctional Officer Supervisor or Warden
A jail or detention center needs more than just corrections officers to run the daily operations. Correctional officer supervisors provide a higher level of organization and management. They develop and enforce policies and procedures to help ensure the facility is safe and stable. They manage the people who report to them by overseeing training, development, assignments, and the setting and evaluation of goals. If an emergency occurs, like inmate fighting, a riot, or an escape attempt, it's up to the supervisor to have a response plan already in place and then to lead the response.
Expected job growth: 4%.
Prison Warden
A prison warden is the one top correctional officer at the facility. The warden oversees all staff at the facility, often so it is no small task. Being an effective warden generally involves having exceptional abilities in problem solving, security, and incident de-escalation and prevention. It's an important job that requires a deep understanding of the inner workings of a correctional facility.
Expected job growth: 4%
Victims' Advocate
In this role, a person is dedicated to helping victims of crime or abuse, who may be facing extreme levels of pain, stress, and trauma. Larger cities and suburbs may have had such positions for many years, but now even smaller communities are considering how to staff support programs for victims. Advocates may tell victims about their rights, guide them toward victim compensation, offer emotional support or counseling, or lead larger support groups. They may work for the state, in shelters, at community centers, or for non-profit organizations.
Expected job growth: 12%.
Forensic Psychologist
Forensic psychology studies criminals and criminal behavior. A forensic psychologist may be called on to assist with a wide variety of issues, including lawsuits, testimony, custody conflicts, crime prevention, and research to understand criminals and motivations. They might assess if a person is competent to stand trial, work with a child witness, or administer therapy to victims of crime. It's not uncommon for them to follow up on reports of child abuse, provide expert input for custody, or even help determine if people are capable of caring for their children.
Expected job growth: 12%, highly dependent on geographic location.
FBI (Federal Bureau of Investigation) Agent
FBI agents investigate crime at a national level. Their common areas of focus might be drug trafficking, terrorism, white collar crime, extortion, organized crime, and foreign counterintelligence. The work involves interviewing suspects and witnesses and collecting evidence. Every effort must adhere to high department standards and follow procedures in place to preserve integrity of evidence and intelligence. Multilingualism and military experience can give you a leg up on entering the FBI. A deep understanding of laws, rights, and process is required, as well as an abiding commitment to national security. With our country's population growth, we can expect FBI positions to become more plentiful.
Expected job growth: 7%, dependent on congressional funding
DEA (Drug Enforcement Administration) Agent
This area of law enforcement is focused specifically on illegal drugs and drug trafficking. The agency operates under the United States Department of Justice. DEA agents' jobs can vary greatly. They can be tasked with work that requires them to travel anywhere in the world. And the work is becoming more technically advanced; according to the DEA's website, "Our Special Agents are on the cutting edge of criminal investigations, using innovative tools to identify and immobilize traffickers and seize and dismantle the financial assets from drug trafficking."
It can be a high-risk job, especially if undercover work is involved. An agent may also need to testify in court, handle arrests, contribute to anti-drug efforts and education, and write reports based on their observation and tracking of drug activity.
Expected job growth: 7%.
U.S. Marshal
According to USMarshals.gov, there are more than 3,800 Deputy Marshals and Criminal Investigators. "Among their many duties, they apprehend more than half of all federal fugitives, protect the federal judiciary, operate the Witness Security Program, transport federal prisoners, conduct body searches, enforce court orders and Attorney General orders involving civil disturbances and acts of terrorism, execute civil and criminal processes, and seize property acquired by criminals through illegal activities."
In addition to handling the physical demands of the job, candidates should also have good communication skills that enable them to write reports that document and achieve necessary goals.
Expected job growth: 7%
Various Jobs in Criminal Justice Management
It's a broad category of jobs because it's a broad (and growing!) field of needs. Above, we've already covered supervisor jobs in policing, detecting, and corrections. But there are many other management roles in criminal justice, including roles in criminology, security, and education.
You might find roles in security planning and management, management of juvenile corrections, parole/probation management, emergency planning and management, loss prevention, casino security management, cybersecurity management, border patrol supervision, and more.
Expected job growth: 7%.
Finding Your Calling in Criminal Justice
As you can see, modern careers in criminal justice have grown far beyond police, lawyers, and judges. Because our current world is managing a larger population than ever before, we also face an extraordinary amount of crime and opportunities to prevent or control it.
"You can do whatever you want with a master's degree in criminal justice," according to Dr. Jones. "Security, corrections, the courts, investigation. There are so many opportunities. Ultimately, it's up to the individual to decide what to do--and then let the master's degree work for you."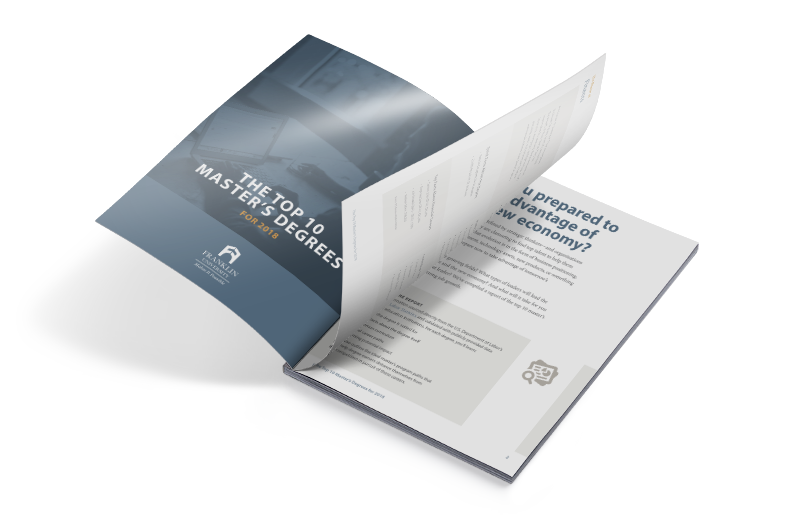 Download Now
Discover 10 of the most in-demand master's degrees based on salary and job growth.