We're Sorry
There was an unexpected error with the form (your web browser was unable to retrieve some required data from our servers). This kind of error may occur if you have temporarily lost your internet connection. If you're able to verify that your internet connection is stable and the error persists, the Franklin University Help Desk is available to assist you at helpdesk@franklin.edu, 614.947.6682 (local), or 1.866.435.7006 (toll free).
Just a moment while we process your submission.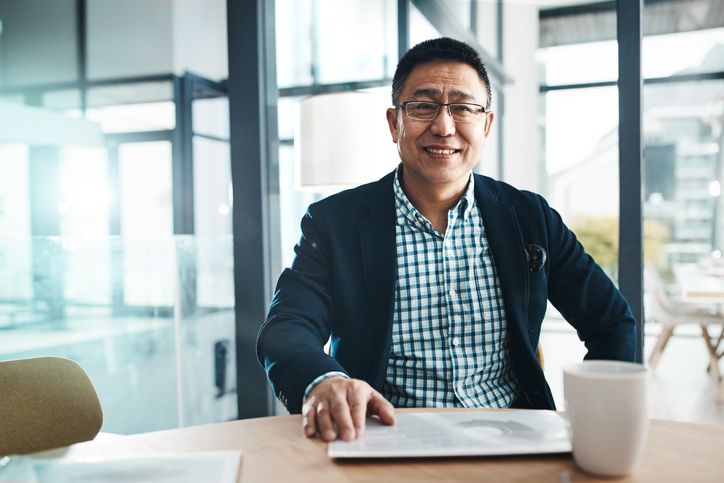 How to Get a DBA Degree
A Doctor of Business Administration (DBA) degree is a growing opportunity for business leaders and educators. If you're looking to increase the efficiency and profitability of your company or want to educate the next generation of business leaders, a DBA can set you apart as a leader and innovator.
A DBA will prepare you to navigate an ever-changing business landscape as technology, consumer expectations and a global economy introduce new challenges that call for new, creative solutions. You will gain the skills you need to use research to solve real-world business problems, refine your leadership approach and apply business theories to create systemic organizational change.
The process of researching, qualifying for and applying to DBA programs can be confusing and time-consuming. We want to make it easy for you to understand the process, so you can successfully identify and apply to the right DBA program for your career aspirations.
What's Required to Qualify for a DBA Program?
Application requirements vary by DBA program, however there are many common ways programs evaluate readiness for doctoral education in business administration.
For most programs, you will be evaluated on criteria like:
Previous graduate coursework
Master's program GPA
Entrance testing and exams
Professional experience
Personal qualities and characteristics
We'll provide more detailed information on program requirements and evaluation criteria below.
Previous Graduate Coursework
As with many doctorate programs, you'll need to complete coursework at the graduate level before you can apply. For most DBA programs, the prerequisite graduate coursework will need to be closely related to business administration.
Master's Program GPA
Most credible DBA programs require a minimum GPA to qualify for doctoral study. At Franklin University, we require students to graduate from their master's program with a minimum 3.0 GPA on a 4.0 scale.
Entrance Testing and Exams
Some DBA programs require you complete and pass the GMAT exam in order to apply, however this is not the case for all programs. Franklin University doesn't require any graduate testing to qualify to our DBA program as long as you meet minimum GPA requirements.
Professional Experience
DBA programs look for professionals who have substantial work experience in business or management. Years of experience requirements vary, but many programs give preference to students with a minimum of three years of experience. Senior management or executive level experience, as well as professional credentials or licensure, can give you an additional leg up.
What's the Application Process for a DBA Program?
Once you're sure you meet the application requirements, you'll need to complete individual university applications. Most schools will require the following documentation to complete an application:
Online Application: Graduate programs require unique applications for each university. Make sure you understand application deadlines and begin the process far in advance of the deadline to complete your application on time.
Transcripts: Universities require you to submit transcripts from all previous undergraduate and graduate study. You'll need to get original copies from your institution(s), which may require a small fee. You should also make sure you understand how long it will take for your school to complete your request.
Letters of Recommendation: Most institutions require letters of recommendation from former professors, supervisors or colleagues. Be sure to give any recommenders significant advance notice so they have time to complete your recommendation before your application deadline.
Test Scores (if required): Some programs require GMAT test scores be submitted with an application. Schools often won't publish minimum qualifications, so if you received low scores you may consider retaking the exam.
Application Fee: Most universities require a fee to complete their application which usually ranges from $50-$150 dollars and may be waived by some institutions.
What Does the Typical Curriculum of a DBA Program Include?
DBA programs consistent of both coursework and independent research, which will culminate in your dissertation.
Coursework is typically comprised of:
Major Area Courses: These courses focus on core business administration knowledge and skills like management theory and practice, leadership and strategic thinking and organizational change. Skills and knowledge gained in these courses are applicable to all business functions.
Electives: These courses give you the opportunity to specialize your knowledge or dive deeper into your areas of interest.
Research Core: Research courses teach you to design and conduct research, use research tools, and translate research into effective written communications.
Dissertation Requirements: Requirements include a comprehensive exam and writing and defense of an original dissertation that applies current research to real-world business challenges.
Franklin University's unique dissertation structure helps you step-by-step to complete your dissertation. With the help of faculty mentoring and guidance, as well as peer-to-peer review, you're supported at all levels. You'll never be left to figure it out on your own, which increases the likelihood you'll complete your program on schedule.
What Are the Typical Graduation Requirements for a DBA Program?
DBA graduation requirements vary by university. Typical DBA program requirements include:
Credit hour completion: Credit hour requirements vary by university and program. The Franklin University DBA requires the completion of 58 credit hours. The State of Ohio requires a minimum of 60 hours beyond the bachelor's level to complete a doctoral degree. If needed, you can make up the two additional credit hours through advanced research.
Dissertation completion: As part of your required credit hours, you must research and write a dissertation that is approved by the institution's selected academic committee.
Minimum GPA requirements: Most schools will require you to have a 3.0 GPA to graduate from a DBA program.
Tuition payment: All schools require your tuition and fees be paid in full in order to graduate.
Academic standing: You'll need to be in good academic standing and adhere to the student code of conduct in order to graduate.
How Long Does It Take To Earn A DBA Degree?
Completion of a DBA depends on many factors, including the number of required credit hours, number of credits you complete each term and completion of your dissertation.
As a full-time student, Franklin University's DBA program is designed to be completed in as few as 3 years without transfer credit. We also have a liberal transfer credit policy that allows you to transfer in up to 24 credit hours of previous doctorate coursework, which can reduce your time to degree completion.
Any program that touts a 2-year time to completion is probably not reputable. These programs are often not regarded well by employers, especially if you have academic career aspirations.
Many traditional, in-person programs take 4.5 to 5 years to complete. Often this is due to teaching or research requirements imposed by the university in exchange for a stipend. At Franklin University, and many other online programs, you're only responsible for your individual coursework and research, which expedites graduation.
Choosing the Right DBA Program
Success at the doctoral level requires commitment to your studies and professional pursuits. The process and requirements for getting your DBA are rigorous, so you need to find a program that will support your success.
At Franklin University, we created our DBA program specifically for the needs of working professionals. We help you complete your DBA degree on your schedule and on time by offering online courses, one-on-one mentorship and a no-fear dissertation process.
Explore the Franklin University Doctor of Business Administration (DBA) to find out if our program is right for you.
Download Now
How to Complete Your Doctoral Journey
Discover common pitfalls and the 5 key metrics that will help you finish your doctorate degree.