We're Sorry
There was an unexpected error with the form (your web browser was unable to retrieve some required data from our servers). This kind of error may occur if you have temporarily lost your internet connection. If you're able to verify that your internet connection is stable and the error persists, the Franklin University Help Desk is available to assist you at helpdesk@franklin.edu, 614.947.6682 (local), or 1.866.435.7006 (toll free).
Just a moment while we process your submission.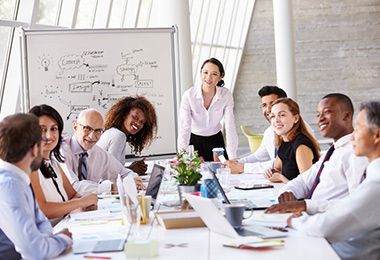 What Is a Doctor of Business Administration?
There's a really old (and often referenced) cough syrup commercial that opens with an actor saying in a rather serious voice, "I'm not a doctor, but I play one on TV."
Presumably, these pseudo-credentials are what lend credibility to the subsequent product recommendation.
But life doesn't always imitate art. And in the real world, credentials do matter.
Among the highest credentials that matter, at least in business, is the doctor of business administration, or DBA, degree.
It is important to note that a DBA degree is different than a Ph.D, so be sure to read this to see if an online professional doctorate or Ph.D. is better for meeting your career objectives.
As for the DBA, this terminal degree can prepare you to leverage doctoral-level thinking to solve actual business problems.
Wendell Seaborne, Ph.D., program chair for Franklin University's DBA program explains the DBA this way:
"A DBA is a very application-oriented degree, whereas a Ph.D. is a research-oriented degree. If you want to come up with theory that answers questions in the larger marketplace, then pursue a Ph.D. If, however, you want to solve a practical problem in your company today, the DBA is the degree you'll want to pursue. The DBA student will become very familiar with the theory that the Ph.D. is developing and take those theories and apply it to their specific business situation. Most DBAs that come in to our program have identified a business issue, problem or gap and use that as the basis for all their DBA program research and writings."
 
For example, a DBA student may have identified a skills gap within their organization and now the student wants to answer the question: "How can we address the issue that employees are not performing at their highest levels?"
Within the online DBA program, the student would read up on and study theories about employee motivation and engagement, sorting through and identifying from articles and literature what is most prevalent in their particular business situation. Then, using a theory or combination of theories, the student would put together and implement a program that addresses the issue. If the problem wasn't satisfactorily or fully solved, the student would go back and take a look at additional research and revise the program accordingly.
With a quality online DBA program, the DBA student should learn, enhance and/or refine these in-demand skills:
Researching issues
Framing questions
Applying current research theories
Solving problems
Communicating clearly and concisely
The online DBA program typically appeals to two types of professionals: (1) those looking to further their profession and (2) those wishing to instruct the next-generation of practitioners. (That assumes that you're looking to teach at an institution that is not a Tier 1 research institute, which likely would require the Ph.D. instead.)
To further explain what a DBA is, we've created this list of 10 things you may not know about the Doctor of Business Administration:
DBA programs generally emphasize the use of others' research to help solve real-world business challenges.
The most flexible DBA degree programs let you earn your degree by taking online classes on a part-time basis while continuing to work.
Some DBA programs, like Franklin's, can be completed in as little as three years, although the Global DBA Report 2015 says the average completion rate is about four years. (The average Ph.D. takes approximately five years to complete.)
A quality online DBA degree program will reinforce aspects of quality research (far beyond "Googling"), while also equipping you with other, deeper skills related to such important areas as technology and communication.
Professional DBA degrees have been very common in the UK and Australia for decades and have been growing in popularity and stature in the United States over the past 10 years.
A typical DBA degree program includes core requirements, electives, a research component and some type of final project, such as peer-reviewed journal articles, a short booklet or a more traditional dissertation.
A final project or dissertation is a required part of earning a DBA in order to demonstrate advanced knowledge and competency, as well as prove that you're adding to the body of knowledge in how to apply a theorist's work in a practical situation.
The rigors of a quality DBA program online are comparable to a Ph.D. program. In fact, many students find it helpful to enroll in a program that offers faculty, peer-to-peer and mentoring support in order to achieve work-life-school balance during the duration of their studies.
North America is second only to Europe in the number of DBA programs offered, which is likely a result of employer demand for increased business education and skills, including technology, strategic analysis and interpersonal communication. A 2013 report of the AACSB (Association to Advance Collegiate Schools of Business) International Doctoral Education Task Force, put it this way:"The rise of the knowledge economy is changing competitive dynamics in business, too, with implications for business doctoral education. Skills refined through doctoral education, such as problem framing and data analysis, are increasingly valued in certain professional roles and industry circles. Business schools are paying long overdue attention to enhancing the value and visibility of their research, especially within the business world."
The DBA may help you become more marketable inside and outside your current organization as more and more employers recognize and reward DBA-earned competencies. In addition to distinguishing you from the MBA credential (which some say is rather ubiquitous now), the U.S. Bureau of Labor Statistics reports a high six-figure median salary for chief executives.
Download Now
How to Complete Your Doctoral Journey
Discover common pitfalls and the 5 key metrics that will help you finish your doctorate degree.