We're Sorry
There was an unexpected error with the form (your web browser was unable to retrieve some required data from our servers). This kind of error may occur if you have temporarily lost your internet connection. If you're able to verify that your internet connection is stable and the error persists, the Franklin University Help Desk is available to assist you at helpdesk@franklin.edu, 614.947.6682 (local), or 1.866.435.7006 (toll free).
Just a moment while we process your submission.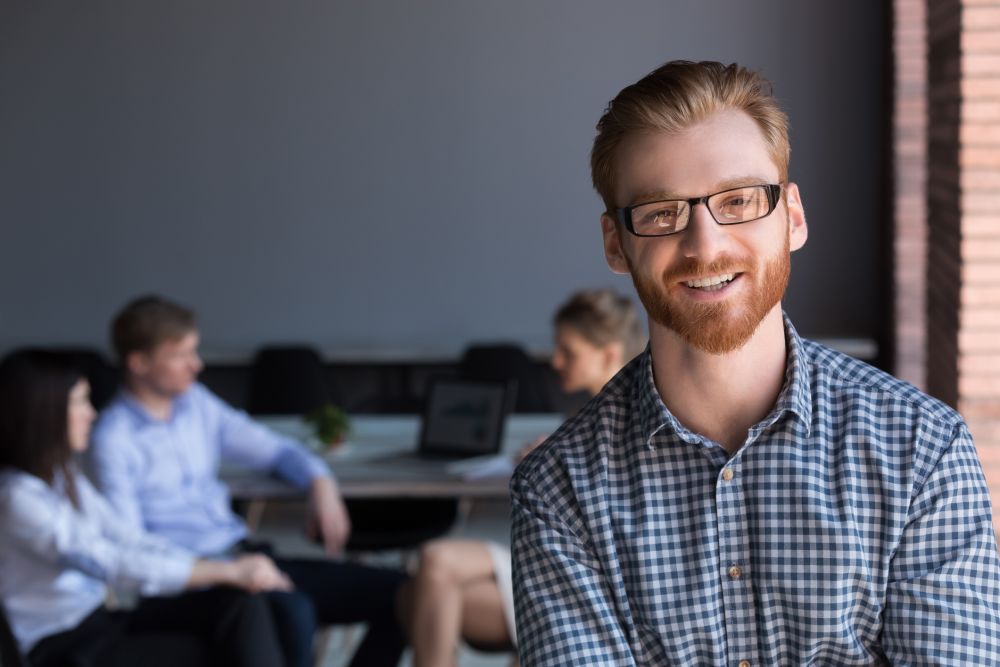 Is a Business Psychology Master's Degree Program Right For Me?
When it comes to choosing a graduate degree program, the proverbial $64,000 question is always the hardest:
"What do you want to do with the rest of your life?"
Within your answer to that question lies the answer to this one:
"Is a business psychology master's degree right for me?"
Of course, only you can decide if business psychology is right for you, but we can help. Here are a few more questions and a little bit of insider information into this relatively new field of study.
Let's start with a little self-examination:
Do you want the work you do to make a difference?
Do you learn rapidly?
Can you adapt quickly?
Do people matter to you as much as processes do?
Are you excited about improving – and sustaining – individual, team and corporate performance?
If you answered yes to three or more of these questions, keep reading.
Do you see yourself working with a company or firm in which you'll use both organizational knowledge and human insight to make people and processes better?
Yes again?
Then a master's in business psychology degree may be right for you.
Here's why:
Effective business is about more than producing goods and services.
It's about more than marketing to the masses.
And it's about more than making the numbers make sense.
It's about people.
Pure and simple, that means working around, with and for others.
And whenever and wherever people are involved, understanding human behavior becomes paramount.
The Human Element
That's because business is a very human enterprise. Leaders who can successfully combine business know-how with people skills are the ones who will lead the way.
So, does that mean there are careers in business psychology for people who can understand and apply human behavior to the business of business? And that psychology and business jobs are not mutually exclusive?
Yes. And yes again.
Perhaps that's why business psychology is one of the fastest-growing disciplines within clinical psychology.
"Much of the preparation for those who want to be effective in business does not typically include the human element," explains Ray Forbes Jr., Ph.D., chair of the master's degree program in Business Psychology at Franklin University in Columbus, Ohio.
"This is a very new degree program in the U.S.," he says. "While popular in Europe, especially London, the closest existing discipline here in America is industrial organizational, or IO, psychology."
And that, says Dr. Forbes, isn't even a very close second.
"The distinction between business psychology and IO psychology is the emphasis on qualitative versus quantitative research," he says. "With an online psychology degree program like ours, we take traditional business courses, such as marketing, finance, economics and HR, and we teach them from both a traditional perspective and a human one."
In short, business psychology graduates should be equipped to bring the all-important human dimension to management.
More importantly, they should be educated and trained in how to understand what's behind an organization's structure, environment and behavior in order to bring new insights into solving common problems.
In fact, Dr. Forbes says graduates coming out of online psychology degree programs like Franklin's are becoming more effective middle managers because they bring what he calls the "human dimension" to the business equation.
Says Dr. Forbes, "We started one of the first programs in the country knowing that there's a need for a degree that essentially teaches business subjects from a human perspective. We want people to be able to work successfully across disciplines. With this degree, you're not going to be an expert in any one area of business, like marketing or finance, you're going to be able to think across disciplines about when and how to influence and improve individual, team and organizational performance and outcomes."
For example, let's say an organization is developing a new product or service. The business consultant or middle manager equipped with a master's in business psychology can help the organization think about the impact of such a change, not just at the HR or finance level the way most business professionals would; but rather across all subsystems within the organization. In doing so, business psychology grads can help create organizational alignment across oft-times competing agendas, objectives and goals.
The result?
Influence, efficiency, performance, profitability – you name it. Whatever business calls "success," the business psychology professional helps make it happen.
Benefits to Business
"The world is moving with rapid change," says Dr. Forbes, "so the ability to synthesize material rather than merely analyze it will be more important than ever. From my perspective, there's a growing need for people who have the ability to put things together versus take them apart."
Here, then, are just a few of the many ways the field of business psychology can benefit business:
Applied Innovation
Business Model Changes
Change Management
Creative Problem Solving
Employee Relations
Engagement
Leadership Development
Marketing Psychology
Mentoring & Coaching
Message Development
Neuroscience & Human Development
Organizational Alignment & Effectiveness
Performance Improvement
Process Improvement
Succession Management
Team Building
Workflow Efficiency
Workshop Training
Employment Outlook
Based on employment numbers and projections, it would appear that the marketplace agrees.
Employment growth potential for business psychology graduates is nearly double the national average, with jobs expected to increase an astounding 30 percent through the year 2020.
Career opportunities include such job titles as:
Business Consultant
Coaching Program Administrator
Community College Instructor
Employee Selection & Placement Administrator
Entrepreneur
Internal or External Management Consultant
Internal Organizational Consultant
Middle Manager
Program Development Manager
Sales Manager & Consultant
Training & Development Manager
Ready to become part of an elite group of business psychology professionals?
Get the information you need to make your decision! We're happy to answer any questions you have.
Download Now
How to Win The Admission Essay for Grad School
Get effective tips and examples to move your essay to the top of the pile.