We're Sorry
There was an unexpected error with the form (your web browser was unable to retrieve some required data from our servers). This kind of error may occur if you have temporarily lost your internet connection. If you're able to verify that your internet connection is stable and the error persists, the Franklin University Help Desk is available to assist you at helpdesk@franklin.edu, 614.947.6682 (local), or 1.866.435.7006 (toll free).
Just a moment while we process your submission.
Is an MBA in Marketing Worth It?
Nearly every type of organization relies on marketing and communications professionals to drive profit and success. And with more ways to reach customers than ever, demand for marketers is growing rapidly. In fact, Lightcast, a leading source of labor market data, predicts that demand for marketers will rise by 15.2% between 2022 and 2032.
But in today's fast-changing consumer and technological environment, marketing professionals must be proficient in a growing number of tools, technologies and tactics. They need to understand global economic forces and business strategy and use that information to build effective marketing approaches.
So, how can marketers acquire that knowledge and those skills? One way is by earning an MBA in marketing. 
MBA in Marketing Overview
Master of Business Administration (MBA) degrees provide post-graduate education for aspiring business leaders across industries. Their curriculums typically focus on business and economic principles, leadership tactics and business functions like HR and finance. 
MBAs in marketing build on the core MBA curriculum with advanced coursework in marketing topics like consumer research and digital campaign-building. The degree is particularly well-suited for marketers who aspire to leadership positions since it offers the broad business grounding leaders need to develop strategy and collaborate with other executives. 
It typically takes one to two years to earn an MBA in marketing, depending on the details of the program. Today, many MBAs are earned online, and part-time and full-time options make it easy to fit the degree around your other responsibilities. Franklin's 100% online MBA in marketing can be completed in as few as 12 months and is designed for working professionals. 
Top Six Benefits of an MBA in Marketing
An MBA in marketing offers numerous benefits for professionals, no matter their specific industry or goals. These include:
Potentially increase your earning potential
According to Lightcast, in 2022, the median advertised salary for mid- to senior-level marketing professionals was $75,200 without a master's and $110,000 with a graduate degree. Since an MBA can help you attain higher-level positions, that salary gap can grow even more significant with time, making an MBA in marketing an investment with significant ROI.
Understand how marketing fits into the broader business context
Since MBAs in marketing include coursework across all areas of business administration, you'll be well-prepared to take on leadership roles inside and outside of marketing. With a comprehensive understanding of how businesses operate, you'll be poised to build marketing strategies that support the organization's goals.
Master traditional and digital marketing approaches
Today's marketers must be well-versed in both traditional marketing approaches, like print media and television advertising, and digital marketing tactics, like social media marketing and email campaigns. An MBA in marketing program will prepare you to create omnichannel campaigns that reach customers wherever they are.
Make decisions using analytics
Digital marketing and sales tools generate vast amounts of consumer data, allowing marketers to tailor campaigns to specific audiences and increase return on investment. MBA in marketing programs will teach you to gather and interpret data and to use those findings to create and refine highly effective marketing strategies.
Develop and implement marketing strategies
Effective marketing strategies are built on strong consumer research as well as industry best practices. In an MBA in marketing, you'll learn to use data, consumer research and corporate priorities to create and implement strategies that convert customers and drive profits. 
Build the skills to run a marketing team
Leading a company's marketing efforts takes more than technical knowledge. Since MBA programs are built for aspiring leaders, they focus heavily on leadership tactics, people development and collaboration, all of which will help you effectively motivate and inspire your colleagues. 
How is an MBA in Marketing Different from a Marketing Master's?
A graduate marketing degree is a valuable asset for professionals at every stage of their careers—but choosing a program can be tricky. In addition to MBAs in marketing, prospective students can also consider general marketing master's degrees as well as specialized programs focusing on topics like digital marketing. Before deciding which program is right for you, it's crucial to consider your long-term career goals. 
Marketing master's degree programs focus narrowly on topics like digital strategy and consumer research. They offer effective preparation for marketing-specific roles but offer fewer opportunities to engage with broader business issues like strategy and management. 
MBAs in marketing, by comparison, provide a more general business education designed for future leaders and executives, with additional coursework tailored toward marketing professionals.
"The MBA in marketing combines advanced business and managerial courses with marketing concepts and skill development," explains Dr. Kristin Martin, chair of Franklin's MBA program. "An MBA specializing in marketing delves deeper into consumer trends, advertising, branding, market research and marketing globally and online while developing the business skills and acumen required for upper-level management."
That combined focus means that an MBA in marketing can be an especially good choice for marketing professionals who hope to lead their company's marketing efforts in the future or even those who want to take on marketing-adjacent executive roles. 
What Is an MBA in Marketing Used for?
An MBA in marketing is a highly versatile degree since every company needs both savvy marketers and skilled leaders. Professionals with this qualification work in every industry, in addition to marketing agencies and as expert consultants. Entry- to mid-level marketing positions often include hands-on work conducting consumer research, creating advertising concepts, setting up digital campaigns and tracking analytics. Managerial and executive marketing positions focus more on developing organizational strategies, often in collaboration with the rest of the executive leadership team. Ultimately, the marketing function is responsible for helping the broader organization reach its financial goals. 
Take Your Next Step with an MBA in Marketing from Franklin
Wherever you hope to take your career, an MBA in marketing can open doors. And at Franklin, our flexible online program delivery and eight annual start dates mean your future is nearer than you think.
Franklin's MBA in Marketing takes as few as 12 months and costs less than $30,000. You'll graduate with the technical skills to develop and implement complex omnichannel marketing strategies and the management abilities you need to thrive in leadership roles. 
At Franklin, we believe in learning by doing. Our instructors are expert marketers who teach using a theory-to-practice approach. You'll complete hands-on projects, take on case studies, and learn the ins and outs of strategic analysis and marketing theory. Our coursework is continually updated to ensure you're at the cutting edge. 
Learn more about how an MBA in marketing at Franklin can help you meet your goals.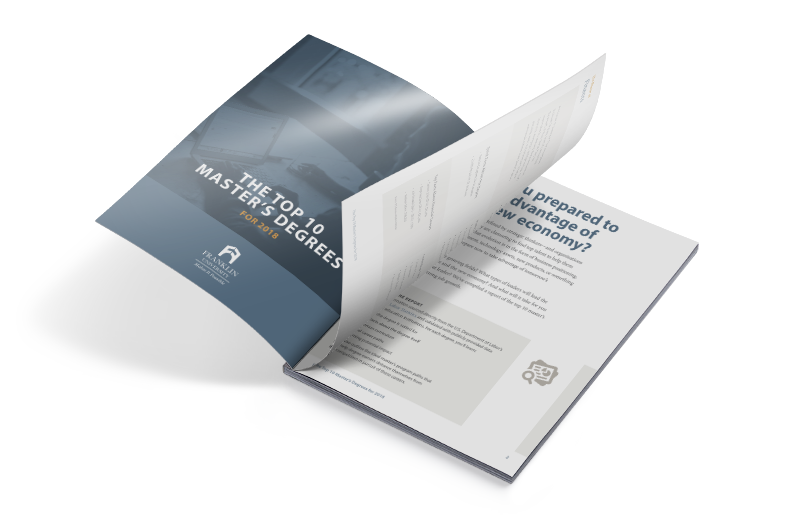 Download Now
Discover 10 of the most in-demand master's degrees based on salary and job growth.