We're Sorry
There was an unexpected error with the form (your web browser was unable to retrieve some required data from our servers). This kind of error may occur if you have temporarily lost your internet connection. If you're able to verify that your internet connection is stable and the error persists, the Franklin University Help Desk is available to assist you at helpdesk@franklin.edu, 614.947.6682 (local), or 1.866.435.7006 (toll free).
Just a moment while we process your submission.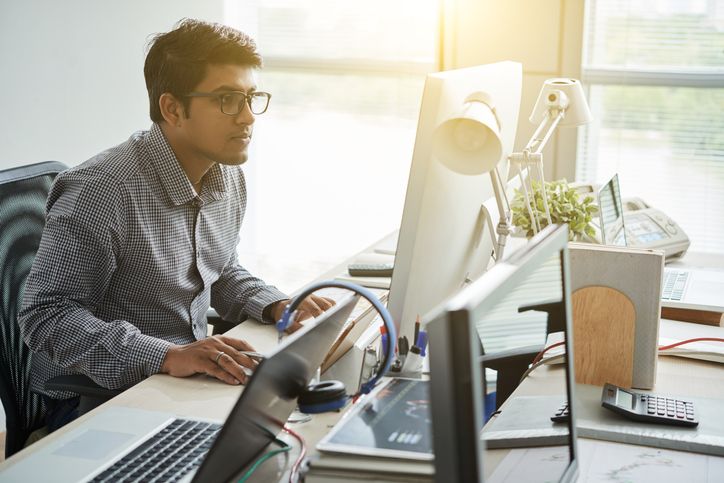 Master's Degree Requirements You Need to Know Before You Apply
Getting a master's degree is a great way to gain in-depth expertise and advance your career. But it also requires a lot of upfront research to determine which program you're interested in, if you qualify and how you apply to your desired program and institution.
We're here to help make that research easier by outlining common requirements for applying to master's programs. We'll also go into detail on setting yourself up for success and typical graduation requirements for master's degree programs.
Am I Eligible for a Master's Degree Program?
While specific requirements vary by program, degree and school, there are commonalities between master's programs when it comes to prerequisites and application requirements.
Master's Degree Prerequisites
All master's degrees require the completion of a bachelor's degree and usually require an undergraduate GPA of 3.0. Many schools also require taking entrance exams like the GRE or GMAT. Some institutions, like Franklin University, require a minimum 2.75 GPA, or require you to take an entrance exam if you do not meet the GPA criteria.
After that, you can expect to find a wide variety of prerequisites—from no required courses to highly-specific or technical courses that must be completed before you can begin a master's program.
Some master's programs require specific bachelor's degrees or courses be completed before applying. Other programs are more liberal. Here are common examples of each.
Popular programs with typical course prerequisites:
M.S. in Accounting: Specific courses in intermediate accounting and auditing are required, but you do not need to have a bachelor's degree in accounting to qualify.
M.S. in Computer Science: Courses in mathematics, operations systems and computer science prepare students with the technical skills to complete a master's in computer science.
M.S. in Nursing: Nursing programs typically require a BSN although some have admission pathways for RNs who have not earned the BSN.
Most other specialized, technical or medical master's degrees will have course prerequisites that must be completed before applying.
Popular programs without typical course prerequisites:
Master of Business Administration (MBA): An MBA is considered one of the most flexible master's degrees because it focuses on building management and leadership skills across a multitude of business functions.
Master of Healthcare Administration (MHA): An MHA is becoming an increasingly popular master's degree as it focuses on specialized topics of management in healthcare organizations.
Master of Public Administration (MPA): An MPA is ideal for those interested in working in the public sector or nonprofit organizations, giving students the skills to effectively tackle unique issues that impact the success and growth of government and social service organizations.
Degree programs in less technical or specialized areas like these do not require a related bachelor's degree. Instead, they evaluate criteria like academic ability, professional experience and personal characteristics when considering your application.
Now that you know the basics, here's how you take the next step to apply to the program of your choice.
10 Common Admission Steps When Applying to Graduate School
Every program and institution have specific requirements to fulfill to be considered for a master's program.
Here are the steps you should take when preparing your application:
Determine if entrance exams are required. Many graduate programs require GRE or GMAT scores. Some programs will waive this requirement if you meet certain GPA criteria.
Obtain official transcripts for transfer credit. To be considered for transfer credit, you will need to contact your previous institutions to get official transcripts. There's usually a small fee and it may take a couple weeks for your request to be fulfilled.
Demonstrate English language proficiency. For international students, if English is not your first language, you will need to demonstrate English Language Proficiency through previous educational experience or the TOEFL test.
Update your résumé. Professional programs will want to see a detailed account of your work experience, as well as any community involvement.
Know if you need to complete a writing sample. Institutions want to know that you posses the intensive communication skills needed in master's programs,
Ask for references. Many programs will ask you to provide references who can speak to your academic preparedness and professional experience. Know who you would like to ask and give them at least a month's notice before needing their letters.
Prepare for an admission interview. Your program may require you to complete an interview with your chosen department or admissions team. Make sure you're ready to talk about your background, why you want to attend the program and why you think you will be successful.
Complete the admission application. Be sure to complete, submit and pay for your applications well in advance of the deadline.
File the FAFSA. All students should complete the Free Application for Federal Student Aid to be considered for federal student loans.
Explore other funding opportunities. See if your employer offers tuition reimbursement, or if you qualify for grants or scholarships offered by professional organizations.
Some of these steps and requirements will vary. Be sure to research each program and school you're applying to in order to understand any specific requirements that may deviate from this list.
5 Traits of Successful Master's Degree Students
As you're considering getting your master's degree, you need to be sure you're prepared for the rigorous curriculum. This is especially true if you're a working professional who will need to balance your professional, personal and program responsibilities.
These are five of the most important traits of successful master's degree students:
Dedicated. They are ready to prioritize their education and approach their coursework with discipline and diligence.
Forward Thinking. They know a master's degree is about more than the next job, it's about a lifelong career. They know their long-term goals and have identified a specific program that aligns with these goals.
Enthusiastic. They are excited by learning and gaining new expertise, not just the possibility of an increased salary.
Ambitious. They are eager to apply what they are learning in the classroom to their current position. Seeing immediate payoff of new-found knowledge provides personal and professional motivation to keep going.
Critical Thinkers. They are motivated by solving complex problems and communicating those solutions clearly in both oral and written communication.
Getting your master's degree is challenging, but going in with the right mindset and attitude will help you make the most of your investment.
Critical Milestones to Earn a Master's Degree
It may seem early to be considering graduation requirements if you haven't applied to your master's program yet. However, understanding what it takes to graduate will set you up for success.
While every program and institution are a little different, common graduation requirements include:
Minimum 3.0 GPA. Unlike undergraduate programs, master's degrees require a high GPA in order to complete your degree. Make sure you give your all in every course so you don't fall short of this requirement.
Fulfill all course requirements. You must complete all credit hours, typically between 30-60 credits for a master's degree, as well as take all required courses.
Complete a capstone project. Most master's programs will require a seminal paper or project be completed as the culmination of your degree program. These projects can vary from research papers to professionally oriented projects that solve real-world problems for a business or industry. Typically, a capstone project is completed as part of a one semester course before graduation.
Pay all remaining tuition and fees. It happens more often than you think—people complete all education requirements but can't pay the final fees to get their degree. Make sure you plan ahead and have enough funds to graduate.
Now You Know What's Required. Find the Best Master's Program For You.
Evaluating and applying for a master's degree doesn't happen overnight. Most master's programs are very selective, so you need to take the time to ensure you are certain about the program you want to attend, as well as meet the requirements for admission.
If you're looking for master's programs that are tailored to the needs of working adults, explore Franklin University's Master's Degrees and the admission requirements for all of these programs.
Download Now
How to Win The Admission Essay for Grad School
Get effective tips and examples to move your essay to the top of the pile.