We're Sorry
There was an unexpected error with the form (your web browser was unable to retrieve some required data from our servers). This kind of error may occur if you have temporarily lost your internet connection. If you're able to verify that your internet connection is stable and the error persists, the Franklin University Help Desk is available to assist you at helpdesk@franklin.edu, 614.947.6682 (local), or 1.866.435.7006 (toll free).
Just a moment while we process your submission.
Master's in Healthcare Administration Jobs: Top Career Paths To Pursue
As healthcare continues to grow and evolve, the industry needs leaders to balance patient needs with fiscal responsibility, as well as understand and adapt to changing laws, regulations and technology. For these reasons, healthcare administration is a rapidly growing field.
According to the Bureau of Labor Statistics, job prospects for medical and health services managers is expected to grow by 20% by 2026, which is much faster than average.
One of the best ways to advance in this sector is to get a Master of Healthcare Administration degree (MHA). An MHA will not only prepare you for leadership roles, it will increase your job prospects and help raise your profile when seeking new opportunities.
In this article, we've compiled a list of the top industries and jobs for master's in healthcare administration graduates.
Where Can You Work With A Master's in Healthcare Administration?
The growing demand for healthcare administrators opens the doors to a wide variety of careers across public, private, government and nonprofit organizations.
Career Opportunities With Healthcare Providers
The most common career path for healthcare administrators is working for a healthcare provider. However, there are still significant opportunities to work in different care settings within this sector. Let's look at the range of opportunities in more detail.
Hospitals and Health Networks
According to the Bureau of Labor Statistics, 36% of healthcare administrators work in hospitals—ranging from small, private hospitals to large public hospitals and health networks.
Hospital administrators work to solve three of the most pressing challenges in this care setting:
Process Improvement: From coordinating with leadership and hospital boards on strategic plans to executing tactical ways strategy comes to life, hospital administrators are involved in process development, improvement and implementation at all levels.
Risk Management: Healthcare administrators work to ensure high-quality patient care, financial stability, and an excellent public and professional image. Doing all of this requires in-depth knowledge of healthcare policy and regulations, and developing smooth operational process within the hospital.
Staff Management: Acting as a liaison between nurses, physicians, and other hospital staff, healthcare administrators direct, supervise, and coordinate activities that support a hospital's strategic plan to provide cost-effective, quality care.
Hospital administrators can work to accomplish these goals at the department, hospital or hospital system level.
Physician Offices
The second-largest work environment for MHA graduates is physician offices, accounting for 11% of healthcare administrators. Most of the time, these offices are part of a large practice or physician group, where patients can see a primary care doctor in addition to a multitude of specialists. Healthcare administrators are vital in managing the day-to-day operations of these multi-functional organizations.
Long-term Care Facilities
Nursing and residential care facilities make up 10% of employers for healthcare administrators. As the baby boomer population ages, opportunities to work in this care setting will only continue to increase. These organizations require dedicated administrators to help keep the quality of care high, while continuing to attract and retain new patients and residents.
Outpatient Care Facilities
Outpatient care centers account for 7% of employers for healthcare administrators. One of the fastest growing workplaces is urgent care facilities. Health insurers now offer greater incentives to seek out urgent care over hospitals and urgent care facilities offer shorter wait times for similar treatments. This swing puts healthcare administrators in demand to create streamlined processes for maximizing both patient care and profit margins.
Job Prospects in Government Agencies
While healthcare providers make up the majority of employers, graduates of master's in healthcare administration programs can also apply their knowledge and skills to a range of other industries—the largest of which is government employers at 8%.
Healthcare administrators commonly work in agencies from the local to federal level—with two of the largest employers being the Centers for Disease Control and Prevention and the Department of Health and Human Services.
If you're looking to advance healthcare policy and regulation, setting precedent for some of the most important healthcare decisions, a career in government may be right for you.
Career Paths in the Private Sector
Private sector companies continue to play a pivotal role in the healthcare industry. This environment creates a wealth of opportunities for healthcare administrators outside traditional patient care settings.
Insurance Companies
Insurance companies need experienced healthcare administrators to understand the ever-changing healthcare regulations, as well as navigate continually rising healthcare costs.
As a healthcare administrator working at an insurance company, you can expect to research and evaluate the cost of providing healthcare. You'll also be at the forefront of proposing new strategies or policies that help insurers stay profitable and competitive with other insurance providers.
Pharmaceutical Companies Perhaps a lesser known employer, pharmaceutical companies hire healthcare administrators to work as project managers and quality managers.
Project managers aid in moving a new drug through all phases of development by managing teams, allocating tasks and determining completion dates for each stage of the process.
Quality managers ensure the proper systems are in place so all drugs comply with regulations and the products are safe for patient consumption.
Consulting Firms
Working at a dedicated healthcare consultancy gives healthcare administrators the opportunity to broadly apply their knowledge of the industry to a range of healthcare organizations.
As a consultant, you're tasked with addressing integral challenges that require deep knowledge of the foundation of healthcare management. You also need the ability to analyze data and identify trends within the industry and individual organizations. Then, you're responsible for designing processes and solutions to address the organization's challenges, and helping to implement these improvements on a large scale.
Healthcare Administration Careers at Nonprofit Organizations
For healthcare administrators who want to make a difference in healthcare quality and equality, nonprofits offer another route of advocating for patient rights and high-quality care.
Healthcare Policy Organizations
Healthcare policy organizations are nongovernmental organizations that work to influence, reform and provide practical solutions to improve healthcare—from making it more affordable and improving the quality of care to spurring innovation within the industry.
Advocacy or International Aid Groups
Patient advocacy groups help patients receive appropriate and timely care and financial assistance, as well as provide their families with educational opportunities for navigating the complex healthcare system.
International aid groups work to provide healthcare to underserved and developing countries, where healthcare administrators can help ensure funds are making the largest impact possible.
Job Opportunities at Colleges and Universities
For some healthcare administrators, getting their master's in healthcare administration is an opportunity to transition to academia. They're able to take their real-world experience and combine it with new knowledge and leadership skills to help prepare the next generation of healthcare administrators to provide solutions in this challenging industry.
Top 5 Fast-Growing Jobs for Healthcare Administrators
With all of these opportunities available, there is no shortage of jobs for master's in healthcare administration graduates. Here are five of the most popular and profitable jobs in the healthcare industry for healthcare administrators.
Operations Manager
A healthcare operations manager is the liaison between clinical staff and the recipients of healthcare services. They oversee the general functioning of a healthcare facility, including managing finances, implementing policy and overseeing the medical and non-medical staff.
Average Salary*: $63,777
Program Director
Program directors act as a department manager, supervising the organization's operations, coordinating activities of department employees and collaborating with other departments. Some program managers oversee functional operations, like managing personnel or patient records systems.
Average Salary*: $80,520
Hospital Administrator
Hospital administrators play a large role in overseeing the staff of a hospital—from identifying performance gaps and instituting employee training policies to making sure budgets are being used efficiently without sacrificing quality. Their processes and standards are guided by the organization's mission and must adhere to all relevant regulations.
Average Salary*: $88,586
Healthcare Consultant
Healthcare consultants bring their expertise in healthcare management to organizations facing significant challenges. They evaluate issues and trends, and help find ways to address them in a way that's most beneficial for the organization, its staff and its patients.
Average Salary*: $76,663
Hospital Chief Executive Officer (CEO)
The highest level healthcare administrator, a hospital CEO is responsible for overall efficiency, managing both day-to-day operations as well as leading the strategic initiatives of the hospital to ensure long-term success and financial stability.
Average Salary*: $166,586
*Average salaries based on available data on Payscale.com
Is a Master's Degree in Healthcare Administration Worth It?
The combination of growing job prospects, high salary potential and engaging and rewarding work make a master's in healthcare administration an extremely valuable degree. It's even been ranked by Forbes magazine as one of the top-10 master's degree programs that lead to robust careers.
If you're looking to advance your career in healthcare administration, Franklin University's Master of Healthcare Administration provides an flexible, online program built for working professionals. It combines cutting-edge curriculum with instruction from experienced industry professionals to give you the knowledge and skills you need to advance as a leader in the healthcare industry.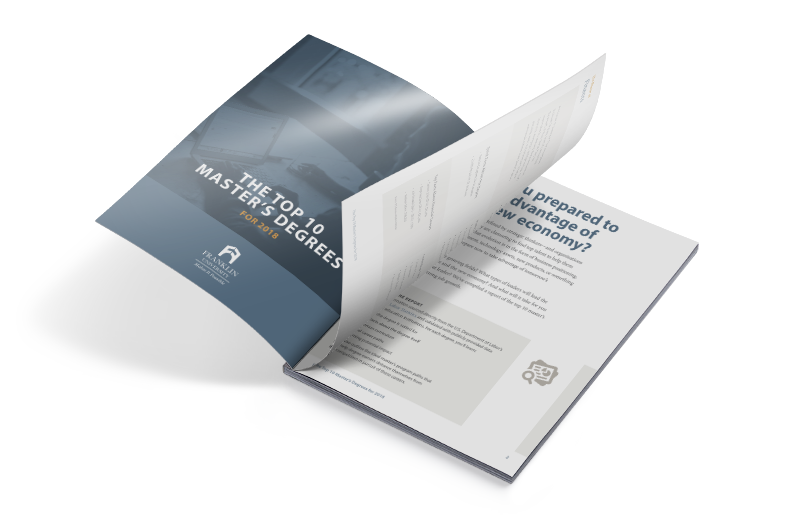 Download Now
Discover 10 of the most in-demand master's degrees based on salary and job growth.