Next Start Date
May 15, 2023
About Start Dates
Additional future start dates include:
Summer 2023
Jun 26, 2023

Fall 2023
Aug 14, 2023
Sep 25, 2023
Nov 6, 2023

Start dates for individual programs may vary and are subject to change. Please request free information & speak with an admission advisor for the latest program start dates.
Placement Tests
GMAT/GRE not required for admission
Excel & lead with an online master's in healthcare administration degree
Healthcare leadership is especially complex. It involves balancing patient needs with fiscal responsibility. Today's evolving healthcare system needs qualified leaders to generate innovative ideas and bottom line results -- without sacrificing quality of care. Group medical practices, public health organizations, nonprofits and hospital systems all need smart and savvy healthcare administrators to lead them through the many operational challenges they face. Let Franklin's transfer-friendly Master of Healthcare Administration (MHA) degree program prepare you to lead.
14-Month Completion
Finish your MHA faster.
Real-World Practitioners
Benefit from the experience of healthcare professionals.
Networking Opportunities
Connect and collaborate with our Healthcare Community of Practice.
100% Online Classes
Earn your degree around your schedule.
Contemporary Curriculum
Stay on top of emerging topics and trends.
Master of Healthcare Administration Degree Program Overview
Lead healthcare organizations through an ever-changing environment
Balancing patient needs with fiscal responsibility makes healthcare an especially complex entity, requiring effective leadership at the helm. It demands leaders who possess focused determination to deliver strong ideas that drive operational results without sacrificing quality of care.
Group medical practices, public health organizations, nonprofits, and hospital systems all need qualified healthcare administrators to successfully lead them through operational challenges healthcare organizations encounter, including three of the most common: process improvement, managing with physicians, and risk management. Demand is strong for healthcare leaders, with a projected growth rate of 8% through 2031.*
Finish your master's in healthcare administration online in as few as 14 months
Franklin University's Master of Healthcare Administration degree program provides the essential knowledge required for you to undertake senior managerial and planning work in a variety of healthcare settings. You can move through our online MHA degree program swiftly, realizing the real-world benefits of your degree in as few as 14 months, which is faster than many other programs.
Get credit for what you know – before you even take your first class
Franklin demonstrates its commitment to ambitious adults by honoring their previous professional experiences and credentials, which includes national certifications. If you have earned certifications through professional organizations including the Healthcare Information Management Systems Society (HIMSS), the American Health Information Management Association (AHIMA), the American Hospital Association (AHA), or the American Association of Healthcare Administrative Management (AAHAM), you may be able to transfer in up to 4 credits, which equates to one graduate course.
If you started a healthcare administration or related program at another university, you can transfer up to 8 credits toward your MHA. To see if your previous coursework can be used for course-for-course credit to satisfy degree requirements, you'll need to submit a syllabus for the course(s) you'd like to have evaluated for transfer credit and/or your credential documentation. Your admissions advisor will be happy to assist you in any way.
Prepare for an executive-level position in a dynamic and growing field
With Franklin's online MHA degree program, you'll develop healthcare specific competencies in the following areas: leadership and strategy, operations management, law and policy, accounting and finance, and management, preparing you to hold career titles such as Managed Care Director, Director of Admitting, Hospital COO, Director of Hospital Operations, Director of the Business Office, and Managed Care Analyst, just to name a few.
Uniquely designed for the busy professional, our healthcare administration master's courses are planned and updated in accordance with the changing healthcare environment. In addition to preparing you for executive-level positions, you'll be challenged through an array of academic methodologies, including case studies, lectures, group assignments, and community and healthcare projects. You'll also be exposed to trending marketplace topics, such as healthcare reform, health information technology, and accountable care organizations (ACOs).
Equip yourself with knowledge needed for professional credentials
In the Healthcare Administration graduate program at Franklin, you have the option to take an elective course in the highly-relevant areas of Health Informatics and Healthcare Quality management – both of which can help if you wish to seek professional credentialing or certification in the future.
By choosing elective coursework in Health Informatics, you'll be exposed to the foundational principles and knowledge required to pursue credentialing with AHIMA as a certified Health Data Analyst (CHDA). Or, complete the program's Lean Six Sigma elective to acquire knowledge and skills needed to pursue Lean Six Sigma Black Belt certification.
Learn up-to-date curriculum reviewed by top healthcare executives
In addition, a prominent industry-specific Advisory Board oversees our relevant MHA program curriculum. Input from Board Members like the hospital president and COO of Mt. Carmel East Hospital, a medical association CEO, an SVP at Nationwide Children's Hospital, and the President of Grady Memorial Hospitals, inject industry-specific learnings into your classes and coursework.
*Source information provided by Economic Modeling Specialists International (EMSI)
Read more >
Derrick Y.
Master of Healthcare Administration '20
"Franklin University's Master of Healthcare Administration program fundamentally taught me about myself. This program has helped prepare me to become the best healthcare professional possible and helped me become a continuous and lifelong learner."
Start dates for individual programs may vary and are subject to change. Please request free information & speak with an admission advisor for the latest program start dates.
Summer 2023
Recommended Register By:
May 5
Summer 2023
Recommended Register By:
Jun 16
Fall 2023
Recommended Register By:
Aug 4
Fall 2023
Recommended Register By:
Sep 15
Fall 2023
Recommended Register By:
Oct 27
Your Best Value Master of Healthcare Administration
Choose Franklin's MHA and get a high-quality degree that fits your life and your budget. 
Finish Fast
Realize your career goals sooner and reap the benefits.
Take One Class at a Time
Balance your education with your life.
Tuition Guarantee
Inflation-proof your degree cost by locking-in your tuition rate from day one through graduation.
Highly Recommended
97% of graduating students would recommend Franklin to their family, friends and/or colleagues.
Source: Franklin University, Office of Career Development Student Satisfaction Survey (Fall 2021)
×
Master of Healthcare Administration Courses & Curriculum
36 Semester Hours
Major Area Required
HCM 733 - Finance and Managerial Accounting in Healthcare Organizations (4)
The purpose of this course is to provide students with the fundamental concepts and calculations associated with financial accounting and managerial accounting within a healthcare organization. Students will study the foundational aspects of financial accounting with a primary focus on financial statements and the uses of the information in these statements. Students will also study the functional aspects of managerial accounting to include cost behavior, cost allocation, pricing, planning, budgeting, profit analysis, and performance evaluation. Application of these concepts will include analysis of case studies.
HCM 735 - Healthcare Delivery Systems (4)
The course provides an extensive overview of leadership in the U.S. health services system. The focus of the course will be on the role health services leadership plays in the delivery of healthcare services, to include managing with professionals, financial management, services utilization, and other aspects of the U.S. healthcare system. The student will explore the key theoretical and practical elements of leadership as well as current issues clarifying how the U.S. health services system is organized, managed, and financed.
HCM 742 - Healthcare Laws and Ethics (4)
In this course the student will develop a strong foundation of health law, enabling them to deal with common legal and practical moral and ethical issues facing the healthcare organization on a daily basis. Topics will include statutory laws, rules and regulations, review of tort laws, criminal law, contract law, civil procedures and trial practice. The student will examine numerous legal, moral, and ethical issues.
HCM 752 - Health Policy (4)
This course will explore the essential conceptual and analytical understanding of health policymaking and politics, including their impact on health administration and leadership. Selected policy issues will be explored through the application of political concepts and behavioral models, including a system model of policymaking. The emphasis will be on understanding the health leaders approach to the policymaking system, become involved in it, and work through it to attain their objectives and those of their organization.
HCM 762 - Global Health (4)
The student will examine demographic measurements, epidemiological methods, outcomes assessment, health promotion, and disease prevention from a global perspective.
HCM 765 - Healthcare Operations Management (4)
Students will explore concepts and theories of operations and supply chain management. The student will develop both knowledge and skills in solving the operational problems of healthcare organizations.
HCM 772 - Healthcare Strategic Management (4)
The student will examine principles of strategic management applied to healthcare organizations. The course through critical assessments of the real world environment and case studies on strategy formulation, implementation, and evaluation will examine alternative strategic frameworks for healthcare organizations. Topics will include, mission, vision statement development, environmental assessments, analysis of strengths, weaknesses, opportunities and threats, use of critical success factors, development of business plans, and other techniques for strategic planning and management.
HIM 702 - Health Information Governance (4)
This course covers the broad spectrum of strategic issues in healthcare including policies, guidelines, standards, processes, and controls required to manage and implement enterprise-level information. Treating information as a strategic asset to healthcare organizations, processes to manage various risks to the quality of information and ensure its appropriate use are covered.
Major Electives
At least 4 credits from the following courses:
HIM 710 - Clinical Workflow & Applications (4)
This course explores requirements for clinical workflows in a variety of inpatient, outpatient, and emergency healthcare environments. It covers the documentation, review, mapping, and diagramming of clinical workflow information and processes. The course also covers the linkages between the improvement of patient care to workflow mapping and change management, as part of evidence based decision making in healthcare.
HIM 761 - Healthcare Analytics (4)
This course addresses the process of retrieving, analyzing, and reporting intelligence to make healthcare decisions. It covers the techniques of extracting, transforming and loading data from a myriad of operational databases into corporate data warehouses, as well means to ensure that decision making is based on clean and reliable information. The course also includes ways to report the healthcare intelligence gathered.
GRAD 770 - Lean Six Sigma (4)
The purpose of this course is to train individuals in Lean Six Sigma skills and strategies to improve processes and provide safe, effective care environments. The learner will demonstrate the practical application of tools utilized with Lean Six Sigma methodologies. Students will have the opportunity to apply the knowledge learned during this course concurrently with a case study designed specifically to use Six Sigma methodologies. Students will develop a Lean Six Sigma project plan that can serve as the foundation for completing a major project for Lean Six Sigma certification following the completion of the course. Interested students would need to apply for Lean Six Sigma certification and complete the major project with Franklin University's Center for Professional Training & Development.
HRM 701 - Human Resource Management (4)
This course provides a framework for an in-depth understanding of day-to-day, practical approaches/aspects of problems/challenges that impact the human resource management field. Topics include recruiting, hiring, training, retaining, rewarding, and promoting employees; compensation and benefits; employment planning, performance management systems, and succession planning; labor relations; and managing organizational relationships.
PUAD 701 - Foundations of Government & Nonprofit Administration (4)
Students examine fundamental public service values that differentiate the mission and purpose of government and nonprofit organizations from those of private, for-profit, organizations. The course focuses on applying public administration and organizational theories to analyze administrative problems faced by leaders and managers implementing government and nonprofit programs. Students learn to think systematically about selecting alternative options for delivering programs and improving organizational performance. Finally, students develop fundamental information literacy, computing, writing, and presentation skills required for effective academic and professional communication.
PSYC 603 - Managerial Psychology (4)
This course will explore the psychological influences on the development and behavior of managers and organizational leaders. Topics include: follower influences, nature vs. nurture in the development of leaders, relationship of personality to leadership style, behavioral decision- making biases, tactical, operational, and strategic decision-making , group think, and scenario planning.
Microcredentials Align with Job Essentials
In today's dynamic work environments, adaptive professionals thrive. A microcredential - either as a stand-alone course or integrated into your degree program - is a short, skill-specific recognition that enables you to demonstrate your competency in a distinct area. Like Franklin's degree programs, microcredentials are aligned with market and industry demand to ensure what you learn can be put to use right away. Microcredentials are easily shared via digital badges and can be stacked to create a unique portfolio of in-demand skills.
Master of Healthcare Administration Degree Cost, Requirements & More
| 2021 - 2022 Tuition  | Cost Per Credit |
| --- | --- |
| Standard tuition per credit hour | $670 |
| Current service members | $536 |
| Graduate Prerequisite Courses (500 level) | $398 |
| Graduate Prerequisite Courses (500 level) - International Students | $526 |
2022 - 2023 Tuition 
Cost Per Credit
Standard tuition per credit hour
$670

Nursing programs
MSN-FNP, MSN-PMHNP, MSN-AGPCNP, Post-Graduate FNP Certificate, Post-Graduate AGPCNP Certificate and 
Post-Graduate PMHNP Certificate

$670
MSN-Generalist and MSN-Nurse Administrator
$598
RN-MSN Pathway (NURS 500)
$298
Current service members
$536
Graduate Prerequisite Courses (500 level)
$398
Graduate Prerequisite Courses (500 level) - International Students
$526
Know the Total Cost of Your Master's from Day One
Save yourself the anxiety of annual tuition increases with Franklin's Tuition Guarantee. The guarantee lets you lock-in what you'll pay from first-term through graduation, as long as you remain actively enrolled. Not only will this help you maximize funding sources - like employer reimbursement or financial aid, it will keep you focused on earning your degree. 
A learning outcome map functions as a roadmap to help guide students' progress through their program of study. Click HERE to view the Master of Healthcare Administration matrix.
To be awarded a graduate degree, students must:
Successfully complete all required curriculum courses.
Maintain a minimum cumulative grade point average (GPA) of 3.00.
Complete the residency requirement:

Master of Healthcare Administration students must earn least 28 of the 40 required credits at Franklin University.

Complete the payment of all requisite tuition and fees;
Not to be under disciplinary dismissal due to academic dishonesty or violation of Student Code of Conduct.
Transfer credit awarded based on experiential learning shall not count toward the residence requirement at Franklin University.
The admission process reflects Franklin University's efforts to clearly identify the performance standards that can help predict student success in graduate level study. The selection criterion for Franklin's graduate programs, as determined by faculty, emphasizes academic ability, contributory work experience, and personal qualities and characteristics.
Requirements for admission include having earned a bachelor's degree from an institution accredited by a Council for Higher Education Accreditation (CHEA)-recognized accrediting organization with a GPA of at least a 2.75 on a 4.0 scale.*
Applicants who earned at least a 2.5 GPA on a 4.0 scale in their earned bachelor's degree will automatically be granted conditional enrollment status. Applicants who earned lower than a 2.5 GPA on a 4.0 scale in their earned bachelor's degree can petition for conditional enrollment status to the program chair by submitting an essay detailing other criteria that the applicant believes should be considered to demonstrate their ability to be successful in a graduate program. This petition could include details on the applicant's work experience, work ethic, level of professionalism, personality characteristics, level of difficulty of program of study previously completed, etc. 
Conditional enrollment requires students to achieve a final grade of "B" (3.0 GPA) or better in the first graduate-level course of their program. If the terms of the conditional enrollment are not met, the student will not be allowed to advance in their program and will be unable to earn this graduate degree from Franklin University. 
Program Prerequisites
None
English Language Testing & TOEFL IELTS
Prospective students must demonstrate English Language Proficiency. The requirement is met through any of the following:
The applicant is a citizen of a country where English is the official language.*
The applicant has received a bachelor's degree (or higher) from an institution located in an English-speaking country in which the courses were taught in English.*
The applicant has earned appropriate scores on language proficiency exams taken within the last two years, as listed in the Academic Catalog.  
*For more information about English proficiency, including a list of English-speaking nations, please visit our International Students section.
The University employs a team approach to planning, developing and maintaining its academic curriculum. An essential element of this process – and a key to the institution's quality assurance practices – is the Program Advisory Board (and the associated Alumni Advisory Board). A diverse array of business and industry leaders make up these discipline-specific boards that provide guidance on theory-to-practice ideas, global business perspectives, and emerging topics in the field. Each academic year, Program Advisory Boards meet with Division Chairs and faculty for lively and engaged conversations, thus bringing members' substantial professional experience and expertise into the classroom. In addition, some Division Chairs elect to engage Program Advisory Board members in the assessment of academic program outcomes.

Healthcare Programs Advisory Board

| | | |
| --- | --- | --- |
| Name | Organization | Title |
| Lana Urig, PhD, MBA, RN | Emory University | Vice President of Cancer Nursing |
| Bruce Vanderhoff, MD, MBA | Ohio Health | Chief Medical Officer |
| Charnelle Free, MHA, LBBP | United Healthcare | Senior Appeals Analyst |
| Jessica Neiberg, MBA | Ohio Department of Medicaid | Manager of Network Manager and Operations |
| Craig Self, MBA | Premier Health Partners | System Vice President Business Development |
| Bruce Hagen, MBA | Ohio Health - Marion General Hospital | President |
| Terence Brown, PhD | Columbus State Community College | Chair - Veterinary, Imaging, Surgical Technology |
| Mark Holroyd, MBA | MedSpeed | Regional Vice President |
| Abraham Parail, MD | Grant Medical Center | Director, Cardiac Catheterization Laboratories/Interventional Cardiology |
| Barbara Everet, MD | Ohio Health | Family Medicine |
| Ebony Hale, MA, RDH | Fort Hayes Metropolitan Education Center | Health Sciences & Dental Assisting Instructor |
| Deborah Burggraaff, MBA | Sovereign Royal Care | Founder and CEO |
Hear What Our MHA Graduates Are Saying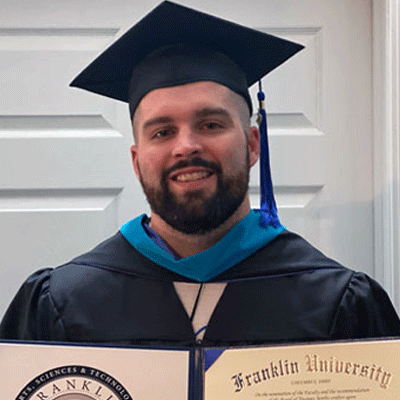 Derrick Y.
Master of Healthcare Administration '20
"Franklin University's Master of Healthcare Administration program fundamentally taught me about myself. This program has helped prepare me to become the best healthcare professional possible and helped me become a continuous and lifelong learner."
Tonya P.
Master of Healthcare Administration '21
"Obtaining my master's degree in healthcare administration allows me to expand my horizons and my career."
Adaola O.
Master of Healthcare Administration '19
"Franklin University has provided a supportive environment for students like myself who are balancing busy schedules and want to advance their education."
Laura B.
Master of Healthcare Administration '20
"Earning this degree has allowed many doors to open professionally and I made a lifelong friend in one of my classmates."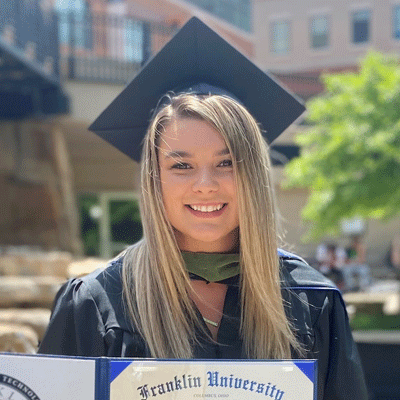 Alexandra D.
Master of Healthcare Administration '21
"This accomplishment gives me the ability to have a greater impact and give back to healthcare in our community."
Find the Healthcare Program That Fits Your Goals
If you're interested in advancing your healthcare career, Franklin has several great options. The best fit for you depends on your interests and goals. Compare programs and identify your perfect match.
MBA with a Specialization in Healthcare
Master of Healthcare Administration (MHA)
Focus:
Gain business principles with a focus on healthcare that will enable you to ensure that healthcare products and services are delivered effectively and efficiently. 
Skills:
Build qualitative skills to guide decisions related to the daily management of operations, supply chain and finance. 
Careers:
Use your MBA-Healthcare to successfully launch your own practice or manage administrative functions in a clinical healthcare setting or an ancillary industry.
How many courses are in the program?
Nine 12-week classes
How quickly can I complete the program?
21 months
Focus:
Grow your leadership and management skills in healthcare administration in order to build high performing teams and improve the effectiveness and efficiency of programs and services.  
Skills:
Deepen your understanding of health policy, risk management, as well as ever-changing legal, ethical and compliance issues. 
Careers:
Use your MHA to ensure public and private healthcare systems, hospitals and government/nonprofit organization are effectively serving individuals and communities.
How many courses are in the program?
Nine 6-week classes
How quickly can I complete the program?
14 months
Healthcare Administration Employment Outlook
Healthcare Administration Knowledge & Skillsets
Gain in-demand skills sought by employers with curriculum that teaches you:
Assure delivery of quality patient care, financial stability, and enhanced public and professional image
Coordinate with boards of directors, medical staff, and senior management in the development of strategic plans
Participate in strategic planning, ensuring resources are aligned with mission
Oversee strategic and tactical plans for ensuring competitive positioning
Inform stakeholders on business, market, and political factors affecting healthcare environments
Identify new business opportunities that benefit organizations while meeting community needs
Represent organizations in relationships and negotiations with healthcare agencies, partners, and communities
Monitor trend analyses, medical cost-containment strategies, provider network evaluations, rate-setting support analyses, provider reimbursement, and risk-sharing strategies
Provide executive leadership of healthcare operations, including fiscal and treasury operations, marketing, managed care contracting, clinical revenue cycle management, IT, compliance, network and business development, and strategic planning and advocacy
Foster smooth, efficient operations by anticipating problems and ensuring timely resolutions
Lead operations in accordance with customer needs, government regulations, and organizational policies
Direct, supervise, and coordinate staff activities in support of strategic plans, providing cost-effective, quality care
Ensure high-quality healthcare delivery that meets or exceeds standards within a reasonable cost structure
Develop roadmaps and implementation plans for capitalizing on strategic opportunities
Evaluate vendors, provide recommendations for selection, and manage post-selection vendor relationships
Define and implement management execution systems strategies for global supply chains using business governance models that support short- and long-term supply chain goals
Act as primary operational expert, ensuring smooth operation of strategic processes
Oversee initiatives that address societal issues contributing to poor health, toward the betterment of global and national communities
Implement patient care, staffing, and other policies and procedures to remain compliant with local, state, and federal regulations, and facility bylaws
Oversee facility inspections, including obtaining required data from accrediting agencies and working with functional areas to facilitate continuous flow of information
Provide leadership and guidance for quality assurance and utilization review programs
Interface with government and non-government regulatory and accrediting agencies to advocate on behalf of clinical programs
Analyze state and local budget proposals to determine impact on healthcare and public programs
Track budget development throughout legislative processes
Manage legislative policy and budget research, data analyses, and coalition work
Prepare and monitor annual budgets, demonstrating expected revenues and expenditures in conformity with fiscal programs and policies
Oversee preparation of administrative budgets and the development of transparent and relevant fiscal and operational reports
Ensure sound fiscal operations while promoting cost-effective production of services
Implement effective financial models, and cost and revenue allocation strategies
Monitor key metrics, such as operational volumes, expenses, service utilization, market share, and profitability
Analyze cost performance, administrative costs, and financial performance to identify opportunities for improved profitability
Make key business decisions based on financial-related data, such as cost projects, premium rate filing, provider contracts, medical and administrative expenses, benchmarking, and performance
Attract, recruit, manage, and inspire A-list employees who move organizations forward
Use innovative assessment tools to assist in making optimal hiring decisions
Analyze job evaluations, salary surveys, and individual and group performance-based pay
Drive best-in-class management and succession planning processes, ensuring the right talent for the right roles at the right time
Design and develop competitive compensation and reward strategies
Establish and maintain fair and equitable compensation and benefits programs
Create long-term human capital development initiatives to establish and maintain global competitiveness
Manage strategic roadmaps for maximizing employee performance and creating business value
Identify key forces impacting future workforce, such as skill shortages, economic conditions, and changes to business strategies
Understand current workforce in terms of metrics and trends, developing key insights into the story behind the data
Develop and maintain employee relations, ensuring coordination of quality patient care and service delivery to achieve business development goals
Master's in Healthcare Administration Degree Frequently Asked Questions