We're Sorry
There was an unexpected error with the form (your web browser was unable to retrieve some required data from our servers). This kind of error may occur if you have temporarily lost your internet connection. If you're able to verify that your internet connection is stable and the error persists, the Franklin University Help Desk is available to assist you at helpdesk@franklin.edu, 614.947.6682 (local), or 1.866.435.7006 (toll free).
Just a moment while we process your submission.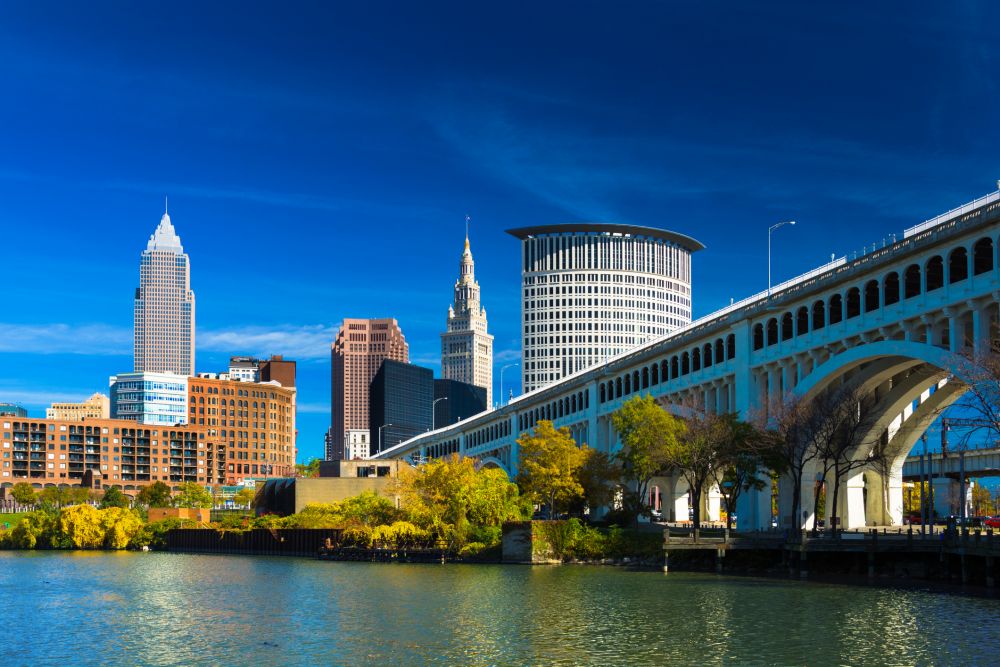 Online Colleges In Cleveland: What To Know Before Choosing
If you're a Cleveland resident, there are a number of local four-year colleges and universities that offer online degrees. From large public universities to small, private not-for-profits, these schools come in all shapes and sizes. 
As a local Clevelander, you might think you know what these colleges are all about. But comparing online degrees is very different than in-person programs. So how do you know where to start? Let's look at how you can identify popular online colleges and degrees in Cleveland. 
More importantly, let's discover how you can find the right online college for you.
Popular 4-Year Online Colleges for Cleveland Residents
One of the best ways to evaluate popular online colleges and universities is to develop an understanding of how many degrees were offered and completed online. Colleges with higher numbers of 100% online degree offerings usually have more sophisticated online programs and may offer dedicated support and services for online students.


However, with the innovative technology fueling online degrees today, don't feel like you're limited to online colleges with physical locations nearby. The most important factor in your decision should be finding an online college that's the right fit for your lifestyle and career goals.
10 Things to Research About Online Colleges near Cleveland
Many individuals looking at online degrees in Cleveland are working professionals looking to advance their careers. As a working professional, you need to find an online college that will help you balance your education, career and personal life. 
How do you find out if an online college in Cleveland will empower your success? Start by asking these questions.
Will I need to complete any synchronous courses as part of my degree program? Synchronous courses are ones that require you to be online at a specific time—similar to an in-person class. Taking synchronous courses can be difficult for working professionals, so make sure you know if synchronous courses are required before you choose an online degree.
How often do courses start? A college or university dedicated to online education won't just adhere to a traditional academic calendar. Instead of taking courses on a semester schedule, online colleges will offer course start dates every 6-8 weeks. This scheduling gives working professionals the flexibility to take courses on their own schedule.
How long does it take to complete an online degree? There isn't a single answer to this question. But, an online college should be able to help you figure out how long it will take you. Figure out how many courses you can take at a time and how that will affect your graduation timeline.
How many credits can I transfer into my chosen program? The best online colleges are transfer-friendly. If you have completed credit hours or professional certifications, they will help you maximize transfer credits to shorten your time to graduation. 
What programs, services or special assistance do you offer to support your online students? An online college should offer the same level of support to its online students as it does for on-campus students. Look for an online college with stellar library services, tutoring sessions, frequent faculty availability, and career services.
How do you choose your faculty and what are their qualifications? Online degrees designed for working adults should focus on building real-world skills, not just understanding theory. The best way to do that? Hire faculty who are experts in their field because they have practical experience working in industry.
Are costs-per-credit-hour different if you take more than one course at a time? Some online colleges use tiered pricing. This means your cost per credit hour may decrease if you're taking multiple courses at once. But do you have the time to dedicate yourself to be successful in multiple courses? Make sure you fully understand tuition and fees as they apply to your unique situation.
What kind of interaction can I expect with my instructor and classmates? You shouldn't feel isolated because you take online courses. An excellent online program will provide collaborative learning opportunities—from online discussions to group projects. You should also have easy access to faculty when you have questions or want to discuss course material. 
How often are your courses evaluated for industry relevance? The world is changing rapidly, so online courses should be regularly evaluated to make sure they follow industry best practices. Look for online colleges that have deep ties to industry and build courses with the input of employers and practitioners.
What career services do you offer to help connect students with employers or mentors? Make sure the online college you choose offers career services that can help you advance your career. Solid online colleges have strong reputations and connections with prominent employers and professional organizations.
Whether you do research on your own or reach out to admissions counselors at an online college, getting answers to these questions is critical. These answers should give you a clearer understanding of the quality of an online program and how it will meet your needs as a working professional.
Why Consider Franklin University if You Live in the Cleveland Area
Reason 1: Franklin University Specializes in Online Education
Franklin University has deep experience in online education and is dedicated to remaining on the cutting-edge.
"Franklin has been teaching students online for over 20 years," says Dr. Joel Gardner, assistant dean, Instructional Design, at Franklin University. "Over that time, we've honed our online methodology and courses to facilitate our students' success. Now, every course is a team effort between a subject matter expert—like a faculty member with extensive experience in the field—and an instructional designer—who is an expert in how people learn and how to best use technology to improve learning outcomes. This combination of content expertise and learning expertise is the foundation of creating high-quality online programs at Franklin."
At Franklin University, every degree is offered completely online—resulting in an online student population that thrives.


Reason 2: Franklin University is the #1 Choice for Adults in Ohio*
Chosen by more adults than any other university in Ohio, Franklin University tailors its educational experience to the needs of working professionals. We understand the unique needs of someone who is balancing their career, personal life and education. 
That's why we offer:
Flexible scheduling that allows you to learn at your own pace
Accelerated degrees that help you finish your degree faster
A balanced approach to learning that spreads coursework out evenly over the length of a course
Distinct support services to serve the needs of online learners
That's why the vast majority of our students are working professionals over the age of 25.
 
| | |
| --- | --- |
| Institution | Percentage of Students Over Age 25 |
| Baldwin Wallace University | 9% |
| Case Western Reserve University | 2% |
| Cleveland State University | 24% |
| Franklin University | 81% |
| Kent State University at Geauga | 25% |
| Lake Erie College | 8% |
| Notre Dame College | 17% |
| Ursuline College | 34% |
Source: National Center for Education Statistics (NCES) Integrated Postsecondary Education Database (IPEDS). Retrieved November 2019; includes 2018 data for universities in Ohio.
 
Reason 3: Franklin's Degrees Are Very Transfer-Friendly 
More than 90% of Franklin University students transfer credit from other schools. We help our students maximize their transfer credits—up to 94 credits toward a bachelor's degree, 12 master's level credits, or 24 doctoral-level credits.
One of the ways we can offer so many transfer credits is through our community college partnerships. In the Cleveland area, we work with Stark State College and Cuyahoga Community College. These partnerships allow community college students to seamlessly transfer credit to complete their bachelor's degree. 
Reason 4: Franklin's Programs Focus on Building Real-World Skills
Franklin University programs focus on application over theory. Our goal is to teach students skills they can use immediately in their jobs while preparing them for advancement. That's why our curriculum is developed by experts who have extensive practical experience. Our programs are also overseen by advisory boards that ensure curriculum stays up-to-date with current industry practices and teaches students in-demand skills.
Choose the Best Online Program For You—Not Just the Closest
When choosing an online program, distance should not be a deciding factor. If you live in Cleveland, Akron, Canton or the surrounding areas in Northern Ohio, Franklin University is a great choice for getting your degree online. 
Franklin offers a vast number of online degrees at all levels. Explore all of our programs to find the right online degree for you.
Download Now
8 Ways to Maximize Your FAFSA Benefits
Get insider tips to help you avoid common FAFSA mistakes and receive the maximum benefit possible.